Q3 Academy Langley has achieved the Inclusive School Award with Centre of Excellence.

Ensure Every Child Can Thrive
Q3 Academy Langley is a secondary school in Sandwell, West Midlands.  The school opened in 2016 and has a student body of 1350, of whom 33% are eligible for Pupil Premium (PP) and 11% have Special Educational Needs (SEN).  The school is in an area of social deprivation (Sandwell is the fourth most deprived borough in the UK) but it has high expectations of behaviour which is evident during walks around the site.  The school is part of The Mercian Education Trust. 
The school was last inspected in May 2019 and was deemed to be 'Outstanding' in the effectiveness of leadership and management and personal development, behaviour and welfare.  It was judged to be 'good' overall.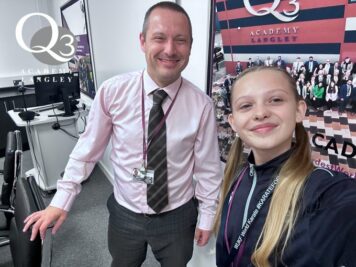 All students at Q3 Academy Langley wear the same uniform, eat the same balanced meal at lunchtime and KS3 receive free breakfast every morning.  All lessons are taught in a mixed ability setting to ensure that every child can thrive. 
Strong Focus on Mental Health  
The school has a strong focus on mental health and wellbeing.  In response to the increased demand for support during the Covid-19 pandemic, the school launched the 'Umbrella', a support network for internal and external providers to offer therapeutic and counselling support across a wide range of areas. 
The school has a high rate of attendance which is currently 96.2, 5.3% above national and a low rate of exclusions.  Attendance is the fourth best in the country according to the Fisher Family Trust (FFT).  Students are encouraged to use their 'STEPS' when engaging with staff and other students:  Speak To me respectfully; Excuse me politely; Please and thank you.; Smile and say please again.  
Other common techniques create a sense of consistency across the school such as hands up and 'SLANT': Sit up; Listen; Ask and answer questions; Nod your head; Track the speaker. 
Diverse School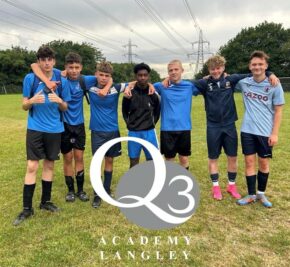 Q3 Academy Langley is a diverse school that is committed to providing a supportive and inclusive environment for all students.  For example, 10% of pupils have an individual meal plan. The school has a strong track record of academic achievement and is committed to helping students reach their full potential. 
The school's Progress 8 score of 0.7 is above national with an average for PP students of 0.51 that is in the top 88 schools nationally.  There have been zero permanent exclusions this academic year and only two suspensions last year.  This is reflected in the incident count regarding discriminatory offences, which is very low. 
Staff wellbeing is well supported as most teachers only teach one year group.  This reduces workload as lessons are delivered multiple times which means planning is reduced and staff can really hone and refine their craft.  This builds confidence in staff who are predominantly young and as a result, turnover is low and the school has no recourse to using supply staff. 
Staff enjoy an extra week's holiday at Christmas due to the slightly longer school day they work and the feedback policy ensures that marking is proportionate.  Teaching staff do not supervise detentions and staff are all fed which allows them to socialise with pupils.  This is very much appreciated by staff and pupils.  
Truly Transformative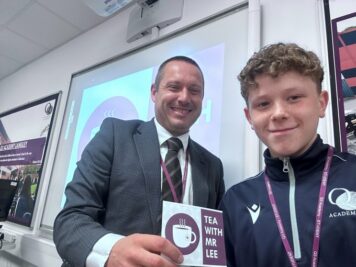 The work being undertaken at Q3 Academy Langley is truly transformative for pupils by supporting them to achieve highly regardless of need or starting points.  The structure, routine and consistency of school life creates healthy habits which have built a strong sense of community, helping staff and pupils to feel a sense of belonging.  This feeling is tangible in school, consequently high levels of mutual regard are in evidence between all members of the school community and high aspirations are the norm for everyone. 
This was neatly summed up by one pupil who told our Assessor, "I think everyone can be themselves at this school, but you do not know what people are going through.  The staff check up on everyone, even those who seem well put together because you do not know what they might be going through." 
If your school is interested in obtaining the IQM Inclusive School Award or you wish to talk to a member of the IQM team please telephone:
028 7127 7857 (9.00 am to 5.00 pm)
or email: admin@iqmaward.com for further details.
Want more information on the IQM Award? Click here to request your free IQM information pack