Walton-le-Dale High School has achieved the Inclusive School Award with Flagship status.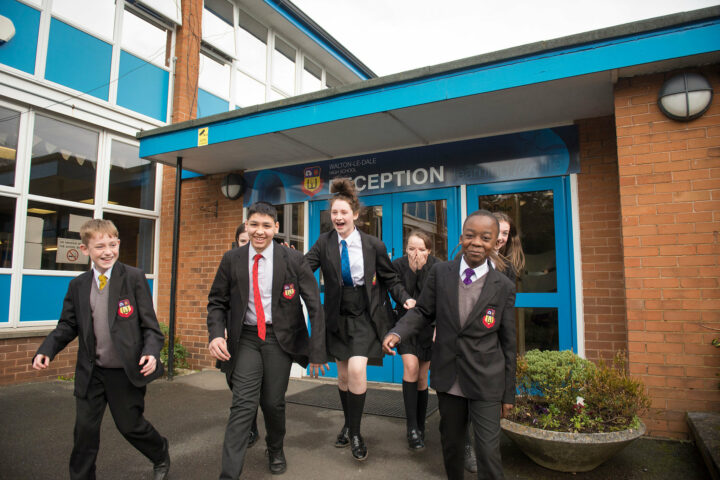 Exceptional Educational Experience
Walton Le Dale High School has experienced a period of significant change over the last academic year and is now looking forward to a period of stability and exciting developments with the appointment of a new Headteacher and the recent amalgamation with a new multi-academy trust, the Aspirational Futures Trust. The newly appointed Headteacher is fully aligned to the inclusive values and ethos of the school. With enormous recognition for how amazing the Walton Le Dale students are, the Headteacher is keen to provide an exceptional educational experience which leads to an aspirational future for the whole community.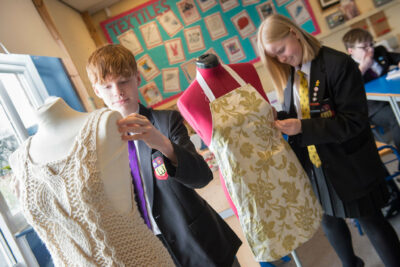 Positive changes have been made to the pastoral system, which will be implemented from September. The key changes involve the reorganisation of students into Houses and the re-introduction of vertical tutor groups.
The purpose of these changes is to promote a stronger sense of identity, competition and belonging among students, while also providing more personalised support and mentorship opportunities. This new structure aims to integrate students from different year groups within each house, allowing for increased interaction and the development of a cohesive house ethos. The inclusion of younger students with older ones enables the latter to act as positive role models, offering guidance and support. This vertical structure will contribute to the nurturing of a sense of belonging and shared responsibility among students and staff alike. 
Instill a Sense of Ownership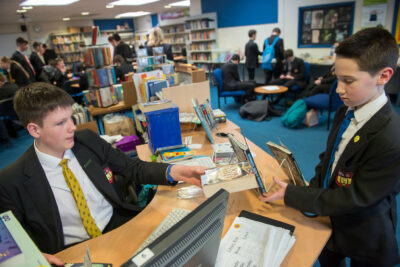 To instil a sense of ownership, the entire school community was involved in deciding the names of the new houses. All staff members participated in the process, allowing for a collective decision-making approach. Students were actively engaged too and it was the student body who suggested the space-themed names, resulting in the final house names: Apollo, Discovery, Challenger, Voyager, and Endeavour. This collaborative effort has created a sense of pride. Staff and students alike feel involved in whole-school decision making processes.  
To ensure effective implementation and coordination of the House System, the Headteacher has appointed House Achievement Leaders. These non-teaching pastoral staff members are responsible for overseeing the progress and well-being of students within their respective houses. They will play a crucial role in promoting a positive and inclusive house ethos, fostering healthy competition, and providing support to students when needed. The introduction of House Achievement Leaders will enhance the pastoral care structure and offer additional avenues for students to seek guidance and assistance throughout the day.  
To cater to the specific needs of each year group, there will still be year group specific assemblies alongside house families next academic year. These assemblies will provide targeted information, guidance, and support relevant to the academic, social and emotional development of students within their respective year groups. Students will also remain within year group forms for Personal Social Health and Economic Education (PSHE) sessions. This tailored approach ensures that students receive age-appropriate care and guidance and are well-equipped to navigate the challenges specific to their age group. 
Appropriate Support and Guidance
The Special Educational Needs and Disabilities Coordinator (SENDCo) was appointed in the spring term and has developed a clear vision centred around the establishment of a robust referral system. This system aims to ensure that students receive the appropriate support and guidance to overcome learning barriers effectively. By identifying students' specific needs and tailoring interventions accordingly, the school can foster a more inclusive and supportive learning environment.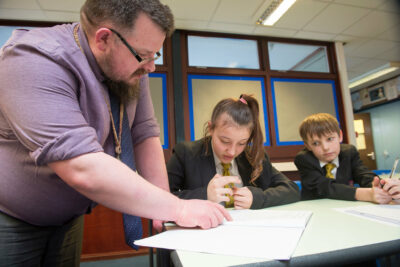 Weekly student-level meetings for the Pastoral Team ensure that any concerns or arising needs are effectively communicated amongst the key staff. These meetings serve as a platform for the team to discuss individual student cases, exchange insights and develop personalised strategies to address their unique challenges. The collaborative nature of these meetings enables a comprehensive understanding of each student's needs, creating a more holistic approach to their education and well-being. The SENDC0 ensures that all staff members receive weekly updates too. These updates keep the entire team informed about important developments or modifications to intervention strategies. By providing regular updates, the SENDCO ensures that all staff members are equipped with the most up-to-date information and can align their efforts to best support students. 
Support Mental Health 
To support students' mental health and emotional needs, the school works closely with Compass Bloom. Compass Bloom is a not-for-profit charity that provides essential mental health support in schools. Their dedicated team of Education Mental Health Practitioners, serving as key workers, work closely with students from Walton le Dale to promote mental wellness. Through a range of initiatives, such as assemblies, workshops and group work, they promote positive mental health and wellbeing for all.
Additionally, they offer one-on-one cognitive behavioural therapy (CBT) strategies, tailoring their approach to support individual needs. Their case load includes therapeutic support for students and their families, with direct communication with parents and carers. Compass Bloom extends their assistance beyond term time, including the summer holidays and actively supports students during key transitional periods, such as the Year 6 transition process.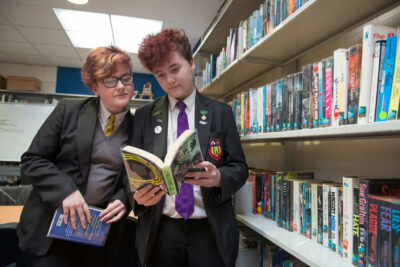 During the review day, the practitioners from Compass Bloom were in school supporting the enhanced transition day for children with SEND, taking part in the "come dine with me" event alongside the children. The school's collaboration with Compass Bloom allows for a preventative approach to create positive mental health and well-being for all. 
The recently appointed Family Support Worker and Attendance Officer collaborate closely, building strong relationships with students and families to provide effective support. They have already successfully supported a number of students to improve their mental health and well-being to attend school more regularly. The Family Support Worker offers wide-ranging support for families including assisting parents and carers in applying for bus passes and accessing other services, including food parcels. Approximately 40 home visits have been facilitated since the commencement of these roles, showing the impact in terms of increased capacity to directly engage with families. This dedication to family support will continue to have a positive impact on students' welfare and engagement in education.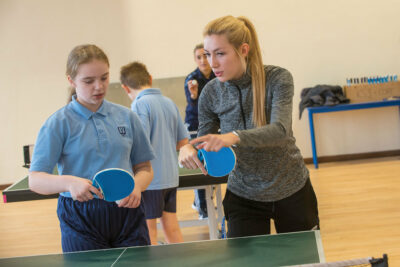 A comprehensive approach to Careers Education, Information, Advice and Guidance (CEIAG) aims to increase students' future prospects. Individual careers sessions have been provided for all students in Years 9-11. The use of a SEND tool to break down career steps into smaller, achievable goals has proven effective in providing visual support for those learners with additional needs. The school has also actively sought employer support by cultivating its alumni network. A notable enrichment opportunity related to CEIAG was the Year 8 visit to Cyberforce in Manchester, which aimed to introduce young people to careers in digital skills. Additionally, work experience opportunities within the school setting have been made available for students who may feel uncomfortable in external work placements. Sampling days are arranged for Key Stage 4 students to visit local colleges, establishing good relationships with these institutions. The proactive approach to careers support has resulted in positive feedback and increased aspirations among students. 
Integral to its Inclusive Approach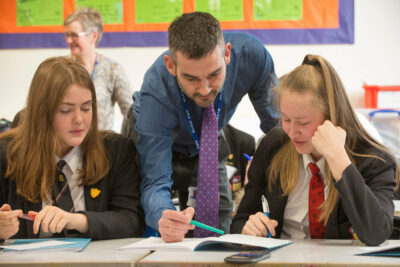 The school views the role of the Form Tutor as integral to its inclusive approach.  The Form Tutors play a crucial role in forging positive relationships with students. Their commitment was evident during the review day when two Form Tutors spoke about how much they enjoy getting to know their students well. In addition, the delivery of PSHE sessions within Form Groups helps create a supportive and safe environment for learners to feel comfortable to discuss the sensitive topics. The inclusion of activities such as 'Votes for Schools' initiative and reading in Form Time further enriches the pastoral support offered. 
Walton le Dale High School's Leadership Team demonstrate a reflective and flexible approach, actively involving staff in decision-making processes. The restructuring efforts to enhance pastoral support are expected to further strengthen the overall support system. There is a clear understanding that better outcomes can be achieved through effective support services and the school is committed to upholding its ethos of prioritising relationships. All staff involved in the review process are on board with the new plans for improvement and feel positive about the intended impact the changes should have on improving outcomes for the young people. 
If your school is interested in obtaining the IQM Inclusive School Award or you wish to talk to a member of the IQM team please telephone:
028 7127 7857 (9.00 am to 5.00 pm)
or email: admin@iqmaward.com for further details.
Want more information on the IQM Award? Click here to request your free IQM information pack