Derby Moor Spencer Academy has achieved the Inclusive School Award with Centre of Excellence status.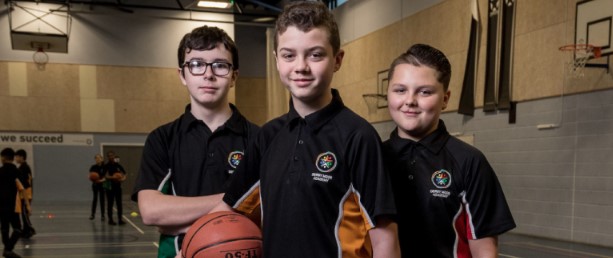 Beacon of Light
Our Assessor had the pleasure of visiting what can only be described as a beacon of light for many vulnerable students and families.  It is clear from the moment you enter the building that inclusion is at the heart of everything the academy does.  It truly is a community that celebrates individuality and diversity. 
The Principal's enthusiasm and knowledge for the academy and the students and families it serves is inspirational.  He has the drive and passion to ensure every single student is valued and receives the best opportunities.  The wider Senior Leadership Team (SLT) also echoes the Principal's vision, and together have developed something truly remarkable.  Inclusion really does run through the heart and soul of the academy.  All staff across the academy work tirelessly to ensure their students achieve beyond expectations, regardless of background or starting points. 
Derby Moor Spencer Academy is a remarkable school that welcomes all, including those that have struggled within other settings.  No one is seen as a 'problem', but rather a starting point that the staff wants to nurture and enable success. 
Derby Moor Spencer Academy is a larger-than-average secondary comprehensive based in Littleover, a suburb of Derby City.  Although the academy is based in Littleover, the vast majority of students attend the academy from other areas of the city, including Normanton, Sinfin and Peartree.  The academy catchment is derived from over 30 feeder primary schools.  The percentage of students in receipt of Free School Meals (FSM) is well above the national average.  The number of students with an Education, Health and Care Plan (EHCP) or in receipt of Special Educational Needs and Disabilities (SEND) support is also well above the national average and rising year on year. 
Within the academy, more than a third of students speak English as an Additional Language (EAL), this number is even higher within the Sixth Form.  The academy is extremely diverse in terms of ethnicity and religious characteristics with 14 out of a possible 17 ethnic groups represented amongst the student population.  The academy is oversubscribed with a rising roll each year: the Planned Admission Number (PAN) for each year group is 300 but this is regularly superseded through EHCP students and through students with Looked After Children (LAC) status.  
Together We Succeed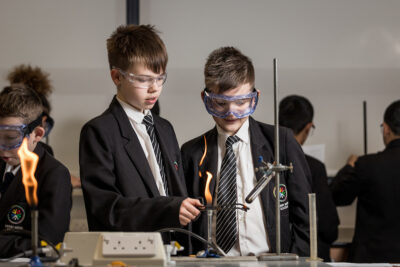 The academy's ethos is summed up in the motto: 'Together We Succeed'.  It is an academy that is justifiably proud of the inclusion journey it has been on thus far, and where they still wish to go.  Senior Leaders and wider academy staff spoke of how they strongly believe that effective schools are educationally inclusive schools and how they wrap their provision around the student, giving them time, love and understanding.  From this belief they have developed a culture of extremely high expectations and a clear focus on putting students first, ensuring all are included in everything the academy offers. 
There is a consistent approach to inclusive practice from all staff across the academy and it is clear that they also have an impressive awareness of the community they serve, and they embed inclusion through every opportunity they provide each day. 
Their aim is to provide the highest quality of education to all and their drive for excellence sees them having four core values: 
• Achievement – We believe that everyone can achieve, regardless of background or personal circumstance.. 
 • Aspiration – We believe our students and staff can be the best in their chosen field. Our renowned employability curriculum gives our students the knowledge, skills-base and experiences they need to aim for greatness and to aspire to be the best they can be. For staff, our bespoke cpd offer ensures they have developmental opportunities and are supported to become expert practitioners.
 • High Expectations – We believe high expectations are the foundations of success and expect the highest standards from our community. This is in terms of their conduct, communication and commitment to their own development. We are preparing students for life and the world of work, as such, we will not settle for anything less than excellence.
 • Community – We believe that the community at Derby Moor is unique and is key in preparing our young people for life in modern Britain. Our community is diverse and we all embrace the rich variety of faiths, cultures and backgrounds that exist here, working together to ensure everyone feels valued, safe and fulfilled.
Diverse and Inclusive School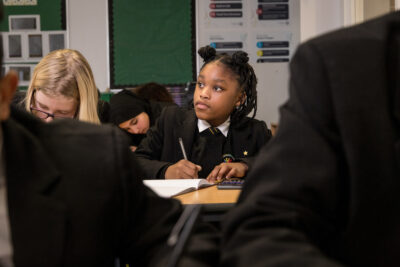 In the academy's most recent Ofsted inspection (June 2022) it was reported, 'Derby Moor Spencer Academy is a diverse and inclusive school.  Many pupils and staff are of the view that everyone is accepted.' 
The Principal, staff and Governors passionately believe in inclusion for all and being a school that celebrates individuality.  The Principal, with their support, has developed a culture that puts an emphasis on learning and teaching and is well supported by the leadership team.  Following this example there is a relentless drive from passionate, knowledgeable staff to improve teaching and learning so that every student's needs are well matched to their life experiences.  
Although the building is large and very fast-paced, there is also a sense of calm where pupils clearly feel valued and safe.  Each second of the school day is well considered to make every moment count for the pupils.  From breakfast club to enrichment activities to pupil independence and character development, no moment is wasted. 
The rigour with which the academy monitors every element of the school day, including behaviour, learning, curriculum, experiences, wellbeing and inclusion is thoroughly analysed by leaders to ensure the best possible outcomes are reached.  All staff work tirelessly to uphold standards and ensure pupils have the best educational experience to allow them to become well rounded, driven individuals to succeed in the world.  Staff dedication is clear across the academy.  Whilst expectations and standards are always being driven to improve, the workload for staff is also considered.  The Principal seeks ways to support staff to deliver the highest quality of education, without increasing workload. 
High Standards
During the assessment, staff focused on explicit discussions of how the inclusive curriculum is offered within Derby Moor.  It is a flexible curriculum model, with personalised learning pathways for each individual student.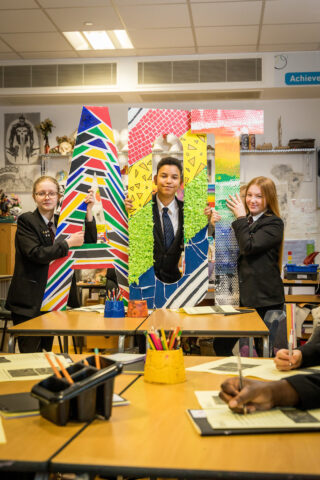 It is lively and stimulating, and staff plan rich opportunities for students to be active learners, moving towards independence, autonomy, control, and choice so that they learn to effectively communicate needs, wants, and opinions.  The curriculum is designed to ensure that all students are ready for the world of work, providing every single pupil the opportunity to set and achieve their career goals at the highest level. 
The academy collaborates with a wide variety of well known, national and international companies that offer careers advice, first hand experiences, apprenticeships, work experience and more.  The Principal and SLT have high standards and expectations for all students, regardless of their needs, providing them with the tools they need to succeed and be the best in their chosen career.  No limitation or barrier is put in the way of each individual and the academy works tirelessly to ensure 'anything' is possible. 
Standards across the academy are high, with consistent monitoring and reinforcement of expectations being demonstrated.  All students spoken to understand the behaviour expectations and the ethos of the academy.  All academy staff mirrors the same expectations to ensure the approach is consistent.  Students are involved in the development of expectations and understand why the different approaches and policies are in place.  It is clear that the academy's ethos for inclusion is well embedded in students with no one left behind or not included.  
If your school is interested in obtaining the IQM Inclusive School Award or you wish to talk to a member of the IQM team please telephone:
028 7127 7857 (9.00 am to 5.00 pm)
or email: admin@iqmaward.com for further details.
Want more information on the IQM Award? Click here to request your free IQM information pack