Wotton Park School achieves Centre of Excellence status.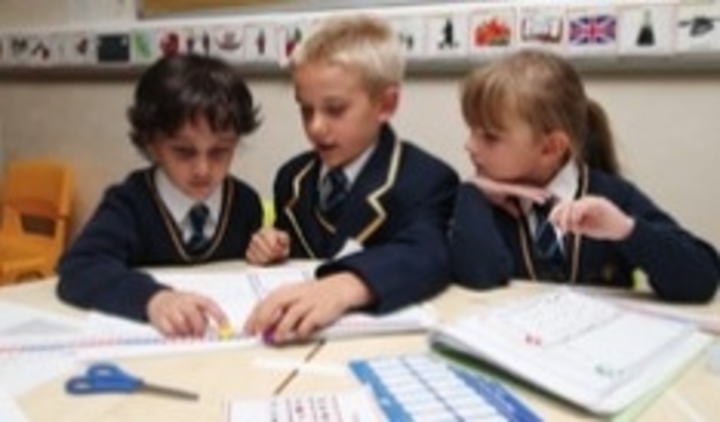 Context
Wootton Park School is a 4-19 years school which opened in September 2016. It has a current roll of 350 pupils with pupils in Reception and Year 1 in the Primary phase (two form entry) and pupils in Year 7 and Year 8 (four form entry) in the Secondary phase. The pupils are currently being taught in a bespoke building and will move to an outstanding provision in September 2019.
Purpose, Focus and Engagement
As soon as you walk into the school, there is a strong sense of purpose, focus and engagement. The Principal's commitment ensures simple but effective structures and processes are embedded throughout the school through research into best practice as well as consistently evaluating the school's journey. This means that a clear vision for outstanding practice prevails throughout the school.
Research is Key
Research is key to all developments within the school. There is a comprehensive host of training opportunities for all staff from NQTs to Leaders, teachers and teaching assistants.
Meeting the Needs of Pupils
The Leaders encourage the staff to use research to inform planning to meet the needs of every pupil. The staff spoke with a sense of pride and showed that all interventions are planned and assessed meticulously in the best interest of the pupils. They are tracked and monitored to measure impact. Interventions are then evaluated and agreed actions are taken to reassess the intervention and practice is altered accordingly. For example, 'Kagan' training to promote cooperative learning and communication within the classroom and the 'Learning Pit', created by James Nottingham to promote challenge, dialogue and a growth mindset.
Staff are Valued
Staff are all valued for their individual skills and their talents are nurtured. Consequently, training programmes and bespoke support is put in place for each member to reach their full potential. All staff spoken to within the school felt that they were fully supported in developing their own professional career in line with their skill set.
A Skilled Leadership Team
The Principal has created a skilled Leadership team aspiring all staff to become outstanding practitioners. The wellbeing and opinions of the staff are of upmost importance when evaluating developments within the school. This allows the staff to be involved and take ownership of cultivating an inclusive environment.
Teachers are Amazing
The pupils said the teachers are 'amazing' and they 'make the lessons interesting and fun'. The pupils were clear about understanding their particular 'Flight Path' and the differentiated outcomes in the lessons. They felt DIRT (Dedicated Improvement and Reflection Time) enabled them to understand how to progress in their learning through having dedicated time to reflect on previous learning. They felt that marking supported their learning and was meaningful and helpful. They also said that the school trips are 'really good fun' and everyone is included. They said that all the staff and pupils support each other and that if there is anyone struggling there is always either another pupil or member of staff in the classroom to help. They found 3B4T (Brain, Browse, Buddy, Teacher) which is displayed in each classroom helpful to develop independent learning.
Pupil Voice
The pupils clearly valued their roles as Anti Bullying Ambassadors, Learning Ambassadors and members of the School Council as well as Sports Leaders. They felt that they were given Leadership roles that enabled them to be role models for all pupils. They felt the behaviour was excellent and they all valued and loved school. The pupils also stated that there were so many enrichment activities at lunchtime and after school. Homework club was going on after school during the IQM visit and it was full of pupils eager to learn. Activities, whether sport, academic or relaxation are very well attended.
All Pupils Were Engaged
During the learning walk, all pupils were engaged and focused in learning. The lessons were innovative fun and creative. For example, in Year 7 English, the pupils explained to me that they were engaging in a silent debate. They could challenge other's written points of view working in groups. The pupils said it made them 'think more deeply' through the activities and questions around important issues relating to the three principles of the school. In a year 8 Maths class, the pupils were expressing 16 as a product of prime factors and had whiteboards and pens. The interactions of both teachers with the pupils were inspiring and motivating which meant that there was a sense of excitement about learning. In Year 8 Science during a DIRT lesson regarding a previous assessment the pupils were evaluating their outcome using green pens. They were having time to reflect on what they had been successful in answering and what they could improve upon. They were supporting each other and there was a sense of calm and ease as they thought deeply about their assessment result and future learning. In Spanish the classroom was buzzing with pupils speaking Spanish. All pupils spoken to said they loved Spanish as 'it was such fun and that the teacher encouraged everyone to speak Spanish and he even came into the playground at lunchtimes and spoke in Spanish to them'!
Staff Know their Pupils
The staff know the pupils very well and targeted interventions support the acquisition of Knowledge, Skills and Understanding of the curriculum. The three principles are key to every aspect of the school. The key words in the three principles and the words 'Foundation for Growth' make up the reasoning and strategy behind the curriculum and all the activities within the school. The Leaders tailor the curriculum and activities to the needs of the pupils and encourage staff to set challenges that are differentiated to encourage deep learning through their Curriculum.
Evaluating the Curriculum
The Curriculum in each year group is constantly evaluated and set out clearly in a planning document for the academic year. Key areas of personal development as well as key subject areas are covered throughout the term. For example, the theme for term six in Reception is 'Animals' addressing key areas such as Literacy, Numeracy, Understanding the World and Expressive Art and Design, Personal, Social Emotional and Physical development as well as Communication and Language. In Year 1 the theme for term 6 was 'Street Detectives' with a focus on Geography but addressing all other subjects including Spanish. In Year 7 and Year 8 the individual subjects address key assessment objectives covering specific topics relating to the curriculum. The teachers plan so that lessons are creatively delivered to ensure pupils' diverse needs are acknowledged and that all pupils can aspire to achieve as fully as they can. All teachers have an 'Active Folder' which incorporates the Data for the class, SEND information, pupils' photos, a seating plan and schemes of work. This ensures that all pupils are catered for within the lesson.
Supporting other Pupils
The pupils benefit from not only the excellent teaching but also from other important activities within the school. Year 7 pupils were busy supporting the Reception pupils with shared reading. The Year 7 pupils and the Reception children were clearly enjoying and benefitting from the interactions. I spoke to one Year 7 pupil who was reading 'Elmer the Elephant' to a Reception pupil and using the tone of his voice to create the scene which was clearly being enjoyed by both pupils. The classroom was a joy to see and a hive of activity. This activity also takes place between the Year 8 and Year 1 pupils.
Scope and Imagination
All the careful planning for themed teaching and learning allows for scope and imagination through the Core and Foundation subjects. The work produced culminates in displays and assemblies for the rest of the school giving a sense of shared learning and a celebration of all the excellent knowledge acquired as well as the progress made across the curriculum to widen the horizons of all pupils as well as promoting confidence and enjoyment in learning.
Colourful Displays
The colourful outstanding displays around the school (including a wonderful 'Remembrance Day' display on the stairwell which is thought provoking and exceptionally well produced) and in the classrooms reflect the creativity and the efforts produced by the pupils as well as visual resources to support learning.
The outstanding implementation of the Curriculum ensures that all pupils, regardless of individual needs, develop and progress through the years to become curious, confident and independent lifelong learners ready to enjoy life and to be able to face any difficulty and uncertainty with resilience and calmness.
Catering for all Pupils
Wootton Park School is committed in its approach to ensure all pupils are catered for through the carefully thought out additional provisions for those pupils with additional needs. All interventions are monitored closely in accordance with the SEN code of Practice 'Assess, Plan, Do, Review' model. The staff are committed and will always seek external advice if they feel they are unfamiliar with a certain SEN need. All secondary pupils are assessed on entry for Literacy and Numeracy. Some pupils, whom teachers identify complete a Dyslexia Screener which is discussed with the parents. All primary pupils are assessed on entry against the EYFS standards and Literacy and Numeracy in Year 1. Interventions such as structured reading scheme, card sorting exercise, sequencing activities, differentiated worksheets, reading for meaning exercises, speaking and listening exercises support the pupils' progress which is regularly monitored and assessed. Pupils with EHCPs have 'Learner Passports' created through meetings with both parents and the pupil setting targets that are realistic but challenging.
Supporting Social, Emotional and Mental Health
The school also supports SEMH (social, emotional and mental health). The Well-being Coach and one of the TAs (who is a trained teacher and is going to become one of the Sencos in a team of three) were clear on their approach. They both spoke passionately about 1:1 interventions and small coaching groups to reduce anxiety and to promote confidence and resilience. They spoke about the strategic plan to develop awareness amongst all pupils through using the 'Learning Pit' and a 'Growth Mindset' perspective to promote emotional and mental wellbeing amongst pupils. They gave examples of what has already taken place within the school. For example, the 'April Well Being Day' GREAT (Give, Relate, Exercise, Appreciate, Try New Things) had been very successful focusing on mindfulness and well-being as well as positive relationships. Such activities as yoga and relaxation techniques took place as well as pupils bringing to school dry food for the local food bank. Pupils were encouraged to fulfil a target going forwards to show random acts of kindness to others.
Innovative Experiences
Another innovative experience for pupils is the link with the local 'Gloucester Nursery' where a group of pupils from Year 7 share their love of books through reading stories and playing games each Monday afternoon. All pupils benefit from the experience. In addition to this, the pupils have links with the 'Seniors of East Hunsbury Social Group'. They share board games and computer games from different decades with each generation teaching each other new skills. They also went canoeing together at the 'Nene Valley Water Centre' and went on a virtual shopping trip where they could only spend £70 in a timescale of forty-five minutes to feed a family of four. These interactions have enriched the lives of the nursery, elderly and the school community.
Parental Feedback
It was inspirational to witness parents speak about how they felt 'so blessed' to have their children at Wootton Park School. They all felt that their children were so secure and engaged in learning and had made so much progress and were clearly enjoying the experience. They felt that the teachers went the 'extra mile'. One parent spoke of how his son will do PE and is not embarrassed in front of the others which is so positive. He also felt that the school had really understood his specific SEND need to ensure he makes progress. Another parent said that his child had experienced anxiety with the fire alarm and that the school had made sure through a special pamphlet that the anxiety had diminished. They felt that they were kept informed with homework with three topics as well as spellings, Maths and English. They mentioned the fact that their children all loved Spanish. One parent said that they had even begun watching Spanish on YouTube! They said they were kept informed about the curriculum and their child's progress through parent meetings and reports as well as sharing assemblies. They spoke of the fact that although certain parents are on the organising committee of the PTA, every parent is a member and they all help. Events such as Summer Fairs, Race Nights, Quiz Nights and the Christmas Fair all raise funds for the school and are very well attended. One parent who was doing some maintenance in the school said that he thought the support and interactions between the pupils, between the staff and between the staff and pupils were wonderful. They also said the pupils are encouraged to raise money for charities through their houses. They have also raised over £1900 for Sports Relief. All the parents said the Principal and the staff 'go above and beyond'.
High Aspirations
The SEND/PP Governor spoke highly of the school. Her experience in education clearly showed that her input is valuable in being a supportive as well as challenging 'friend' to ensure the school continues to develop. She confirmed the high aspirations of the Principal who had been exceptional in recruiting aspirational Leaders and teachers. The Governors were active in attending school including Awards Evenings, carrying out Learning Walks as well as attending at Governor Meetings. She felt the journey had been exciting to see the success of the school and was looking forward to being part of the continued journey into the new building in September 2019.
Flourishing through Inclusive Practice
Foundation for Growth' is at the heart of the school's ethos. Wootton Park School is blessed with a Principal and Leaders who encourage both staff and pupils to flourish through inclusive outstanding practice.
Find out more about the IQM Inclusive School Award
If your school is interested in obtaining the IQM Inclusive School Award or you wish to talk to a member of the IQM team please telephone:
028 7127 7857 (9.00 am to 5.00 pm)
or email: info@inclusionmark.co.uk for further details.
Want more information on the IQM Award? Click here to request your free IQM information pack.