St Michael's CE Primary School in Peterborough has achieved the Inclusive School Award.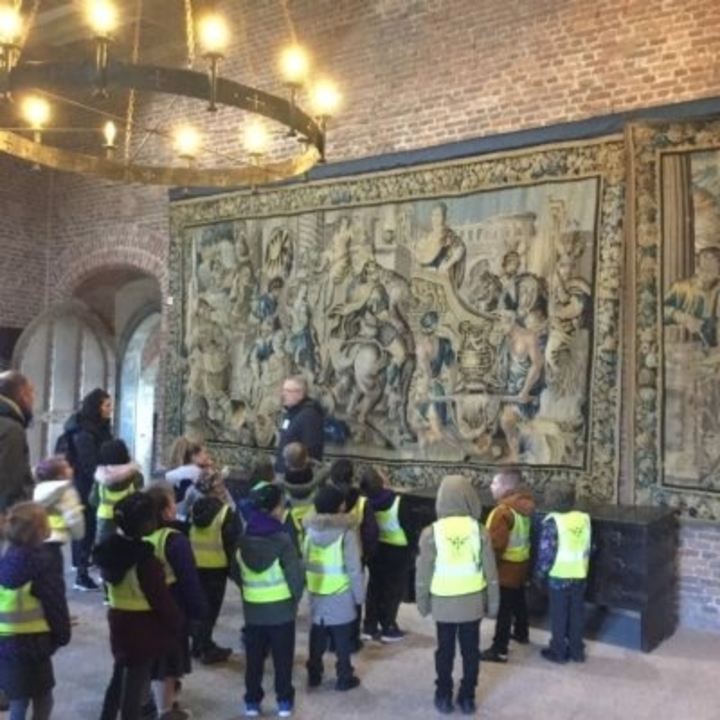 School Context
St Michael's Church School is a first-class example of an inclusive school. Following its opening in 2012, the school has continued to expand rapidly. It currently has 357 pupils on roll with capacity to increase to 420 pupils in 2020, following the recent opening of a new year 6 area. There are waiting lists for each year group. The vision for the school is to be placed at the heart of the community of which it serves and the ethos and initiatives in place already strongly support this view.
Celebrating Good and Outstanding Practice
This is St Michael's first Inclusion Quality Mark assessment. The rationale given for undertaking this was to celebrate good and outstanding practice within the school and embrace areas for future development. This, along with the school motto to 'be the best that we can be', encapsulates the determination observed in all stakeholders to celebrate current success whilst striving to improve further.
Sources of Evidence
The school have completed a detailed review of current practice with an abundance of evidence to support the good practice in place. During my visit I had the opportunity to meet with SLT, staff, pupils, parents, external agency partners and governors all of whom substantiated this.
Inclusion is a Core Value
Inclusion is one of the school's twelve core values. There is an ongoing piece of work to reduce these down to six with the views gathered from staff, pupils, parents and governors to determine the most important values to reflect the school's ethos. Values are shared through assemblies, displays, focussed work and celebration in classes. Pupils demonstrating these in practice are nominated for Super Citizen awards which are awarded within whole school assemblies.
Positive Relationships
The positive relationships amongst staff and pupils are clear to see and from the moment you enter St Michael's you are made to feel welcome. Pupils are proud of their school and enjoy coming here to learn. They feel that staff listen to them if there is a problem and help them celebrate their successes. They enjoy the range of experiences and activities which school offers them through extra-curricular clubs, residential visits and trips. Pupils also feel involved in the decision making process at school and take the responsibility for this very seriously, a fact which was evidenced when the school council undertook a rigorous tasting and interview process to choose the new school catering company.
Staff Training is Forthcoming
Staff are fully on board with the inclusive values of the school and were involved in the IQM evaluation process. They have a good understanding of the needs of their pupils, both on an academic, social and emotional level. The members of staff I spoke with feel that they could approach the leadership team with any concerns they may have or requests around CPD. Staff who are working alongside pupils with SEND are offered the appropriate training and support, including working with outside agencies in order to perform their role. Several members of staff have previously undertaken additional training to achieve HLTA or teaching qualifications with the full support of the school.
Building Relationships with Parents
St Michael's school has a number of initiatives in place to communicate, build links with and work alongside parents. The recent employment of a Family Support Worker, parental workshops, involvement in their child's learning and an open door policy are all very effective and have led to the school being highly regarded by parents. There was the opportunity to speak to parents during part of the assessment visit, all of whom were keen to share their experiences of the school and how it goes 'above and beyond' to support their child. It was a pleasure to hear such positive and heartfelt feedback and it is testimony to the efforts of the staff with comments such as
"I'd previously been told my son wouldn't access a mainstream school but always felt with the right support he could. He is doing so well here because of the staff's help and everything the school has put in place for him."
Another parent said
"As a parent I couldn't ask for a better provision for my child. I can't thank them enough."
Working Closely with Others
St Michael's works closely with a number of external agencies and projects including:
• Local Authority (LA);
• Forensic Child and Adolescent Mental Health Service (FCAMHS);
• Tripod;
• SEND Audit Peer Review Project;
• Vivacity;
• The Polish Project.
The SENCO Plays a Lead Role
Representatives from these agencies submitted letters of support to the inclusive practice of the school. The Inclusion Lead has close working links with the LA and Area SENCO. She is part of a steering group which runs training for SENCO's across Peterborough and plays a lead role alongside the Area SENCO in supporting 55 schools across the city who have signed up to undertake the SEND audit. The school works within three clusters – Church Schools in Peterborough, Local Schools cluster and Paragon Teaching School's Alliance.
Superb Learning Environment
The school building was designed to achieve an architectural design award. There is a living garden on the roof which is both eco-friendly and attractive within the grounds. The classrooms are bright and airy with each class having direct access to an outside learning area which pupils can access throughout the school day. Classrooms and displays have been carefully decorated and designed to take account of pupils with sensory and additional needs. Displays are attractive and stimulating whilst not being overly distracting. They demonstrate a range of purposes including celebrating pupils learning and interactive working walls.
Pupils' Inclusion Journey
The inclusion journey for each pupil begins before they even start school. Reception staff visit children in nurseries and home settings as part of their transition. The inclusion lead will also attend visits for pupils and families who have been identified as needing a more structured approach to transition. New parents are invited to attend a 'New to School' workshop. This runs for 3 weeks during the summer term and allows parents an opportunity to meet staff and find out more about the school in a relaxed manner prior to their child joining in September. All families are invited to a new intake evening which includes informal workshops around inclusion, supporting learning, phonics, food tasting etc. Children in need of additional support are given a transition story which is shared with the nursery and families to help reduce anxiety and further prepare children for starting school.
Transition Visits
The school recognise transition visits as an invaluable opportunity to build initial links with pupils and families. With Peterborough being an area of high mobility and new pupils joining school throughout the academic year it was recognised that there was a need to undertake visits to all new pupils and this has been implemented to good effect.
Cultural Diversity
St Michael's School has a higher than average percentage of pupils who are representative of a range of different cultures. The inclusion team and lead have all accessed additional training to support pupils with EAL and provision for pupils is good. The diversity of cultures within the school is celebrated by all. St Michael's is the only school in Peterborough who took up the opportunity to work alongside the Polish project where Polish pupils in key stage 2 had the opportunity to celebrate their country and culture. Activities took place over a day including cooking and tasting Polish food, learning about historical figures and a Polish tea party which parents and younger siblings within school were invited too. The event proved so successful that a film crew from Poland have arranged to travel to the school and meet with the pupils and staff who took part in the project.
Governors Promote Best Practice
Governors work closely alongside staff to promote change and best practice within the school. New Governors are being recruited at the present time and the induction package offers them an opportunity to work alongside a mentor to support them in the role. Governors recognised a need to increase opportunities to spend time in the setting and work collaboratively with staff and as a result of this changed the timings of meetings so that they all take place during the school day. This allows them the chance to meet pupils and staff and see teaching and learning first hand. In addition to this Governors have recently started attending parents' evenings.
SEND Provision is Very Good
The SEND provision for pupils at St Michael's is very good with a strong focus on nurture. Nurture groups are in place for year 1 pupils requiring additional support. Children are assessed using the Boxall Profile at the beginning of the provision and again at the end to monitor impact. The provision is proving very effective and the nurture approach is being developed fully within the school with well trained staff, the recent introduction of the new nurture garden and a commitment to undertake the Nurture Award Quality Mark.
Strong Support for Pupils
Termly pupil progress meetings highlight pupils requiring additional support in specific areas and a provision map of interventions is compiled. Interventions are run by a mixture of TAs and teachers to promote strategies being fed back into class and ensure teachers have a sound knowledge of all pupils' needs and progress. Records are kept throughout the duration of the intervention as well as assessments conducted at the beginning and end to measure any progress made. Effectiveness of the support is analysed with the Inclusion Lead and appropriate next steps planned.
Continuous Improvement
The Headteacher and Senior Leadership Team (SLT) have a clear understanding of what is working well in the school as well as areas of future focus. These are identified within the IQM self-assessment document and detailed plans are in place to guarantee further advancements are made.
Find out more about the IQM Inclusive School Award
If your school is interested in obtaining the IQM Inclusive School Award or you wish to talk to a member of the IQM team please telephone:
028 7127 7857 (9.00 am to 5.00 pm)
or email: info@inclusionmark.co.uk for further details.
Want more information on the IQM Award? Click here to request your free IQM information pack.