Hermitage Primary in Tower Hamlet has achieved this national award for the second time.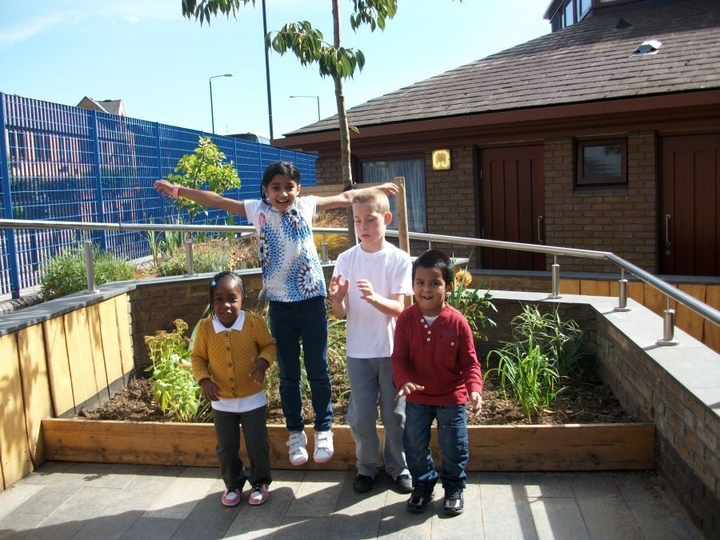 Context of the School
Hermitage Primary School is situated in the heart of Tower Hamlets, just south of the Tower of London, having a clear view of the Shard from its upper floor. It serves an ethnically diverse community with 81% of its children having English as an additional language (EAL). Although the school is situated so close to the centre of London the area has an attractiveness that demonstrates the pride of the local community with its village like atmosphere and appeal. School leaders, led by a determined and energetic headteacher, are clearly focused on their desire to place the school at the very centre of their local community, as well as sustaining a unique community within the school. The school's vision and values are clearly articulated and whilst demonstrating a profound respect for ethnic diversity there is also clear respect for British values and culture. The headteacher is totally committed to inclusion at every level and whilst discussing current national challenges she stressed the importance of 'pulling the community together'. Because of the school's proximity to central London, children are given the opportunity to visit the significant sites, such as, the Tower of London, the Houses of Parliament, and other places of interest, giving them a better understanding of history and their community. There is also a day trip to Boulogne for a KS2 year group which was taking place on the day of the IQM assessment.
Positive Links with the Local Authority
Senior leaders have developed positive links with the local authority and other schools in the community. They are active participants in 'Teach East London Schools' Alliance', (TELSA) which supports schools wishing to share good practice. They also have strong links with a nearby special school for children with a greater level of need and seek advice and support from their specialist staff.
A Tangible Sense of Teamwork
A key strength is the tangible sense of team work that pervades every conversation about the school. Every professional within the school is considered to be a 'leader of learning' and it is hard to distinguish between teachers and support staff. Teaching Assistants (TAs) and Learning Support Assistants (LSAs) have weekly meetings to discuss the needs of children and to offer advice gathered from their own experiences. A member of the support team (supported by an Educational Psychologist) is being trained as an Emotional Literacy Support Assistant (ELSA) to support children with mental health well-being issues, an area of increasing need. Support staff are used resourcefully and provide more specialised support for children in Year 6 who need extra preparation for transition to secondary schools. There is a healthy balance of male and female staff as well as representation of the ethnic backgrounds of the children. Staff see themselves as working in partnership with each other and with the wider school community and in particular with the parents of children.
Staff Feel Valued and Respected
Meetings with staff groups demonstrated that they feel valued and respected for the 'difference' that they bring to the school. They feel part of a team where their views are considered and they have opportunities to contribute to change and development. Social events such as the staff dinner and summer barbecue, include everyone and senior leaders are aware of individual needs. Some staff were keen to tell me about the sensitivity of the headteacher and senior leaders to their faith backgrounds and that they had been offered time off to celebrate Eid. The office team are welcoming and one member has shown her commitment by opening the school very early in the morning in the absence of the site manager.
Support for Parents is Very Strong
Support for parents and their involvement in school life is very strong. Each Wednesday parents are invited to attend a weekly workshop which offers varied activities and experiences. During the autumn term parents can attend the 'Strengthening Families' course and during the spring and summer terms the sessions are led by school staff focusing on areas of learning that are of particular interest to the parent group. Mutual trust develops as the meetings progress and some parents confided that they had not had the opportunity to learn to swim, as their children do now. The headteacher responded by arranging lessons for the parents so that they could learn a skill and enjoy a totally new experience.
Parents Get Involved in School Life
Parents are encouraged to support school trips as 'helpers' and receive special training to boost their confidence and to protect the safety and well-being of the children. They are invited to concerts and assemblies and their eagerness to attend often results in tickets being allocated and extra performances being arranged to accommodate everyone. Senior leaders demonstrate trust and respect for parents in many ways but, in particular, by asking a group of parents to write (and update) an information booklet/prospectus about the school. It focuses on the concerns that parents have and gives information that is important to them. It is written for the parents by the parents exemplifying the high regard and respect that senior leaders have for the families they serve. There is 'wrap around' child care which is a great support for working parents.
An Active PTA
There are many opportunities for parents to become further involved in school life and there is an active PTA which organises an annual Quiz Night, Summer Fair and other events. Recently parents, staff and children worked together to organise a special day to commemorate the life of Jo Cox MP on the first anniversary of her death. Even though this was at the time of Ramadan, parents felt very strongly that the day should be remembered in a way that was appropriate for children. Parents organised a Halal barbecue and the day was enjoyed in a very respectful but meaningful way with a focus on 'hope for the future'.
Parents speak very positively about the school community and those whose children experience special needs or disabilities appreciate the determination of the staff to support their child/children as well as possible.
A Creative Curriculum
School leaders have personalised a creative curriculum which responds to the needs of their own community. The headteacher has ensured that there has been considerable investment in learning resources and particularly in the school grounds which provide a rich environment for learning outdoors. The school has 'forest school' accreditation and has developed its own 'enticing' forest area which is accessible to all and provides a countryside-like haven in the heart of this busy part of London. Each year the school holds a Shakespeare festival, every class (including the youngest) studies the story line of a play and then takes a section and develops a performance, including all children. Shakespearian language is used and on the day of the IQM assessment rehearsals were in full swing in preparation for the performances to parents the following day.
Specialist Staff Employed
A specialist Art teacher is employed for four days each week whose work has encouraged children to see themselves as artists. A full-time PE teacher engages children in sensory activities as well as the more traditional physical activities. A Sports coach is employed at lunch time to help children engage in meaningful, inclusive play activities, thus avoiding isolation of vulnerable children. Every child is involved in a percussion music project with a variety of percussive instruments available, including untuned Djembe drums, tuned glockenspiels and steel pans. Children develop their skills and appreciation of the music they have created and then perform at termly celebrations. Children from the school have also represented Tower Hamlets, in London-wide community music projects.
Raising Aspirations
Over time the school has developed a strong link with Oxbridge university colleges resulting in older children being given the opportunity to spend a day in a university environment. The Headteacher is passionate about raising the aspirations of both children and parents and wants them to understand that there are no limits to future achievement. Children from Hermitage Primary School know that they may well qualify to study in Oxford or Cambridge in the future. The school achieved 'Good' (Ofsted 2014) and there are clear areas defined to improve academic achievement. In particular, the school is working hard to raise the achievement of children in receipt of Pupil Premium funding.
Celebrating Diversity
Children do not wear a school uniform but instead celebrate their diversity by wearing clothes that represent their family traditions. Conversations demonstrated the respect they have for each other and the positive inclusion of 'special' children with a higher level of need. There is a higher than average number of children with profound special needs whom the school reaches out to support and include. Children at risk of exclusion from other schools have also been welcomed and the approach to behaviour management has had some incredibly successful outcomes. For example, working with parents and their children, the school creates a very brief information card. This helps adults in school understand the needs of a child who may have in the past been disregarded as just deliberately disruptive. The card will say the child's name and may include statements such as; 'the things I find difficult are…', 'you can help me by…', 'sometimes I leave the room when I am getting anxious', 'please give me a bit of time to calm down' or 'I don't like people standing too close to me'.
Help Cards are Used
The cards known as 'help cards', not only assist the adults in the school but help individual children understand their own behaviour. Self-esteem is raised and gradually behaviour becomes more compliant as the child becomes aware that they are safe and understood. Approximately 20 children have 'help cards' to support them and as far as possible issues are dealt with locally so that children do not feel isolated or exposed because of the difficulties they are experiencing.
Community Cohesion Project
The PSHE lead member of staff has recently committed to participation in a cross generational and inter faith community cohesion project. Known as the 'Coco' project it will involve children from the school regularly visiting a day centre for older people. The purpose of the project is for children to learn about the lives and memories of the older people and to engage in conversations about themselves. Some of the older attendees will be experiencing mild dementia so the children will also learn respect for the ageing process and the importance of patience and understanding.
Values and Beliefs
Through the RE curriculum and school assemblies there is further exploration of the values and beliefs of the school and wider community. Children learn about a variety of faiths and visits to various places of worship take place. Black History Month is recognised and teachers incorporate reference to the event in their teaching.
Governors Offer Great Support to the School
Governors are very well led by an experienced and insightful Chair who offers great support to the school. Governors are regular visitors and have a special termly 'governor week' when they spend as much time in the school as possible. There is a full complement of governors who are offer both support and challenge. Recently governors attended the Bangladeshi Governors' Forum which aims to strengthen community links.
All Equal – All Different
I was made to feel very welcome on the assessment day and given a quiet room for my own reflections and meetings with members of the school community. On the wall was a simple poster "All equal – all different". The statement is a good summary of attitudes within this very modest school which is providing an incredibly inclusive learning environment for all. I would like to thank the Headteacher and the Deputy Headteacher for Inclusion, who both helped to make my visit so worthwhile.
Find out more about the IQM Inclusive School Award
If your school is interested in obtaining the IQM Inclusive School Award or you wish to talk to a member of the IQM team please telephone:
028 7127 7857 (9.00 am to 5.00 pm)

or email: info@inclusionmark.co.uk for further details.
Want more information on the IQM Award? Click here to request your free IQM information pack.