Wodensborough Ormiston Academy in Wednesbury has become an IQM Centre of Excellence.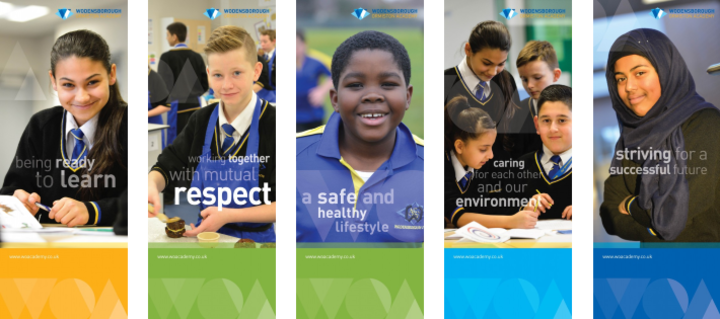 Total Transformation
Wodensborough Ormiston Academy has undergone a transformation since the appointment of its current Principal in January 2016. This is a rapidly improving school and places an inclusive ethos front and centre of all it does. This is a welcoming, friendly and happy place to be and students and their families appreciate the changes and significant improvements.
A Clear Vision
The Principal has a clear vision for the school and she is active and highly visible in leading by example. She is highly respected by students, parents, staff and governors and she is quick to acknowledge the loyal support of her hardworking staff and governors in supporting her to provide a highly positive and inclusive provision.
Focus on Well-Being and Care
The focus on the well-being and care of young people stands out as being extraordinary. Children come first at the Academy and their individual needs are a priority. Safeguarding processes are given a high priority and are very thorough.
An Inclusive Ethos
The academy is well appointed and resourced and is exceptionally well maintained. It is bright and airy with excellent use of display space promoting its inclusive ethos. Clearly, the building is very well respected and treated by students and staff. There is a high level of specialist provision for subjects, medical needs and additional needs.
Behaviour is Exceptionally Good
The behaviour of students was exceptionally good both in lessons and during break times. Students were polite and respectful and wore their uniforms with pride. In discussions with young people, it was abundantly clear that they were very appreciative of the changes that had resulted in much improvement particularly around behaviour. They spoke of feeling safe and cared for and how the Academy was a much better place to be in. They were also ambitious for themselves, more so than they had been in the past. There was a good deal of optimism evident but also the realisation that endeavour and hard work were part of the equation for success.
Superb Ambassadors
The young people were superb ambassadors for the school and testimony to the inspired efforts of Academy leaders and staff. There was a great deal of respect shown for their teachers and other members of staff, which was reciprocated. It was evident that the pastoral system is highly supportive of the needs of all students.
Quality of Teaching
The quality of teaching at the school has improved markedly over a short period of time through a supportive yet challenging programme of quality assurance. Staff at the school value the professional development and support which they receive and they plan well for lessons. There are specialist teachers for SEND and a very strong and skilful team of teaching assistants.
Parents are Very Positive
Parents I spoke to were very positive about their experience of the school. They are supportive and appreciative of all that the school does and they feel valued as partners in supporting their children as they flourish at school. They contrasted this with their experience just a few years ago. The Academy leaders are clear that parental engagement is one of their priorities as they continue on their journey to outstanding.
A Shared Vision
The Governing Body of Wodensborough Ormiston Academy has a clear, shared vision for the school and inclusion is at the heart of this. The Governors have clear areas of responsibility and through their link roles, e.g. SEND, Pupil Premium etc are well informed about the school. Governors offer appropriate challenge and are knowledgeable about the school. They have a realistic view of the school's position and work hard to assist the leadership to move the school forward.
Strong Links
The school has forged strong and productive links with many organisations in order to support its work. Notably, the networks and partnerships created to support SEND, Alternative Provision and CEIAG are excellent. Charitable work is a key part of school life and staff and students have worked hard to raise money for worthy causes. Plans for a SEND sixth form have been approved and once established will be a wonderful and most appropriate extension of the provision for young people in this community.
Find out more about the IQM Inclusive School Award
If your school is interested in obtaining the IQM Inclusive School Award or you wish to talk to a member of the IQM team please telephone:
028 7127 7857 (9.00 am to 5.00 pm)
or email: info@inclusionmark.co.uk for further details.
Want more information on the IQM Award? Click here to request your free IQM information pack.