The Bridge AP Academy in Hammersmith and Fulham has recently achieved Flagship School status.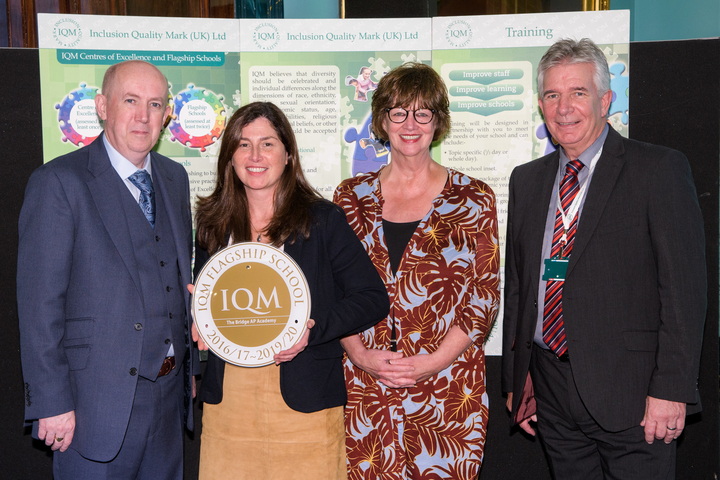 An Inclusive Ethos
In addition to the review of last year's targets and an opportunity to discuss their plans for 2017-18, I was fortunate to be able to attend the staff morning briefing which, in line with most briefings, gave the SLT a chance to update the staff on the day to day issues, student information, activities taking place that day. However, the overall tone of the meeting gave me an immediate insight into the ethos within the school regarding inclusion. Not only were the essentials presented and discussed but there was a very clear message from SLT regarding consistency, inclusive language and the setting of appropriate role modelling by teaching and support staff. Such were the levels of consistency and skill in managing challenging behaviours, it was not possible to separate staff into support, teaching, SLT groups. There was throughout my day an air of support and encouragement towards all students with an honest desire on the part of all staff to provide the best possible learning environments for students to become engaged, motivated and successful. All staff are encouraged to go the "extra mile" both in terms of their management of the students and in their regular communications, whether it be face to face, on the phone, or with parents and carers.
Preparing for Transition to New Build
There have been considerable changes within the staffing structure of the Academy group over the last twelve months, as detailed in the review documentation, and changes are due to continue over the coming academic year. The Bridge AP Academy building is due to be replaced by a new build provision over the next 12-18 months. During this time, The Bridge will remain a Key Stage 3 provision only with other students being transferred to the other Trust provision, Latimer. There has already been considerable preparatory work for this transition particularly for the students who will find themselves integrated with other students who, as they put it, come from "another postcode."
A High Level of Expertise
The staff demonstrate a considerable high level of expertise in managing change and are relentless in their continuing professional development. CPD for teachers takes place every Thursday afternoon, which is always directed towards the needs of the learners. Staff deployment is also based on objective assessment of need and skills' audits. Liaison between staff teams is excellent which includes a daily debriefing session. The Bridge uses the TEAM TEACH approach towards positive behaviour management with a strong focus on proactive and de-escalation techniques. There are two Team Teach instructors on the school staff. The school might like to investigate the PRO-ACT SCIP approach which also focuses on preventative measures and de-escalation.
In-house Training
The Bridge, as a member of the Teaching Schools Alliance provides and receives in house training covering both academic, social emotional and therapeutic interventions. They have also had outside trainers delivering CPD packages i.e. Giles Barrow: Transactional Analysis.
Alternative Resources
The school currently provides Therapeutic sessions in Art, Music and Complementary activities. As part of the baseline and progress assessments the school uses The Boxall Profile. I have suggested that they also check out:-
Fagus: Beech Lodge School (www.beechlodgeschool.co.uk) A unique approach/tool to monitor and develop emotional and social progress.
Sleuth: (sleuth.schoolsoftware company.com) Behaviour and reward tracking.
Behaviour Watch: (www.behaviourwatch.co.uk) an advanced web-based system which allows schools to centralise their own recording systems and log incidents online, eliminating the need for paper based reports.
PASS (www.gl-assessment.co.uk) identifies fragile learners and discovers hidden barriers to learning.
MintClass (www.mintclass.com) A fully integrated classroom optimisation tool, combining seat planning, mark books, reporting and pupil information tracking.
Encouraging Staff Development
In line with their approach to the learning journey of the learners in the school, the school also encourages staff development. The Learning Support Professionals have an excellent career path opportunity within the Academy trust. An example being, one of the staff members I spoke to on the day of my visit had managed his career path/changes via opportunities presented across the group. Staff are actively encouraged to progress with a strong approach to the progression and responsibilities for middle leaders.
Inspirational Leadership
The inspirational leadership and support across the Academy Trust has ensured that the school recognises, plans for, and overcomes all challenges. It was a great pleasure to visit the school and I thoroughly enjoyed the "Bridge" experience.
Find out more about the IQM Inclusive School Award
If your school is interested in obtaining the IQM Inclusive School Award or you wish to talk to a member of the IQM team please telephone:
028 7127 7857 (9.00 am to 5.00 pm)
or email: info@inclusionmark.co.uk for further details.
Want more information on the IQM Award? Click here to request your free IQM information pack.