Knockevin Special School in Northern Ireland is making sure its senior pupils are well-prepared for an independent life where they can contribute to society.
Supportive Environment
The school recently secured a mobile building, fitted with a fully functioning kitchen and prep area, to open a cafe which will be run by the senior pupils.
Knockevin Special School is a three-site school, with the senior site based in Castlewellan, Co Down. It caters for pupils aged 11-19, who have severe and profound multiple learning disabilities.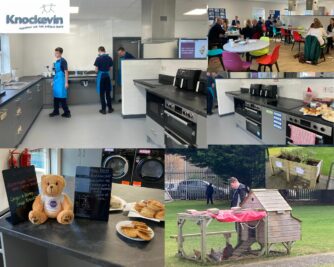 Gillian Rea, IQM Lead at Knockevin spoke about the school. She explained Knockevin is an IQM Centre of Excellence that aims to provide a supportive environment where each and every young person will have the opportunity to experience holistic education that meets their needs.
She said "We place a strong focus on preparing pupils for the next step in their journey. From about the age of 14, we are thinking about transition and where our pupils are heading. We start that at 14 because that's when we begin to get pupils and their parents prepared for leaving us at 19. We are starting to think about helping them to develop their life skills, prepare for transition, and become equipped to make a positive contribution to society.  A big focus in our senior school is on life skills, promoting independence, and preparing them for adulthood."
Roots Cafe
Gillian outlined how in previous years pupils from Knockevin would have been able to secure external work placement within the local community. However in recent years that has become more difficult – pupils now have more complex medical needs and challenges. With this limited level of opportunity, the Senior Leadership Team at Knockevin began to look at alternative ways to provide this essential work experience. And so the idea for Roots Cafe was born.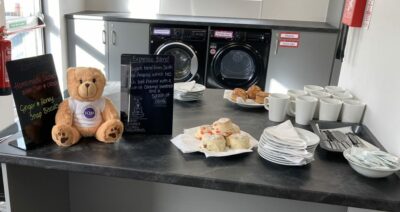 Pupils were involved at all stages from conception to completion. They spoke to members of the public about the idea, allowing them to put their communication skills into practice, and they visited other local facilities looking for ideas.  In particular a Church-based honesty cafe offered great support and demonstrated how the school could expand the facility to include the local community.
With the facility now up and running, in a mobile building adjacent to the school's main building, it's up to the pupils to make it work. They do everything from preparing and serving the food, being mindful of the budget, and even looking after the school's hens and herb garden. In Roots Cafe they also hone their customer service skills, and are responsible for doing the laundry and keeping the facility clean and tidy. The pupils are also able to use the expertise they have built up in Roots to help out the school caretaker and canteen staff.
Roots Cafe is well used by pupils throughout the week, and there are plans underway to open it to the public one day a week to allow the local community to support the venture.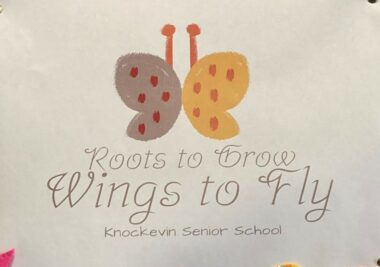 Work Placements
Pupils were also involved in designing the logo for Roots Cafe and it is very much in keeping with the Knockevin Senior School motto 'Roots to Grow, Wings to Fly.'
The very proud school principal Sara Liddell is delighted to have Roots Cafe operational. She said, "It provides fantastic work experience opportunities for our children and removes the barriers to attending work if they were to take part in external work placements."
Explaining a little about their IQM journey, Sara added, "We have been an IQM school for a few years now and are a Centre of Excellence, we have loved being part of the journey and have genuinely learned a lot, in particular from the Cluster Groups where we have been able to hear ideas from other schools. IQM has made us more outward facing so we have been able to chat to people and get ideas, so it has been fantastic."
Find out more about the IQM Inclusive School Award
If your school is interested in obtaining the IQM Inclusive School Award or you wish to talk to a member of the IQM team please telephone:
028 7127 7857 (9.00 am to 5.00 pm)
or email: admin@iqmaward.com for further details.
Want more information on the IQM Award? Click here to request your free IQM information pack.