Nutgrove Methodist Aided Primary School in St Helen's has become an IQM Centre of Excellence.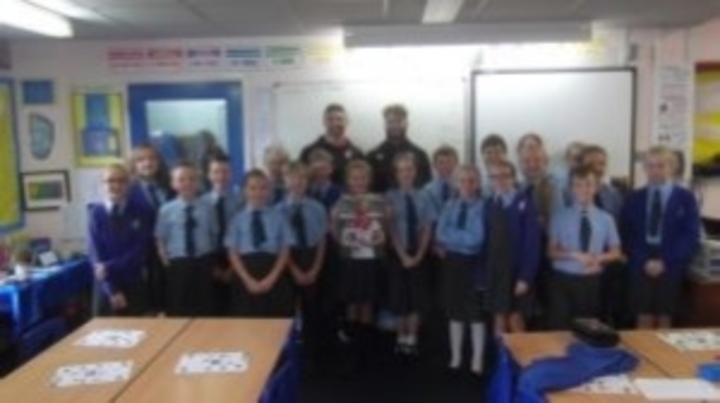 Context
Nutgrove Methodist Aided Primary School is an outstanding, over-subscribed average sized mainstream church school that strongly promotes Christian Values and encourages all of their children to be respectful, caring and successful members of their school and the wider community. It is one of only two Voluntary Aided Methodist Schools in the country. Most pupils are from white British families. The proportion of pupils with learning difficulties and/or disabilities is below the national average and the percentage of pupils eligible for additional funding via Pupil Premium is in line with National averages.
Development of the Whole Child
The school was judged to be outstanding in all areas by Ofsted in June 2014 and by SIAMs in February 2016. A strong commitment to Christian values, Methodist traditions and the development of the whole child underpins the work of the school and the distinctive Christian character of the school has a significant impact on the excellent academic standards and progress achieved by pupils at the end of KS2.
Academisation
The school is looking to academise in September 2018 as part of the Wesley Trust and will be a founder school in the Trust alongside Rosehill Primary School, Tameside. The Wesley Trust is committed to the ethos statement shared by all Methodist Schools. Inspired by this, the Wesley Trust's vision demonstrates its commitment to work with people and children of all faiths and none.
A Broad and Balanced Curriculum
Everyone involved with Nutgrove School works very hard to provide the pupils with a broad and balanced curriculum that has been designed to ensure progress. Pupils are able to study French from foundation to Year 6 and the school has been recognised for this level of commitment by being awarded The Primary Language Development Award at the Outstanding level from 2018 -20, a fantastic achievement for the school. It is a vibrant, motivating school where the warmth of the staff and pupils is obvious as one is welcomed through the door!
Inclusive Practice Permeates the School
Inclusion is an integral part of school life. Inclusive practice permeates the school at all levels, led by the Headteacher, and his Senior Leadership Team, who are role models to staff and pupils alike. This was evident in the conversations which were held with parents, a parent governor, the Chair of governors, staff, pupils, and an external partner whose relationships are built upon trust and respect. All share a common ethos of caring for one another and are determined to make their school successful in every respect. All staff are committed to ensuring that the school values and ethos, encapsulated in its mission statement, 'Learning and Growing to achieve and Standout with Christ at the Centre of all we do…progress' and is reflected in their passionate commitment to learning and recognition of the uniqueness of individual learners. It is driven by their desire to offer the best possible education for all of their pupils in partnership with parents and the local community. For example, alongside the Headteacher, the Educational Psychologist the school has bought in, has developed a bespoke intervention programme for eight children with barriers to reading which is currently being led by the Level 3 Learning Assistants for an hour each day. This will be rolled out throughout the school from September 2018. Another example, is that Year 6, have had an additional volunteer experienced Y6 teacher to particularly support the school's higher attainers so that the class teacher could focus on more vulnerable children through a very important final year of primary school. Evidence of this outstanding inclusive ethos I saw demonstrated on numerous occasions throughout the assessment. The school is naturally, highly inclusive, outward facing and promotes equality of opportunity exceptionally well so that no-one is ever left out. The school continues to work internationally welcoming a group of visitors from South Korea and a Pastor from Uganda, fundraising for a school in Tanzania alongside, other visits from organisations such as the Fire Brigade, a local author and a Great Britain International Triple Jumper who ran sessions with pupils and fundraising for the Steve Prescott Foundation (cancer Charity) and being involved in the memorial garden design at Thatto Heath.
Excellent Partnerships with Parents
Classrooms and corridors are bright and cheerful. Partnership with parents is excellent, parents I spoke to during the assessment were extremely positive about the school and that it is an open and honest place, where they feel comfortable, listened to and valued and where not only will their children be supported but they know they will be supported as a family. Parents said that they always felt welcomed and that staff willingly discuss any issues and support their children. School communication with them is excellent and the school is proactive in letting them know how well their child is doing. School governors are highly effective and visit the school as often as possible and are well informed about the work of the school and the progress that the children are making. Governors support the school effectively and are knowledgeable about the strategic plan for the school. They understand their role and use this to drive and hold staff accountable for the progression of the pupils at all levels and needs. They know that their contributions are valued by the school.
Improving Attainment and Wider Outcomes
The school is focused on improving the attainment and wider outcomes for all pupils. This can be seen through the use of Sensory items purchased for children who have a need that is sensory led to be used in the developing sensory room and the purchase of IDL (Individual Dyslexia Learner) App and NESSY applications for children with dyslexia, that have a wider application across the whole school. Also, through the rigour employed and developed in the use and assessment of Individual Education Plans (IEPs) written by teachers, delivered by teachers and teaching assistants on a tight timetable each week to more effectively improve the learning of the SEND pupils in their class; teachers are setting higher expectations for half term progress based on smart and better-paced coverage of appropriate small steps of learning. Drop-ins by the Headteacher/SENCo indicate that the designated first morning session IEP provision delivered by teachers is indeed raising the pace of progress on pupils' half-termly IEPs. Teachers and teaching assistants have dedicated IEP time to work with these learners and through more specific and focused use of IEPs the school has found that improving this practice to include weekly provision plans and evaluation shows that they are more targeted and specific, leading to better outcomes over a shorter time. The Inclusion Officer from the LA is using the Nutgrove uprated IEP document as an example of Best Practice across the authority. This practice now includes weekly Provision Plans for some SEND pupils as well. This is a great accolade for the school's hard work and innovation in this area. Clearly demonstrating how the school and teachers plan very carefully to identify and meet the needs of all pupils utilising the support staff that are highly skilled and work as key professionals alongside teachers. There is a very rigorous monitoring process including formal classroom observations, scrutiny of pupils' work and of teachers' planning as the school continues to provide high quality provision across the board. Within this framework there is also a commitment to staff well-being and nurture and a rigorous but supportive PM system.
Excellent Relationships
There are excellent relationships between the pupils, the staff and the Governors who are very much a part of the school. Every member of staff and adult who works in the school is a positive role model for the pupils modelling the behaviour which they expect, which I clearly saw during the assessment and in conversations with staff, parents, pupils and Governors. There is very much a family feel to the school, as a pupil told me during a conversation we are part of the 'Nutgrove Family and we look after each other' and this was re-iterated during a conversation with a member of staff who said, 'Everyone is included no matter who you are or what your role is, everyone is treated equally'. This is a fantastic accolade for everyone involved with the school. Behaviour in classrooms, around the school building and outside the school building was exemplary. Pupils are extremely courteous, mature and respectful to each other, to staff and to visitors. There are excellent systems in place to support the children and their families. It is very clear that the school 'knows itself' very well and has the highest expectations of all members of the school, including parents and families.
Aspirational and Inspirational Leadership
The school has aspirational and inspirational leadership, as observed by Ofsted In June 2014, who stated, 'The headteacher is extremely effective as he is constantly driving improvement by ensuring that teachers concentrate on the progress pupils are making from their starting points' and I would suggest from the evidence of the assessment it is still true today and is being devolved throughout the school though Senior and Middle Leaders. This is coupled with highly professional, motivated and enthusiastic staff with a great passion for teaching and for supporting the development of all pupils, led by a Leadership team who drive the school forward ensuring the best teaching and learning for their pupils. Everyone is working towards the same aim within a team atmosphere of passion and determination which is evident. There is excellent use of Pupil Premium funding and tracking to support pupils, alongside a fantastic level of support for staff and pupils at all levels. This is a school where pupils' needs are always to the fore and where they are always encouraged to do their best, irrespective of ability, disability, social background, ethnicity or gender, consequently they achieve well or better than expected.
Calm but Vibrant Feel
There is a calm but vibrant, feel to the school within an enjoyable, happy, nurturing and purposeful learning environment that sets the tone for learning and enjoyment for the staff and pupils. In my opinion from the evidence of the assessment, the emotional and educational support for all pupils and the staff is an outstanding feature of the school and is a key element in its success and why it is valued not only by the local community, but by the staff and the pupils. This is a school where staff are regularly going beyond what is expected to ensure successful outcomes for the children and families. Staff morale is very high and excellent relationships were evident throughout the assessment between staff, pupils and parents. Staff felt that there was a highly effective support network not only for pupils but also for staff and families which ensured the school was a happy place to be. There is very much a family feel to the school where everyone works to support each other to achieve the best for themselves and the pupils in their care.
Find out more about the IQM Inclusive School Award
If your school is interested in obtaining the IQM Inclusive School Award or you wish to talk to a member of the IQM team please telephone:
028 7127 7857 (9.00 am to 5.00 pm)
or email: info@inclusionmark.co.uk for further details.
Want more information on the IQM Award? Click here to request your free IQM information pack.