Lord Grey Academy in Milton Keynes has achieved Centre of Excellence status for the second time.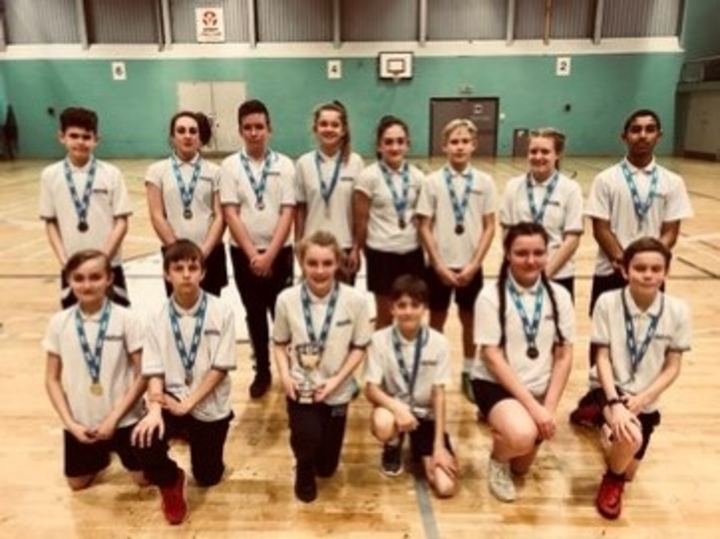 Many Changes
There have been many changes since I last visited the school in March last year. On 1st May the school became part of a small Multi-Academy Trust. The current Principal is leaving at the end of term and a new Principal has been appointed. A few other key staff have left and there have been changes to the senior leadership team and middle leadership team.
Commitment to Inclusion
The school's commitment to inclusion has not changed and is tangible when speaking to staff and pupils. The ethos is warm and welcoming, children come first. Everything possible is done to ensure that pupils are cared for and are challenged in their learning. The SEND provision continues to be very good although this was not reflected in the examination results for a variety of reasons. Pupils are carefully tracked during their time in the school and interventions are put in place for any pupil who is not making expected progress. Additional support for vulnerable pupils, of whom there are many, is provided through the strong pastoral system. The Academy is aware of the need to support vulnerable families where they can.
A Growing Academy
The Academy is growing and introduced an additional form of entry this year. This was planned for and additional building work has taken place to provide the appropriate facilities needed. The Academy remains popular and oversubscribed and the growth in numbers is helping them to manage (for now) cuts in funds that every school across the country is dealing with. Staffing remains fairly stable, although it is difficult to recruit experienced colleagues particularly in core subjects. The Director of Lower School Achievement and Primary Liaison Coordinator has done a very good job in organising primary/secondary transition and in establishing strong partnerships with primary feeder schools. She has gone to great lengths to ensure teachers in both sectors can learn from each other and collaborate in a variety of ways. They deliver lessons in each other's schools including subject specialists from Lord Grey, and year 6/7 teachers team teaching and working across sites to develop and share good practice
Bridging Units
Bridging Units have been developed and will be used by Year 7 teachers in September are just some of the initiatives put in place this year. There is a real respect for the teaching practice in primary schools and teachers at Lord Grey are keen to learn from them. Plans are in place to strengthen the partnerships and this is a real area of strength.
The Backbone to the School
Middle leadership is recognised as the backbone to the school and their development is a priority. A training course specifically for this group was delivered this term to ensure middle leaders both Heads of Faculty and Department are equipped to carry out their roles. Senior leader line managers will follow up with appropriate support and challenge this term and in the future. This is a key area for development and the Academy are also keen to offer a similar programme to aspiring leaders in the future.
Quality of Teaching and Learning
The quality of teaching and learning is a constant focus and much work has been done to ensure all teachers are delivering high quality teaching and have high expectations of all pupils. There has been an emphasis on promoting Quality First Teaching across the school and training and development has been provided for teachers and teaching assistants. This work is ongoing and is never done. The Academy needs to improve the attainment and achievement for all groups and whilst interventions are carefully targeted and are well planned and delivered they are not enough to help achieve sustainable improvement. It is for this reason that more work needs to be done to improve the quality of teaching in each classroom. Improving the quality of teaching and learning relies to a large extent on the quality of continuous professional development for teachers who have the responsibility for all the pupils in their classes.
Extensive CPD
We spent a lot of time talking about the extensive CPD provided and asking the question "Has it helped to improve the quality of teaching?" If the answer is no, then the Academy needs to develop a different approach to engage teachers in the improvement process. Teachers at all levels, even the most experienced and successful need to be given opportunities to learn and to improve their practice. Whilst there are distinct programmes for the few who are really struggling in the classroom the professional learning on offer tends to be generic and many teachers are passive recipients. I suggested that teachers are more involved in identifying the sort of CPD they want rather than it be decided by a senior leader. Furthermore, every opportunity should be taken to enable them to deliver much of this training for each other. This way, teachers are more likely to take ownership of the process.
Teacher Research Groups
A very positive development has been the expansion of teacher research groups and working parties, which involve all staff. The topics to be researched or discussed are decided by the senior team depending on the priorities of the Academy. Whilst these are very broad topics and allow a certain amount of autonomy it is still a fact that teachers are not yet trusted to choose their own issues to work on. We discussed ways that this might be addressed. Setting up Learning Communities that are led by teachers (not SLT) made up of teachers from different curriculum areas would help teachers to develop trust in each other and to learn from each other. Whatever systems are used to enable teachers to collaborate, it is important for them to agree clear protocols for working together.
Teachers Learn from Each Other
We know that teachers learn best from one another and we discussed ways that teachers might be given to learn from each other in the classroom. If teachers are enabled to see others teaching and be given the space to talk about what they had seen. Clear protocols would be necessary to help establish trust and to encourage teachers to participate. This would help get teachers motivated and excited about teaching and learning. Setting up the forums for discussion amongst teachers would be a start of the process. Recognising the professional agency of teachers so that they feel ownership of the curriculum and pedagogy will pay dividends in terms of pupil outcomes in the future. Teachers are currently monitored and checked at every opportunity and this creates anxiety and teaching to a formula that they believe will please the observer. We talked about the use of Learning Walks and the importance of making the distinction between Monitoring Walks and making it clear to teachers, which is which. Involving a cross section of teachers in "real" Learning Walks would get them into each other's classrooms and would be a valuable part of the CPD strategy. We know that constant scrutiny may help achieve compliance, but it does not result in better teaching. I have given the school some ideas and some resources that might help them to try different approaches.
A Coaching Model
The Academy has appointed three new Lead Practitioners who will work alongside teachers in the classroom in a coaching model. Again, I pointed out the need to establish clear protocols around their work and to make sure teachers are sure about the role of this group. Open classrooms have been introduced where teachers invite each other into their classrooms to see aspects of good practice. I suggested that it might be an idea to invite teachers to identify a problem of practice they want feedback on rather than pointing to good practice. This would ensure constructive discussions between teachers following the visit. Time needs to be built into the programme to allow teachers time to reflect on what they have seen and heard.
Upskilling Classroom Teachers
I was able to meet with the fifth EAL Coordinator (in five years) who has been in post since September. She is very well qualified and experienced in this area and has a small team working alongside her. Her enthusiasm in her role is infectious and she is already making an impact. The coordinator is very aware of the need to up-skill classroom teachers and to make sure they know how best to support bilingual learners in their classrooms. The number of pupils who arrive with little or no English is small, these pupils' needs are well met. The EAL Coordinator is aware of her responsibility in ensuring that pupils who speak fluently are likely to have issues with their writing. Teachers need to be aware of the common errors they make and need to be trained in how to correct these errors. We discussed this issue in some detail and the ways that the issues might be addressed. I have no doubt that she will be very active in her role her leadership qualities will stand her in good stead.
Pupil Voice
The work that has been done since my last visit, involving pupils in talking about teaching and learning is exemplary, and should be extended. The Academy is determined to hear pupils' voices in terms of how they learn and how they are taught and have developed a system of Year 7 Pupils Oracles, grouped according to their primary feeder school. The initial purpose of this process was to aid the development of the transition process and to assess if the cross-phase work has been having an impact. With this in mind, the groups have been asked about particular teaching strategies that were used in their primary school that they wish could be implemented at Lord Grey. These findings are being distributed to staff and have also been distributed to the feeder schools. The Director for Lower School Learning has plans to extend this model to enable other pupils across the academy to give feedback about their everyday experience and to pass this on to teaching staff.
Find out more about the IQM Inclusive School Award
If your school is interested in obtaining the IQM Inclusive School Award or you wish to talk to a member of the IQM team please telephone:
028 7127 7857 (9.00 am to 5.00 pm)
or email: info@inclusionmark.co.uk for further details.
Want more information on the IQM Award? Click here to request your free IQM information pack.