Hobletts Manor Infants' and Nursery School in Hertfordshire achieves the Inclusive School Award for the fourth time.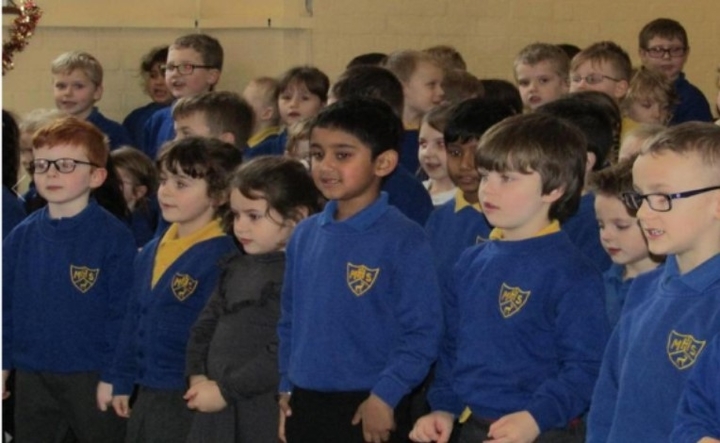 Welcoming and Inclusive
Hobletts Manor is a very welcoming and inclusive school and has a number of pupils with very significant needs. The school's motto is 'Achievement for All' and it is committed to inclusion, believing that every child has the right to succeed. It works hard to overcome any barriers to learning for its pupils, in order that they can achieve success. Inclusion is viewed as being everyone's responsibility, with staff believing that they 'can cater for every child, whatever their needs are'.
School Context
Hobletts Manor Infants' and Nursery School is situated in Hemel Hempstead in Hertfordshire. A two-form entry school, it has approximately 222 pupils on roll, inclusive of a 60 place Nursery. It is a popular and very oversubscribed school. The percentage of pupils eligible for Pupil Premium and who speak English as an additional language is broadly average, as is the number of pupils with SEND. Attainment on entry to the EYFS is below age-related expectations; however, pupils at the school make good progress and achieve well.
Developing Inclusive Practice
The school was first awarded Inclusion Quality Mark status in 2010 and has successfully been re-assessed in 2013 and 2016. It has worked hard to develop and improve its inclusive practices since the last re-assessment.
Sources of Evidence
During my visit I had the opportunity to verify information provided on the IQM Self Evaluation Report Plans, meet with the Headteacher and IQM co-ordinator (INCO), conduct a learning walk of interventions, classrooms and outside areas, interview teaching and support staff, parents, pupils and governors. In addition to this I was able to carry out a work scrutiny of books across the school, spend some time in lessons and look at key documentation. Prior to my visit to the school, the website provided key information about the school's policies and practices.
Ofsted
In January 2018 the school was inspected and once again graded good by Ofsted. Ofsted reported that parents and carers:
'recognise that this is an inclusive school where pupils are well supported to make progress from their starting points.'
The Outdoor Learning Environment
The school occupies a large site, adjacent to Hobletts Manor Junior School. Surrounded by fields, the school has cleverly maximised the external physical space to provide a range of well-maintained outdoor play and learning areas. Outdoor learning is a real strength of the curriculum at Hobletts Manor and part of this outdoor curriculum is delivered through regular Forest School sessions. The school has been recognised by the Royal Horticultural Society as a 5-star gardening school.
'Pupils are encouraged to be inquisitive, be outside and enjoy nature' (member of staff).
A Creative and Inviting Learning Environment
'Creativity is at the heart of what we do' (INCO)
and corridors and classrooms are bright and inviting, reflecting all areas of the curriculum. The quality of displays throughout the school is outstanding and reflective of the school's topic-based, creative curriculum. The school ensures that every pupil in the school has their work displayed. Classrooms have visual timetables, working walls, interactive displays and opportunities for children to develop their knowledge and curiosity, such as through the question of the day or by investigating what is currently in 'The Tank of Wonder' in nursery and reception. Reading areas are inviting for pupils, with dual language texts to support EAL pupils. The curriculum is enhanced through a number of enrichment weeks held throughout the year. For example, the week prior to the assessment had been science week, during which pupils focused on the theme of 'Save our Planet' and learned about plastic pollution. Pupils are given opportunities to take responsibility, such as through school council and the school runs a breakfast, after school club and a number of extra-curricular clubs.
A Child-Centred Approach to Learning
A strong team ethic, where all are valued, is evident amongst the staff, with a child-centred approach to learning. The Headteacher, INCO and whole staff share a very cohesive and clear vision of how inclusion operates in practice throughout their school. Planning, assessment and monitoring systems are highly effective and pupil progress is closely tracked through termly pupil progress meetings. The INCO is currently trialling a new assessment system, 'Bridging the Gaps', for those pupils with significant SEND needs, in order to measure progress. The school runs a range of interventions for the pupils, which are monitored for impact and works effectively with a range of outside agencies, such as the speech and language outreach service, education psychologists and 'The Open Toy Box', which is a play therapy service.
Continuing Professional Development is Very Important
Continuing Professional Development for all staff is given a high priority, with regular training, including that in the area of SEND and inclusion. The Headteacher and INCO ensure that staff receive specialised training, where appropriate, in order to best meet the needs of the pupils within the school.
Pupils Love their School
Pupils love their school. They say,
'it is very fun and challenging'.
They love Forest schools and all the opportunities that are on offer to them, including the clubs that they can attend. They know the school motto and school rules and they feel safe in school. They say that children behave well, because they know that they must
'use kind and positive words'
with each other.
Parents are Effusive
Parents are effusive in their praise of the school and how it has supported both them and their children, making comments such as:-
'The school is fantastic at keeping on top of his needs'
'I can only sing praises for the school'
'She's flying now'.
Staff are Accessible
They appreciate the accessibility of staff and how much effort the school puts in in order to meet their individual child's needs. They are able to become involved in the school in a range of ways such as through being the secret storyteller in nursery or by attending assemblies or events at school. There is a strong sense of community and the Friends of Hobletts Manor Schools Association (FoHMS) holds many events throughout the year, such as school discos and a summer fair.
Governors are Knowledgeable and Committed
Governors are very knowledgeable about, and committed to, the school. They are linked to classes and subject areas and visit the school regularly. In addition, the school belongs to a number of partnerships beyond the school, including liaising closely with the adjacent junior school.
Inclusion goes from Strength to Strength
Hobletts Manor Infants' and Nursery School has held IQM status since 2010 and their inclusive practice continues to go from strength to strength.
Find out more about the IQM Inclusive School Award
If your school is interested in obtaining the IQM Inclusive School Award or you wish to talk to a member of the IQM team please telephone:
028 7127 7857 (9.00 am to 5.00 pm)
or email: info@iqmaward.com for further details.
Want more information on the IQM Award?