The Duston School in Northampton has achieved Flagship School status for the second time.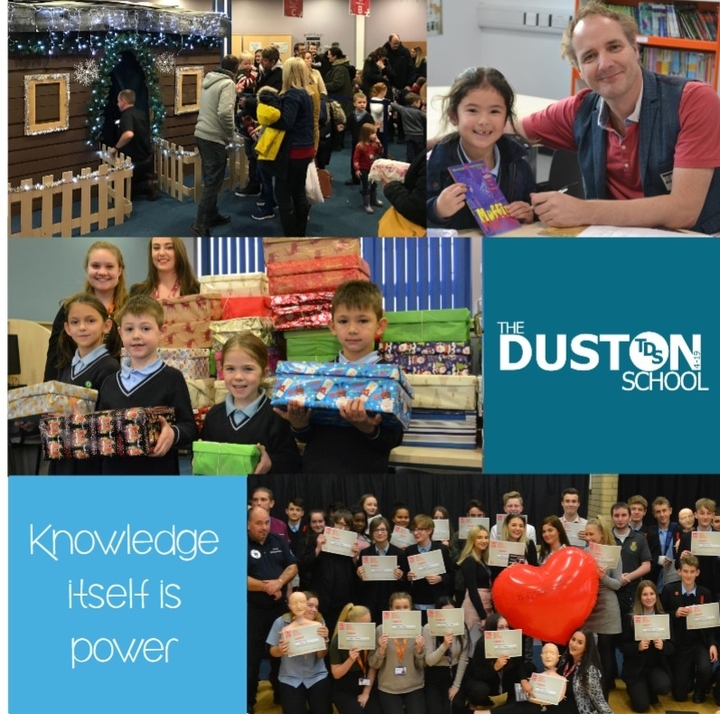 Context and Background
The Duston School is a unique, large all through mixed 4-19 school that is routinely oversubscribed with 444 students applying for places in year 7 in September 2018. Currently there are 1539 students on roll, of which 203 are involved in sixth form study programmes and a growing primary phase that now has classes through to year 3 and is developing its internal and external learning environment, with plans for a forest school in the future and further outdoor learning opportunities. The school is situated to the west of Northampton and is further enhanced through the on-site facilities of a Teaching School (TS) opened in 2015 and a School Centred Initial Teacher Training (SCITT) opened in September 2016. Through the Teaching School and School Centred Initial Teacher Training, the Duston School supports teachers in the region, as well as training and accrediting graduates to become outstanding teachers, as I evidenced through discussions with staff and two newly qualified teachers during the review. The Duston School is a unique, high performing, successful and oversubscribed school with a secondary phase, thriving sixth form, and a growing and successful primary phase. A school that works with a large number of partners both locally and further afield, including their support of the Kwinella School in The Gambia where the Duston School raises funds to feed students in the school. They are justifiably proud of their students who work very hard to give back to others. The school facilities include extensive sports grounds, a swimming pool and state of the art purpose-built curriculum suites including an exceptionally spacious and well-designed sixth form that has recently been moved to occupy the space where the library was previously in the centre of the school showcasing the sixth form as the hub of the school. The sixth form students I met and saw working in their centre were a credit to themselves and the school and are exceptional role models for the rest of the school students.
Confident, Happy Students
I was again, impressed by the confident and happy students and by the shared vision of the staff in the school, in both phases, with staff who are committed to inclusion in its best and broadest sense. The school mantra, 'Knowledge itself is power', as the Principal rightly says, sits at the core of his own and the school's educational philosophy and influences all that they do as a school and is evident in everything seen, observed or discussed in the school. Staff are inspired to develop as individual life-long learners and to play a full part, and immerse themselves, in the inclusive ethos of the school. There is a vibrant, stimulating, learning environment throughout the school with a focus on helping students to develop the skills they need to be effective both now and as well-rounded adults in a multi-cultural society and they are encouraged to develop the skills needed to be independent learners. Students I observed in lessons during a tour and learning walk of both the secondary and primary phases, on corridors during more social times are friendly, mature, polite and able to talk honestly and confidently about their learning and their experiences at the school. During, the review I met a variety of staff to discuss and thoroughly explore both progress since the last review and the action plan for the year ahead which enabled me to build a picture of the superb inclusive practice at the school. Everyone I met was helpful and spoke very positively about their experiences at the Duston School, often at length. It was evident throughout the review that the school ensures that all children succeed academically and become fully developed individuals. This very distinctive school has personalisation at its core and pursues excellence in learning and teaching with rigour and determination. The school has a culture where change is embraced, and creativity and adaptability are central to all aspects of its work. As part of their drive to ensure continuous improvements the Duston School is part of The Hatton Teaching School Alliance, The Brooke Weston Teaching School Alliance, where staff have accessed professional development courses through this provider, such as NPQML, NPQSL and OTP, they are members of the Chartered College of teachers, access The Teacher Development Trust network and are involved with PTE – Parents and Teachers for Excellence Campaign. During the Flagship Review, I experienced at first-hand the school in operation and on a tour of the school got to see teaching and learning from all viewpoints, witnessing a vibrant, yet calm school showcasing what it is about and delivering quality teaching and learning experiences for all students and demonstrating their truly superb inclusive ethos and culture that is part of the very fabric of the school and occurs naturally as a part of the everyday experience shared by staff and students and yet is tangible to all who visit. Students are valued for who they are and who they will become in the future. The staff are rightly positive about and proud of what everyone achieves here and as a matter of course go the extra mile and beyond to ensure that the students' needs are met. They are committed to developing students as confident life-long learners, achieved through ensuring that the school is fit for purpose, safe, secure and caring which fosters relationships based on respect; that there is a stimulating, creative and engaging curriculum that is both accessible and challenging for all students, which develops their skills, abilities and talents (an example of this is the school's Musician in residence) and by providing appropriate courses that meets the needs of all students and which makes certain they can move on to their next level of learning and through staff who are highly trained and motivated. This is a fact I can attest to during this year's review. There is a superb quality of support, care and nurture that is continually evolving to enhance provision at the school, as evidenced by their employment of a school counsellor. All staff I spoke to in meetings or around the school were clearly highly enthusiastic and motivated, professional and work exceptionally hard to ensure that the needs of all students in the school are met. This dedication continues through the effective CPD opportunities and through selective action research through The Duston Action Research Team – DART, where twelve staff have volunteered to undertake research projects supporting key objectives of the school, who also get support from Oxford University for their Action Research Project. This approach is something that may be of value and benefit to a wider audience in the school and would fit in to their bespoke CPD programme.
Excellent Relationships Exist
There is an excellent rapport between the staff and the students in the school. They are committed to ensuring every success for their students and themselves ensuring that every student is known and stretched to achieve their potential. At the Duston School inclusion lies at the heart of and underpins everything that happens both inside and outside the building and it continues to grow as a superb inclusive, highly positive and very innovative school community focused on quality teaching, learning and life experiences for all those involved, students and staff alike. Staff from the aspirational and inspirational Principal and his senior leadership team down have a very clear vision of where the school is going and what is needed to get there. This continual drive for excellence and the drive to achieve this is evident across all areas of the school and is key to what is done here where everyone works hard to ensure continuous improvements in their superb inclusive practices, set alongside rigorous yet supportive accountability processes and tracking and monitoring of students. The Duston School is constantly seeking the next improvement or innovation that will ensure the school moves back to outstanding. They make every effort to ensure that everyone shares and contributes to maximising the success for all who either work in this, superbly inclusive school or are educated here, using a diverse range of professional partners and agencies to ensure that the school's superb inclusive ethos and atmosphere meets the needs of its students and its staff. All staff spoken to during the review were extremely enthusiastic, highly motivated and proactive in their efforts to improve what is offered to the students, putting their students at the heart of the school, working hard to create a safe and inspiring place to learn, where students are respected, their talents are nurtured, and they can thrive, seamlessly supporting the school's aims and ethos. A continuous and evolving superb culture of critical reflection underpins the work of the school at every level. Existing strategies, programmes and projects monitored, evaluated and refined to ensure the school, its staff and students move forward, developing its superb inclusive practice and sharing this superb practice with other schools, locally, nationally and internationally.
Flagship School Status
Having completed a rigorous and thorough review and having discussed and agreed the targets cited in the report and their involvement in and capacity to support and attend Cluster Group meetings and understanding that their involvement will form a significant part of their next annual review, reflecting their capacity to maintain their Flagship Status. I recommend that the school maintains their IQM and Flagship status and continues to be reviewed annually.
Find out more about the IQM Inclusive School Award
If your school is interested in obtaining the IQM Inclusive School Award or you wish to talk to a member of the IQM team please telephone:
028 7127 7857 (9.00 am to 5.00 pm)
or email: info@inclusionmark.co.uk for further details.
Want more information on the IQM Award? Click here to request your free IQM information pack.