Carpenters Primary School in Newham has achieved IQM Centre of Excellence status.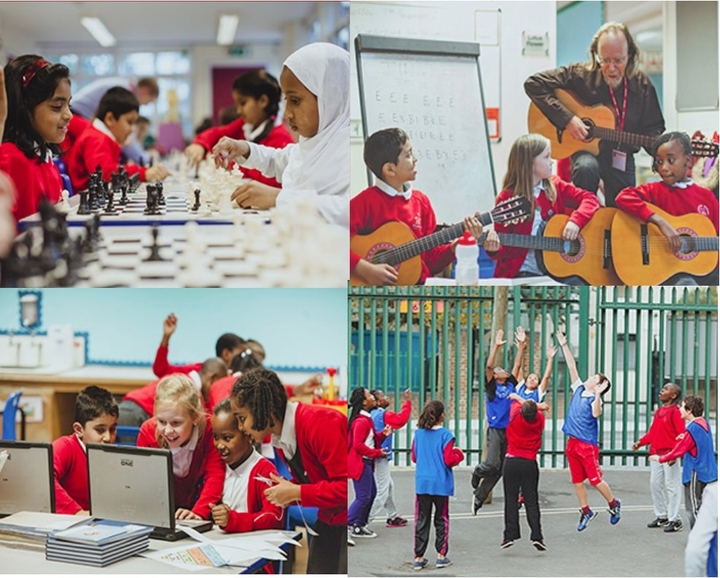 A Very Inclusive School
Carpenters Primary School is a very inclusive school. A welcoming, caring and nurturing ethos pervades the school and this is achieved by a hard-working, committed and stable group of staff. The school's mission statement is 'Together we Succeed' and the staff work effectively as a whole school team to support their pupils and families. One member of staff stated:
"We put the children at the heart of everything that we do. We really care about the children and the families."
Context
The school is situated in Stratford, close to the Olympic Park and in an area of regeneration. This has presented many challenges both to the local community and to the school, resulting in a transient population and high levels of mobility.
Background
Carpenters is a larger than average sized Primary School with two forms of entry and its own nursery. Currently there are 442 pupils on roll from Nursery to year 6. The school is part of the Newham Teaching School Alliance – Boleyn Trust.
Attainment on Entry
Pupils' attainment on entry is well below national expectations and areas of communication, speech and language, literacy and personal social education challenge the teachers throughout the school to support pupil progress and raise attainment. The school has a larger than average number of pupils with SEN, admitting children with a range of diverse needs. A high percentage of the pupils are entitled to Pupil Premium, with a very high percentage of pupils having English as an additional language. The school reports that a number of pupils are admitted to the school who are not ready to learn.
Pupils Progress Well
Pupils achieve and progress well, however, at the school and in February 2016, the school was graded 'good in all areas' by Ofsted, who reported that pupils were well taught and supported. End of Key Stage results are improving on an upward trajectory.
An Emphasis on Inclusion
The Headteacher, Inclusion Lead, Senco and staff share a clear passion for and emphasis on inclusion, with a focus on the whole child, including their social, emotional and mental health. There is a sense of true community and inclusive practices are well embedded with a high commitment from all staff in ensuring that every child is supported and enabled to achieve their potential.
An Experienced Inclusion Team
The large and experienced inclusion team is led very effectively by the Assistant Head for Inclusion and SenCo. The team includes an Interventions Lead; Learning Mentor; Thrive Behaviour Lead; Art Psychotherapist; Trainee Counsellor; Speech and Language Therapist; HLTAs, TAs and Senior TAs. They hold regular meetings and work closely with the school attendance officer and external agencies. The safeguarding team also meet weekly and report to the Senior Leaders. The well-being of both pupils and staff is paramount and a safeguarding specialist attends the school on a half-termly basis to provide 'supervision', which is coaching, mentoring and support for staff. Staff work very well as a whole school team with the child's needs being paramount. As one member of staff stated:
"It's all about the whole child."
Supporting Pupils and Families
The school goes out of its way to support both the pupils and their families and school staff have developed very positive relationships with families, particularly those who are difficult to engage, providing a triangle of support of child, school and family. The approach to teaching and learning at Carpenters is very child centred and individualised and the school offers a broad and balanced creative curriculum, which is relevant to its pupils, together with a range of clubs, educational visits and trips. Breakfast club and a wide range of after school activities are on offer to the pupils.
Support for Pupils and Staff
Systems of identification, support and review are embedded within the school, with clear pathways of support for pupils and regular continuing professional development for staff. A range of interventions operate within the school to ensure that every pupil receives the best chance of being ready to learn and then progress. These include reading, maths, handwriting, spelling, language and phonics interventions, which are regularly reviewed for impact. Resources help scaffold and progress the pupils' learning.
High Level of Pupil Engagement
Classrooms and learning environments are bright and enabling, with working walls and visual timetables. I observed a high level of pupil engagement in lessons through the learning walk, with adults deployed very effectively to support individual pupils. Marking and feedback is effective in helping pupils know how to improve their work.
Pupils Love their School
Pupils love their school and their teachers. They think their teachers are kind, good at their job and teach them about respect and values. Pupils said:
"They develop you as a student, but as a person as well."
"They sort your school matters, but they also sort your family matters."
Pupils Feel Well Supported
They were clear about how the teachers help them to improve their work and feel well supported. They like the opportunities that the school offers them if they have a problem such as the 'Cool Room', 'Chill and Chat Room' or 'Thrive room' where you can talk to a teacher 'in case you have a problem or want a new friend'. They are clear about the RESPECT values which the school upholds (responsible, excellence, share, polite, encourage, communicate and truth) and they like that their achievements are regularly celebrated at school, particularly through the weekly achievement assembly where awards for star of the week, reader, homework, presentation, pen licence and lunchtimes are given out.
Happy Parents
Parents are passionate about the school. They appreciate the support that the school offers them and the specialised staff who work at the school. They shared that the community had been through a lot with
'the only heartbeat of this area being the school'.
One parent stated:
"It's like my second family."
Good Relationships with Parents
The school works hard to build good relationships with all parents. A wide range of opportunities and workshops are offered to parents/carers to enable them to be involved in the school. These have included Triple P training and training on safety, maths, phonics and reading. The school is currently encouraging parents to sign up to a new 'Maths with Parents' online programme. In the EYFS at the start of each day parents and carers are encouraged to come and read with their child. Parents like the open-door policy which operates at the school, with staff being very accessible to parents/carers and the way that staff meet and greet them each day. The school's 'Ethos of Openness' was very evident throughout the assessment.
Governors are Fully Involved
Governors are equally passionate and involved in the life of the school. The parent governor I interviewed stated:
"I see myself as an ambassador for the school"
and felt that being a Governor was a privileged position with the most important thing being that the children are given the best.
Find out more about the IQM Inclusive School Award
If your school is interested in obtaining the IQM Inclusive School Award or you wish to talk to a member of the IQM team please telephone:
028 7127 7857 (9.00 am to 5.00 pm)
or email: info@iqmaward.com for further details.
Want more information on the IQM Award? Click here to request your free IQM information pack.