Bailey Green Primary School in North Tyneside has become a Flagship School.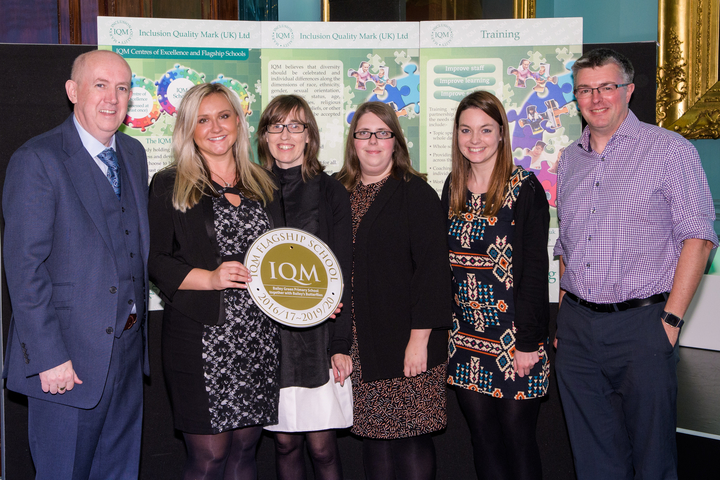 No Challenge is Too Hard
Bailey Green is a school where no challenge is too hard, adults do not take the easy option. As a result, the children, parents and community are very, very fortunate to have such fantastic opportunities which maximise outcomes, and feedback shows they very much appreciate it.
Strong and Focused Leadership
Since the last IQM CoE Review (May 2016), a lot of work has been undertaken and Bailey Green has moved forwards at great pace, with much progress made. The staff team is strong and it is a community which has an all-consuming enthusiasm for the responsibility of its achievements. Strong and focused leadership, especially by the Inclusion Manager and the Head Teacher, permeates to all levels, with progress being driven forwards swiftly and with great energy. Bailey Green and the team have made very strong progress in achieving last year's targets and their further extension is reflected in the new targets.
Pre-School Provision
In 2015, Bailey Green Primary took over the former Sure Start Centre and created their own Bailey's Butterflies, a pre-school provision starting at a few weeks and leading through to Nursery. This has allowed the outstanding practice of the school to influence this provision, thereby creating something special, fully integrating staff, parents and children in the process. Creative approaches to staffing and training results in staff across the school having a thorough understanding of every child's expectations and achievements, this being brought about through continuity and consistency.
Team Around the Child
Numbers in Bailey's Butterflies have continued to increase to 96 on roll in May 2017 (having started at 17 in 2015), resulting in the creation of a permanent team around the child. The focus on teaching, learning and assessment has created "Learning Journals" and annotated "Weekly Planners" which are now used throughout the school and which are closely monitored by the Leaders and Head Teacher. The Team Leader of Bailey's Butterflies, together with the Nursery (Bailey's Bees) Leader and EYFS leader in Reception, have worked tirelessly to ensure that the learning is planned using a joined up approach. Common formats have been determined with the involvement of all staff in this process. This cross-pollination of ideas has fertilised a strong understanding of how learning develops throughout the Early Stages and into the school curriculum.
Learning Matches the Needs of the Children
Leaders have allocated planning time to ensure the learning is appropriate and best matches the needs of the children. The Learning Journals form part of a robust and integral tracking system which analyses impact of learning/teaching through observation and assessment. As is typical of this reflective school, various models were discussed and trialled, before one was chosen, adapted, and implemented for use at Bailey Green. Challenge is a key role of Senior Leaders to ensure accuracy of judgement.
The Needs of All Children
As the school and its partners think widely about the needs of all children, this is reflected in the new SENCo for EY/KS1 introducing a SEND register in Bailey's Butterflies, which mirrors the school's SEND register. This, quite rightly, allows for the early identification of children who may require additional support in the Early Years and into school.
Smooth Transition
The result of this outstanding work and the support for PSHCE is that the children move up seamlessly from Bailey's Butterflies into the school's Nursery. Conversations with leaders and staff and a thorough analysis of planning, Learning Journals and a Work Scrutiny confirm this smooth transition. The joint use of school facilities prepares the children thoroughly for this transition. Two parents said: "We find staff at Bailey's Butterflies fantastic. They have all really helped with my son's development. They are good at focusing on development needs of all the children. It helped my oldest son so much when he moved over into school. I don't know another childcare setting where the children can do PE at school. The staff and the service is excellent".
A Strong Starting Point
Data Analysis and conversations with leaders further confirms this, as children join the School Nursery ahead of where they were historically (before the school took over the Sure Start Centre) in the aspects of PSE, Communication and Language and Physical Development. This gives them a particularly strong starting point in Nursery to continue to make outstanding progress into the future. In addition, through the joint work previously mentioned, they form relationships with a wide range of peers and adults from all phases, whist getting an early understanding of the routines and behaviours required for their next step.
Enhanced Self-Esteem
The children's inner confidence and enhanced self-esteem allows them to settle in quickly into the Early Years' curriculum. Classroom observation on the day of the assessment showed children of all ages who were articulate, attentive and curious learners who could express themselves with confidence.
Feedback from Parents is Extremely Positive
Feedback from parents is extremely positive: "Our son, joined Bailey's Butterflies in August 2016, following attending an "OUTSTANDING" nursery Kids first. XXXXXX had delayed speech and language, we were extremely worried and upset, so after a visit we decided to change nurseries. We could not be happier with XXXXXX's progress, his speech has come on massively in 6 months, he goes into nursery with no issues, he happily walks in and he does not look back. We appreciate how much time has been put into supporting XXXXXX and his progress reflects this. XXXXXX's sister is starting Bailey's Butterflies in September when I return to work and I know she is in safe hands and she will learn so much from the excellent staff".
Strong Links with the Local Community
Bailey Green actively looks outside their own institution and has developed strong links with the local community, especially so with local business Multi Packaging Systems.
Conversation with staff from Multi Packaging Systems detailed a wide range of projects taking place, which benefit not only the children from Bailey Green, but the staff from both Multi Packaging Systems and Bailey Green. During the past year these have included:-
• Cross-curricular design projects with Year 6 children, including several visits to the factory, culminating in a finished product which they sold at a profit.
• Shared management meetings to look at different ways of managing systems and people.
• Work life balance activities – involving football, netball and rounders 'friendlies' between Bailey Green and Multi Packaging Systems.
• Multi Packaging Systems charity work supported by Bailey Green staff.
• The School Choir singing at Multi Packaging Systems' Christmas lunches.
• Staff and children involved in Multi Packaging Systems' Summer Fair.
• Multi Packaging Systems' staff taking part in a Y6 'Apprentice-style' pop-up café project.
• Staff from Multi Packaging Systems supporting a gardening project at Bailey's Butterflies.
• Multi Packing Systems' staff attending Christmas and Leavers' productions and assemblies.
• A Bailey Green apprentice being offered summer work at Multi Packaging Systems to enhance his work CV and future employment opportunities.
• Multi Packaging Systems staff are familiar faces around school.
• Director of Multi Packing Systems, Killingworth, has become a School Governor.
Long-Term Impact
However, typically of Bailey Green, they are not after a "quick win", but look for the long-term impact of such projects both for themselves and the wider community. Links are strongly embedded within the development of personal skills, but wisely into the academic curriculum too. Learning is therefore fun and relevant, meaning that children understand the purpose of their schooling by seeing how it applies to the workplace.
Supporting Other Schools
As part of Bailey Green's process of moving towards Flagship status, they have actively engaged with a number of educational professionals. They currently support a school in challenging circumstances in Northumberland on its journey to becoming "Good".
Working with HMI
Bailey Green is also actively involved with HMI working on a Government project "KS3 – The Wasted Years". Due to Bailey Green's high standards and robust systems, the Head Teacher, teachers and teaching assistants have all spoken at a regional conference to a range of Secondary Heads and Heads of Department, regarding how to use Year 6 standards as a springboard to rapid progress on entry to KS3, rather than them coasting for a number of years.
Working with Other Schools
Arising from this, the school has begun working with the feeder High School (Killingworth Cluster). This has resulted in:-
• Several meetings regarding English and Maths.
• A review of current planning and provision.
• English and Maths teachers from George Stephenson High School spending time observing teachers at Bailey Green, with a particular focus on teaching methods and how these may be implemented into their own practice.
Teaching Partnerships Nationally and Internationally
As a school constantly looking to extend their own practice and learn from others, there are a number of teaching partnerships locally, nationally, and internationally including teachers from China, Thailand, and Saudi Arabia.
The school clearly maintains its Centre of Excellence standard, but I would recommend that it is awarded Flagship Status, in light of their inclusive principles and achievements.
Find out more about the IQM Inclusive School Award
If your school is interested in obtaining the IQM Inclusive School Award or you wish to talk to a member of the IQM team please telephone:
028 7127 7857 (9.00 am to 5.00 pm)
or email: info@inclusionmark.co.uk for further details.
Want more information on the IQM Award? Click here to request your free IQM information pack.