Wodensborough Ormiston Academy in Sandwell has achieved Flagship School status.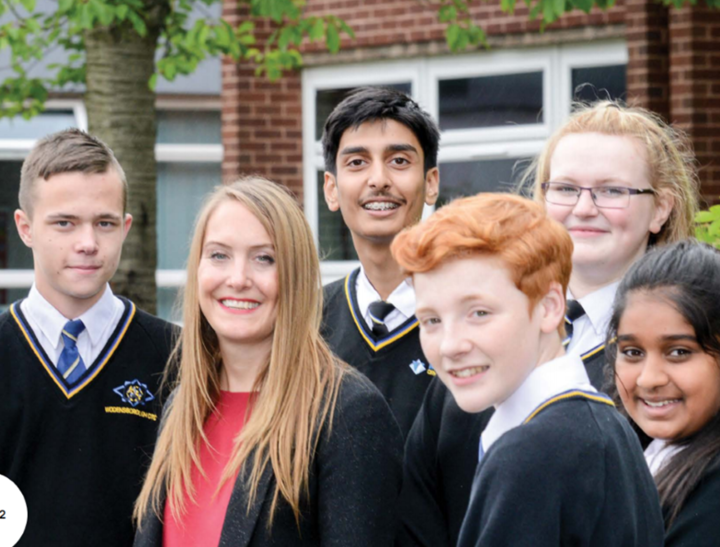 Context
Wodensborough Ormiston Academy (WOA) was, until recently, an 11-16 Academy within the OAT Academy Trust. It now has a small WOA Post 16 provision for SEND students and wishes to develop this further as part of its IQM Flagship project.
Ofsted
Despite being judged as 'Requires Improvement' by Ofsted in 2016 and continuing to be so, the school has made significant improvements in key areas, as documented by Ofsted following their monitoring visits and a further inspection. The members of the Senior Leadership Team share a passion for improvement and providing a high-quality service to the children and families in the local area and beyond. They are aware of where further developments need to take place for the school overall to be rated at least 'Good' and are being proactive in bringing about further change and improvement. Ofsted rates leadership highly and has confidence in its capacity to do so, acknowledging that 'it is a truly inclusive school'(Ofsted Feb 2020).
Drive and Commitment
The drive and commitment of the Principal are infectious and staff and students are full of praise and admiration of her leadership. They are fully aware that she cares passionately about all staff, students and families and will not accept anything less than the very best provision and opportunities. She has been and continues to be, resilient and relentless in the face of difficult challenges and this is also evident in her colleagues. Staff are now sharing her vision and determination.
Deaf Resource Centre
The school has a Deaf Resource Centre and a Resource base for Autistic students. It also has a higher than national average number of EHCP students and a large percentage of K students.
Embedding Improvements Already Made
As part of the drive towards 'Good' and embedding the improvements already made, the Academy has run its normal timetable and calendar as far as possible during the pandemic. In addition to an exceptional amount of social and emotional support alongside academic support, the school has worked committedly towards achieving its IQM Centre of Excellence targets.
Cross Curricular Strategies
Low levels of literacy are a major barrier to learning for many students and the school has implemented its plan to adopt robust cross curricular strategies to address this issue. The appointed Director of Literacy has introduced strategies at three levels: cross curricular 'Smart Start' programme; English mastery programme; targeted intervention for those students requiring it.
Literacy Driver
'Smart Start' is the literacy driver across the curriculum and takes the form of a streamed session to all tutor groups on a Monday morning. It is delivered by the Director of Literacy to ensure consistency and accountability. The differentiated content of the session for the week is linked to another cross curricular strategy in that all teaching staff focus particularly on aspects of literacy raised in Smart Start in their lessons during that week. This is reflected in feedback, helping to standardise marking practice of spelling, punctuation and grammar across the school, a necessary improvement highlighted by Ofsted.
Language for Learning
The cross curricular strategy also involves the development of specific language for learning in discrete subjects. Language for Learning boards exhibiting key bespoke vocabulary are in classrooms and are often on pegs, in order that they can be easily changed for different classes and modules. Leadership will ensure that these are in all teaching rooms. Tier 3 vocabulary is encouraged by using synonym charts. Leadership will aim to develop this further by modelling differentiated sentence structures, using subject specific vocabulary and encouraging students to speak and answer questions in sentences as frequently as it is sensibly possible to do so.
English Mastery Programme
The English Department has embedded the ARK English Mastery programme at KS3 and has developed Language and Grammar units to balance and complement the Literature heavy content.
Literacy Interventions
Literacy interventions in KS3 take place in the morning and in form time. Reading intervention data demonstrates that most pupils are making significant progress from their respective starting points. Girls are making accelerated progress compared to the boys therefore, additional interventions have been implemented to ensure this gap does not widen further.
Ongoing Improvement
This concerted effort by all, under structured and robust leadership, has resulted in ongoing improvement in the literacy of students. However, staff are aware that during lockdown, may students will have plateaued or regressed. In response to this all students will be tested on return to school and gaps in skills identified, in order that they can be addressed swiftly. Leadership is aiming for significant improvement in all year groups and for this to be reflected in outcomes at the end of KS4.
Staff CPD Activities
The introduction of cross curricular literacy strategies has been underpinned by a range of staff CPD activities. WOA commissioned a local National Support School, which previously held a Literacy specialism, to work with it to develop staff literacy. All staff took a KS2 SPAG test and then twilight sessions were held in Grammar, Punctuation, Sentence Structure and Spelling Strategies. Subsequently, LSAs and pastoral support staff received bespoke literacy sessions to enable them to promote good literacy using phonics, spelling and reading strategies. The Academy's literacy focus was relaunched on February 14th Valentine's day 2020, as a 'Love Literacy' campaign. Training included how to teach and assess basic literacy skills and the development of Tier 2 vocabulary.
Everyone is a Teacher of Literacy
My discussion with the Head of Science confirmed that 'everyone is a teacher of literacy' is becoming a mantra within the school and that staff appreciate its importance and feel well supported and well led. Competitions and 'shout outs' for staff implementing good literacy practice are considered motivational and build accountability. Students appreciate Smart Start, COPS and the consistency of marking across subjects and believe that they are making more progress than previously.
SEND Structure and Provision
The Academy has conducted a review of its SEND structure and provision. A new SENDCO was appointed and two assistant SENDCOS to lead on the Autistic Resource Centre and Code K students. This has recently been adapted, as the SENDCO has become the Director of SEND and a third Assistant SENDCO has been appointed to lead on WOA6, the others leading on focused cohorts of students and K students, respectively.
Good Capacity
Leadership commissioned a 'Deep Dive' into SEND by another school within the Trust who concluded that there is "a sound awareness of the strengths and areas for development in terms of SEND within the Academy and therefore there is good capacity to bring about changes required to improve provision and outcomes for K code students."
Impressive Improvement
A menu of interventions for K students now exists and from the documentation including provision mapping, pupil passports and case studies which I viewed, improvement has been impressive. Communication with all staff regarding needs and provision for students is facilitated via 'ClassCharts'.
Flexibility of Access
Following a review of the curriculum for SEND students (Team Succeed), it now aligns more closely with that of mainstream lessons, allowing for more flexibility of access to a higher level of work.
Significant Improvement in Behaviour
Significant improvement in behaviour and reduction in exclusions to below national average has been a notable success of SEMH provision through Team Ambition. This comprises a bespoke full timetable to meet individual needs, with the aim of students having the skills and confidence to attend all mainstream lessons. Students are supported in 3 main areas: Social Skills and Social Understanding; Emotional Understanding and Regulation; Communication and Interaction. There are 5 different pathways which students can follow, including more or less time in mainstream, therapies and specialist guidance from outside agencies. Part of the programme includes an IWill intervention of turning derelict land into a sensory garden for students with SEND and for local Primary schools to use. The Academy's IWill Ambassador won the National IWill Award for 2020. Unfortunately, work on this project has been seriously interrupted by COVID-19 lockdown but the plan is for work to continue as soon as possible.
Training and Mentoring Staff
Students are supported by 4 full time Team Ambition Coaches, in addition to a fifth who leads the provision. A former LA Advisor for inclusion was appointed to train and mentor staff, in addition to leading and supporting the setting up of initiatives. I was able to see some students actively involved in working during a virtual tour.
Google Classroom
Internal inclusion provision has also been developed by the removal of booths, a change from a punishment to a 'keep with the programme of learning' culture and the issuing of students with laptops, in order that they can continue with relevant subject specific work via Google Classroom.
"We Care" Team
The school's concern with mental health and wellbeing is reflected in the rebranding of the Safeguarding Team as the 'We Care' Team, being more inclusive and with potentially less 'threatening' undertones, encouraging students to divulge worries and concerns.
Supporting the Community
WOA's commitment to supporting its community and striving to ensure that its students are fit to learn could not have been reflected more in its approach to COVID-19 lockdowns. In the first lockdown, staff collected food from Fair Share, packed it and delivered parcels to 66 vulnerable families, combining this with 'Safe and Well' checks and transition introductions to Year 6 children. The Vice Principal took a Health and Hygiene Certificate in order that he could cook meals for those children attending school. Recipe cards were included with food parcels to assist families in using the contents. During the 2021 lockdown 86 families have been supported. In addition to these, 3 refugee families have been provided with food, clothes and sanitary products. WOA also supported local primary schools who did not have the capacity to support all their parents, in addition to its own staff who were shielding. Colouring packs and stationery were obtained from local businesses for students and desks were provided by Jaguar Land Rover.
Virtual Daily Exercise
The virtual curriculum has included daily exercise. Children and staff have been encouraged to video themselves exercising and to post it for others to see. Exercises have included Ninja activities and a 'Road to Rome' challenge in which students walk or run as part of a competition between year groups. The caretaker and local MP have also participated in the exercise sessions.
A Weekly Blog
Google Classroom has facilitated CPD for staff, parents and students, although Social Media has been adopted as a means of communication with parents who have stated that it is their preferred method and the Principal posts a weekly blog on Facebook. 200 devices and 40 internet dongles have been delivered to students to enable them to work at home. Specific work packs have been provided for SEND students. Two members of staff have been in all live lessons to moderate and share good practice. Textiles equipment and fabric have been delivered to students at home to enable them to continue to work practically online.
A Blended Learning Programme
Students have followed a blended learning programme and had a full timetable of live lessons. When children returned to school in June, Year 10 had a recovery curriculum which could also be followed online by students isolating at home.
Virtual Interventions
Interventions have continued virtually. These have included: 'Shine' Cohort for more able students in Years 7 and 8; Key Stage 2-3 Catch up; reading intervention involving the school's reading dogs; West Bromwich Albion's SEAL and Social Skills support; Careers programme; Year 11 to Post 16 Connections conversations; the Aspire to Achieve Coordinator has continued to work with 60 students; the National Citizenship Service has continued to work with students and create lessons.
Engaging Through Competitions
Students have been encouraged to engage through competitions. Students with full attendance, full participation and completed work are entered in a weekly draw to win a £40 family 'Just Eat' voucher.
Raising Achievement Conference
One to one phone calls have taken place with all students and families prior to the return to school and leadership is very aware of the challenges which will face students and necessary priorities. They have adapted the first week appropriately. Year 11 will attend a Raising Achievement Conference, whilst Year 10 will receive intensive support via a 'Believe, Achieve, Succeed' college structure. Year 9 will embark on a Careers and Options Day. The Social Skills of Years 7 and 8 will be encouraged via Enterprise and Challenge activities.
Strong Ethos of Inclusion
The dedication and drive of staff coupled with the positivity of students whom I met, claiming that 'teachers are doing their very best', are testament to the strong ethos of inclusion and its connection to achievement and success which has evidently grown and continues to develop at WOA. There is a clear vision and, although there have been many challenges and obstacles to the raising of achievement for all, Ofsted has acknowledged that improvement is ongoing. In view of the positive developments which have taken place to address barriers to learning, particularly during the extremely difficult past year.
Find out more about the IQM Inclusive School Award
If your school is interested in obtaining the IQM Inclusive School Award or you wish to talk to a member of the IQM team please telephone:
028 7127 7857 (9.00 am to 5.00 pm)
or email: info@iqmaward.com for further details.
Want more information on the IQM Award? Click here to request your free IQM information pack