Outwood Junior Academy Brumby, part of the Outwood Grange Academies Trust, in Scunthorpe, North Lincolnshire achieves Centre of Excellence status.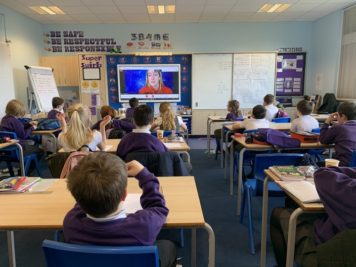 Context
Outwood Junior Academy Brumby (OJAB) is a four-form entry academy for pupils in Key Stage Two (Years Three to Six). The predecessor school converted to join Outwood Grange Academies Trust (OGAT) in 2018. OGAT is an education charity and not-for-profit sponsor of primary, junior and secondary academies, with over thirty academies across the North of England. There are currently 478 pupils on roll at OJAB with 42.6% pupils in receipt of Pupil Premium funding.
Demonstrable Improvement
In the academic year of 2018/19, performance data at the end of Key Stage Two was below national averages. Progress in reading was 'well below' average at -4.1, progress in maths was 'below' average at -1.7. 60% of pupils achieved the expected standard in reading, writing and maths. Following the school being judged 'inadequate' by Ofsted in 2018 due to the declining standards, OGAT came in to support. The current Lead Principal was initially appointed as Head of School and is now working as Lead Principal across two Outwood settings. The former Vice Principal has been appointed as Head of School. Since the school converted to OGAT, there have been significant improvements across all areas of school development. The Leadership Team has transformed the school at an impressive rate. Due to the school recently opening under a new name, it has not yet had an Ofsted visit, however, internal data (which is verified by the robust quality assurance systems in place across the Trust) demonstrates improvement in pupils' outcomes across reading, writing and maths at Key Stage Two. Progress in phonics for those pupils who were not meeting the expected standard has improved, which has led to better outcomes across the curriculum. The Lead Principal and wider Senior Leadership Team have worked relentlessly to implement OGAT's 7 Strand Transformation Model alongside making changes to staffing structures. All Outwood methods and systems have been fully embedded, and there is a consistent approach to all facets of school life.
Golden Thread of Inclusion
In the IQM Self Evaluation Report, the Lead Principal summarises the school's inclusive ethos as
"the whole team goes above and beyond to champion diversity and inclusion, supporting all children so that they feel respected and valued thus improving their outcomes (academic and pastoral) and transforming their lives."
Inclusion is a golden thread which runs through everything they do, with the emphasis on putting the children above anything else. The Leaders live and breathe inclusion; they believe that every child really does matter and will do anything they can to ensure all pupils can flourish.
Outwood Diploma
Outwood Grange Academies Trust has a commitment to provide a holistic curriculum. The introduction of the Outwood Diploma at OJAB provides the opportunity for its pupils to develop their wider skills and characteristics. The aim of the diploma is to prepare pupils to be,
"a good British and International Citizen"
and to
"have high aspirations and skills for adult life."
Through the diploma, pupils are encouraged to try new experiences.
Excellent Ambassadors
Outwood pupils are a real strength and excellent ambassadors for their school. They are confident, friendly, and articulate. The caring, nurturing ethos, alongside the positive approach by staff, encourages pupils to
"be safe, be respectful and be responsible."
Exemplary Behaviour
Behaviour around the academy is excellent. There are high standards and expectations for behaviour, which are shared clearly with all children and their families. Staff are consistent in dealing with behaviour, which further enhances the clarity of what is expected. There is an embedded praise culture, which incentivises children to behave well and work to the best of their ability.
Innovative Intervention
Literacy is a priority for Leaders and their commitment to improving pupils' reading is having a positive impact on their progress across the curriculum. Effectively planned reading interventions are leading to higher standards of literacy and the whole-school approach is promoting a genuine love of reading amongst the pupil body. Gains are being made in maths too through the support of a talented Maths Lead who works to develop the maths teaching at OJAB, and further afield, through the network he leads. His effective teaching approach is established across all maths lessons and the adoption of the mastery delivery model is leading to improved outcomes in maths.
'Time to…'
Mental health and wellbeing (MHWB) is prioritised by all Leaders. MHWB is often a focus for the 'Time To' and PSHE sessions. Following the return to school after the national lockdown, Leaders decided to increase the frequency of the 'Time To' sessions to twice a day (previously once per week) to provide MHWB support to pupils and give them the opportunity to reflect, explore and connect with each other.
Dedication to Collaboration
The ethos of teamwork and support between the staff at OJAB and the Trust network is impressive. The dedication to collaboration enhances the provision at Outwood schools but also other schools in the local area who OJAB work closely with. The Leaders have exciting plans for further outreach work including the development of an Inclusion Hub in collaboration with Outwood Primary Academy Woodlands.
Excellent Practice = Excellent Results
All staff at Outwood Junior Academy Brumby share a clear passion for inclusion. The Lead Principal describes how "inclusion is central to the ethos." He says the academy is "truly unique." Aligned to the Trust's overarching vision, they
"put children first"
and
"care deeply about children."
He also explains how
"staff strive to be experts and are obsessive about attaining the highest standards,"
thereby enhancing children's life-chances. Having spent two days evaluating provision at the school as part of the IQM assessment, I echo the Lead Principal's sentiments, they truly are transforming lives. Leaders are confident in their data which illustrates the impact of their drive for excellence; excellent practice is translating into excellent results.
Find out more about the IQM Inclusive School Award
If your school is interested in obtaining the IQM Inclusive School Award or you wish to talk to a member of the IQM team please telephone:
028 7127 7857 (9.00 am to 5.00 pm)

or email: info@iqmaward.com for further details.
Want more information on the IQM Award? Click here to request your free IQM information pack