Northbury Primary School in Essex achieves the Inclusive School Award.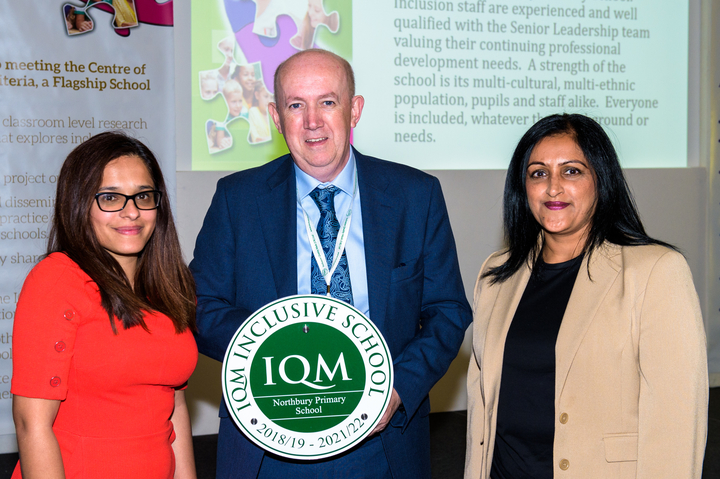 Everyone is Included
"I love this school. Teachers are really supportive and helpful; they are patient as well."
This comment was made by a Year 6 boy about Northbury Primary School. A strength of the school is its multi-cultural, multi-ethnic population, pupils and staff alike. Everyone is included, whatever their background or needs. Children with SEND are asked their views about their learning through pupil questionnaires. The feedback has been very positive. The learning walk proforma has an additional section for pupils' views about the lesson/subject.
Enthusiastic about Sports
During a conversation with two year 6 pupils, they shared their enthusiasm about the sporting competitions that they have had the opportunity to enter. The list includes football tournaments, athletics, tag rugby, cross-country, mini-tennis and representing the school in the London Youth games. Inclusion in girls' sports has been a large focus and their involvement in community sporting competitions has grown immensely. The older children were able to talk about the benefits they get from Mindfulness sessions. The younger children from Reception and Year 1 were very keen on explaining how the sticker charts work and they were obviously very motivated by this reward system. The group were polite and respectful of each other, the older pair reminding each other to let the two younger pupils have a fair turn.
Children Make Good Progress
Children are making good progress throughout the school. Inclusion staff are experienced and well qualified with the Senior Leadership team valuing their continuing professional development needs.
Transition is Well Managed
Transition is well managed with "My Transition Books," which use Symbols and text to prepare children with additional needs for their new classroom. Children are also prepared for changes to the timetable or out of school visits with social stories such as
"We are going to the Broadway Theatre" and
"We are going to have a Christmas party."
New starters and leavers who are going to secondary school are supported very well.
Variety of Activities and Learning Opportunities
Owl scrapbooks show the variety of activities and learning opportunities that these children with complex needs have undertaken this academic year. A thorough induction policy for new staff is in place to help them settle into the school.
A Rich and Varied Curriculum
The school offers a rich and varied Curriculum, enhanced by visits and workshops. The following is an example from one of the Reception classes:
• Chinese New Year
• Freshwater Fairy Tale workshop
• Online safety workshop
• World Book day
• Red Nose day
• Paradise Park
• African drums
• Black History month
• Farm trip
• Road and Bicycle workshop
• Bauble workshop visit.
Teaching and Learning Review
A two day Teaching and Learning review took place in March 2019, led by the School's SIP and peer Headteachers. The report states, "There is strong collaboration within year group teams with planning that helps to shape clear expectations and good challenge in learning, for most pupils."
Medical Needs are Well Managed
Medical needs are extremely well managed, with all medical equipment and medicines stored centrally for each child. The school provides foil blankets for children who have ASD and feel the cold in fire drills. The "We have food allergies" and "The keep calm cause I have a plan" books for children who have asthma are a creative way to make sure that staff can see at a glance the procedures that need to be followed for each child. Children with food allergies wear a tag for lunchtime so that the catering staff are fully aware of who needs an alternative meal. The lunch meal is healthy and nutritious. The KS1 Celebration assembly was very positive with children looking proud as they received their Awards. The class who won the Golden ticket due to their 100% attendance that week cheered with excitement. It obviously means a lot to the children!
Find out more about the IQM Inclusive School Award
If your school is interested in obtaining the IQM Inclusive School Award or you wish to talk to a member of the IQM team please telephone:
028 7127 7857 (9.00 am to 5.00 pm)
or email: info@iqmaward.com for further details.
Want more information on the IQM Award? Click here to request your free IQM information pack.