Hazlehurst Community Primary School in Bury achieves the Inclusive School Award.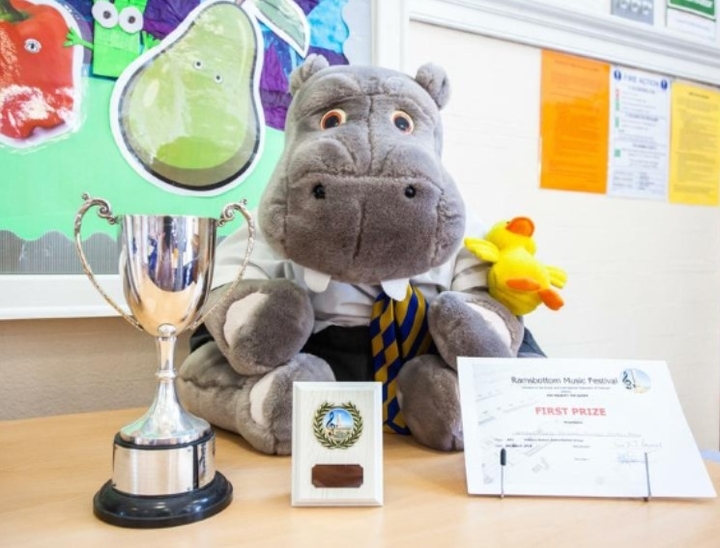 School Context
Hazlehurst Community Primary School is a highly successful, oversubscribed school – currently one form entry with 209 pupils on roll. The majority of pupils are of white British heritage and few pupils speak English as an additional language. The proportion of pupils with special educational needs and/or disabilities is below the national average at 10%, with 2 students with an EHCP.
Ofsted Report
The most recent Ofsted report (December 2011) judged the school to be outstanding in all areas and the school continues to maintain these high standards, having the highest expectations of all pupils.
Excellent Inclusive Practice
The Headteacher took up post in September 2018, having previously been the Deputy Headteacher. The Deputy Headteacher joined the school in September 2018 and has previous SENDCO experience. The SENDCO is part of the senior management team. During assessment, the school demonstrated excellent inclusive practice in all areas; it was clear that inclusion was central in all aspects of the school's work.
Ensuring High Standards
The Head and Deputy Head, whilst new to their current roles, have continued to ensure high standards are in place, but also have a clear determination and vision for developing further the school's inclusive practice. The Head and Deputy Head are ably supported by an experienced SENDCO and a wider leadership team to ensure this vision is shared across the school and is a prevailing ethos in all that the school does.
A Happy and Welcoming School
Hazlehurst is a happy, welcoming school where pupils show a clear enjoyment in their learning and feel valued. Pupils are motivated, confident learners who show a clear pride in their school and who have excellent outcomes, achieving above national average in many areas. Children enjoy coming to school and feel confident that their needs will be met and they will be valued as individuals.
A Well-Resourced School
The school is well resourced; classrooms are welcoming and attractive and provide a motivational environment for pupils to work and there are a number of small breakout spaces for small group and individual work. Working walls and visual timetables in classrooms support independent learning, new interactive boards have been fitted in classrooms and are being used enthusiastically and imaginatively to further pupil's learning.
Attractive Displays and Artwork
Extremely well-maintained corridors and shared spaces contain a range of attractive displays and artwork. The outdoor learning environment is spacious and attractive, providing a range of opportunities for sport, outdoor learning, and for learning beyond the classroom.
Clear and Consistent Expectations
Staff have clear and consistent expectations of pupils' behaviour which is outstanding throughout the school at all times. Pupils and staff treat each other with consideration and respect. The introduction of a "CARE" code has ensured that positive behaviour is maintained and reinforced across the school.
A Strong Staff Team
Throughout the school, there is a strong team of teachers and teaching assistants. During learning walks, high quality teaching and learning was evident across the school and school's curriculum engages pupil's interests very effectively. Children were actively engaged in their learning and there was clear evidence of support for differing needs. Teachers ensure that lessons are purposeful and busy, pupils with additional needs are skilfully supported by teaching assistants. One child commented "Teachers make lessons fun and I learn lots of good stuff."
Learning Objectives are Clear
Learning aims and objectives are made clear to pupils and they are guided effectively on how to achieve them.
Monitoring Pupil Progress
Pupil progress is rigorously monitored by the leadership team in collaboration with teaching staff. Progress monitoring is embedded within the school; staff constantly assess and evaluate their work and that of pupils. Staff monitor their plans and change them quickly if there is no clear impact on progress.
Pupils with Additional Needs are Well Supported
Pupils with additional needs are very well supported in lessons receiving high quality personalised provision. Work is effectively differentiated,and, in many lessons, teaching assistants provide additional support. Deployment of teaching assistants is carefully monitored and reviewed to ensure effective provision.
Medical Needs are Well Supported
Medical needs are well supported and ensure full inclusion in all activities wherever possible, and minimal disruption to a child's education.
Opportunities to Take Responsibility
Children are given many opportunities to take responsibility for their learning and personal development, such as the School Council and peer mediators.
Extra-Curricular Activities
There is a wide range of extra-curricular clubs and activities freely available to all. There are also many performances, concerts and assemblies which parents and the wider community attend to celebrate the many talents and achievement of pupils.
Extremely Positive Parents
Parents were extremely positive about the school and its ethos, particularly the supportive environment provided for pupils by the school and about the child-centred focus of the staff. Parents gave many examples of the outstanding care and support they and their children received, for example "School makes children feel listened to and included" and "My child is thriving."
Well Informed Governors
Governors are well informed about the work of the school offering both support and challenge to ensure the best outcomes for pupils. Governors are very supportive of school's inclusive ethos and praise the leadership team for its determination to maintain high standards and develop the school further.
Keen to Share Good Practice
The school is very keen to share good practice and work with a number of external agencies and Local Authority groups to develop best practice.
Harmonious and Inclusive
Hazlehurst Community Primary School is a harmonious and inclusive learning environment where high standards are evident in all areas. Inclusion is embedded in both policy and practice. All children are valued and respected as individuals and supported to achieve to their full potential.
Find out more about the IQM Inclusive School Award
If your school is interested in obtaining the IQM Inclusive School Award or you wish to talk to a member of the IQM team please telephone:
028 7127 7857 (9.00 am to 5.00 pm)
or email: info@iqmaward.com for further details.
Want more information on the IQM Award? Click here to request your free IQM information pack.