Easington Colliery Primary School achieves Flagship status for the second time.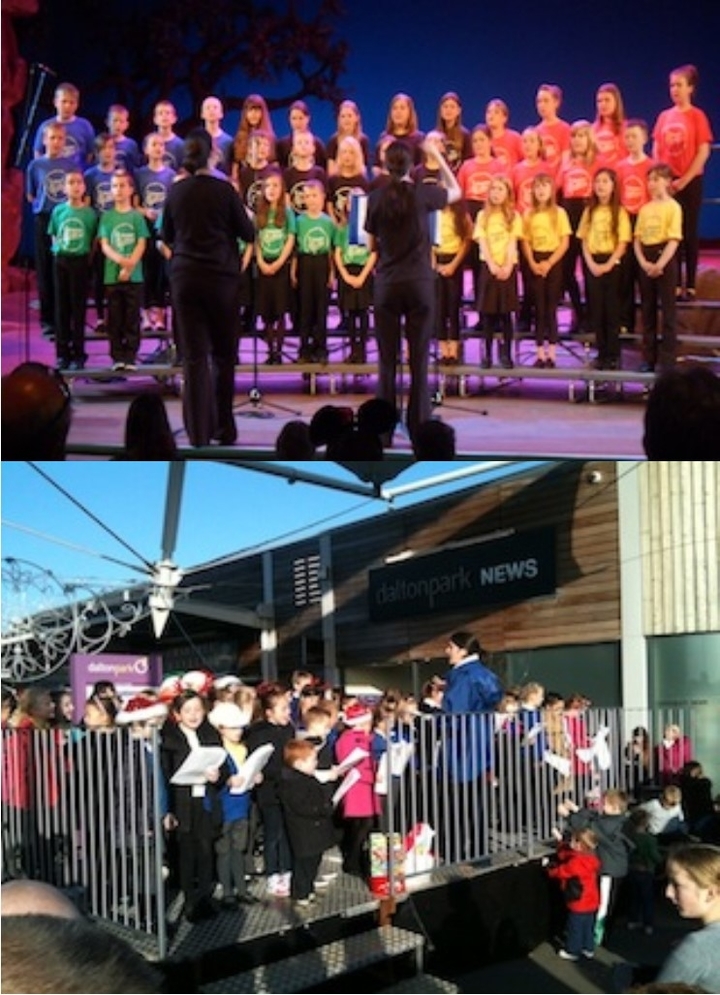 Background
Easington Colliery Primary School is a larger than average mainstream primary school with alternative provision sitting at the heart of the town of Easington Colliery on the County Durham coast. The school is relatively stable although recently admitted an additional 30 children on roll placing pressure on the allocation of support staff and space within school.
Context
A high number of pupils present with learning, social and emotional needs and require additional family support. The provision on site of Place 2 Be, a Parent Support Advisor and experienced Welfare Team ensures that families receive the support they need. A higher than average proportion of pupils are in receipt of Pupil Premium which serves to provide a clear focus for the additionality required to reduce and remove all barriers to learning. The school works tirelessly to build and maintain strong and purposeful links with external agencies and therapeutic interventions to further meet needs and promote the good levels of progress seen.
A Valuable Local Resource
Easington Colliery School is a valuable resource within the locality providing a Guided Learning Centre (GLC) set up through BIP. Working in partnership with 24 home schools across the partnership, the GLC offers short term provision for pupils at risk of permanent exclusion, achieving considerable success in reintegrating these pupils back into school. Specialist programmes, high standards of care and access to the wider curriculum help create achievable steps towards progress. The school is rightly proud of its work in helping these pupils adopt the values and attitudes necessary for them to succeed within mainstream, but also of the way in which other pupils welcome them into their community. Staff within play a strong role in promoting effective provision and offering guidance for other settings.
Nurture Provision
There is a Nurture Provision on site for children with complex needs. This offers an adapted curriculum giving extra support for Literacy and Numeracy through a teacher led personalised approach whilst maintaining full mainstream integration. Staff within facilitate concrete learning experiences, target the development of vocabulary and provide access to enrichment opportunities aimed at enhancing cultural awareness and supporting social skills. This helps the most disadvantaged pupils make the appropriate gains necessary to keep up with their peers.
Significant Change
Since the last IQM review the school has been on a journey of significant change. A new Head Teacher took up her post in January 2018 bringing new direction and she has since reviewed the leadership structure to increase the capacity to address the areas of focus identified. She has expanded the Leadership team to provide greater support for school improvement and to address the weight of responsibilities some leaders carried.
Additional Senior Staff
An additional Assistant Headteacher was appointed in April 2018 to focus upon the effective implementation of Pupil Premium funding and to enhance parental engagement and communication. The Head Teacher has an ongoing commitment towards staff access to accredited leadership CPD. Several members of staff are involved in this to further strengthen middle leadership across the school. Teachers have increased opportunities to share good practice with their colleagues, including new approaches to the teaching of writing and mathematics.
High Praise for Leadership of Inclusion
In March 2018 Ofsted inspected Easington Colliery Primary and acknowledged that the school had maintained and improved upon its good standards since the last inspection. Ofsted had high praise for the leadership of Inclusion and the impact this has on high-quality provision, particularly for support of pupils with special educational needs which was described as "exemplary". They commented that "Your special educational needs coordinator oversees high-quality provision. Both within the classroom and in the enhanced mainstream provision, specialist support equips pupils with key social skills while ensuring full access to the wider curriculum."
Continuous Improvement
Easington Colliery Primary School has a rich tradition of engaging with inclusive practices, having been an IQM Flagship School for the past three years. Still, it never ceases to consider ways to become ever more inclusive for its pupils, encouraging them to flourish and thrive. The desire to provide excellent outcomes for all pupils and strong community involvement drives the school forward to achieve its vision. School leaders and their governing body constantly reflect on the inclusion values in practice within their school and think deeply about their impact on the learning environment, curriculum and particularly the personal development and academic progress of individual pupils. The result of this can be seen in year on year improving standards and good progress for disadvantaged pupils. The Inclusion Leader ensures that the ethos of support is shared with all and that staff are able to contribute to the theme of inclusion. She keeps the focus firmly on improving equalities, social and life chances for pupils and she ensures that this is a joint effort across school. The ethos that the management of inclusion is everyone's responsibility is well promoted, whether this is in the classroom, dinner hall or playground. Systems for the identification of children with SEND, pupils at risk of under-achieving and the more able and talented are well embedded. The review of policies gives further opportunity to consider inclusive practice. More able pupils are identified and nurtured through enrichment to meet their needs; the Inclusion Leader has also applied for the NACE Challenge Award in order to analyse, reflect upon and improve high-quality provision for more able learners and to gain expert support for continuous school improvement. Ofsted recognised this as a strength. "The theme of inclusion runs through all aspects of the school's work and it is a value that is deeply held by staff at all levels". Ofsted March 2018.
Happy, Calm and Friendly Atmosphere
The school has a happy, calm and friendly atmosphere. From the start of the day pupils and parents were greeted warmly for Breakfast Club and staff in the yard welcomed children into school. The Reception Desk had many visitors within a short time and all were dealt with in a friendly, supportive manner. Here, a visitor can look at beautifully presented books which show all the exciting activities pupils have experienced in and out of school and the high-quality writing which accompanies this. Large photographic displays show pupils engaging with exciting learning, developing new skills and enjoying being part of the inclusive family that is Easington Colliery. Quality displays complement a curriculum which prepares them academically, socially and emotionally, providing opportunities to contribute positively to life in Britain. Quality First Teaching is the overarching aim and subject coordinators plan experiences that will engage groups of children and enable them to reach their potential and raise aspirations. Pupils moved around school quietly, lined up well for lunch times and were polite, friendly and helpful. They engage positively in terms of their learning and attitude, responding enthusiastically to the ethos of care which permeates the school. The atmosphere is supportive and safe and reflects the enriched learning opportunities on offer. Although the Reception Pupils were still settling in to their new setting, their routines were very well established, they demonstrated excellent behaviour as they entered their rooms, found their pegs independently and sat down confidently and ready to learn with their teachers. This good start is reflected in the improving levels of pupils achieving GLD as they leave the Foundation Stage.
Opportunities for Collaboration
The school has extended its opportunities for collaboration and a more active role in providing training for colleagues to further improve outcomes in English and mathematics. The Head Teacher is outward facing and has facilitated opportunities for staff to engage in school to school support both to learn from and give support to others. There is a commitment to developing and improving conditions for learning to get the best possible outcomes for pupils. Use of the extensive outdoor area has expanded as the school develops links with a local school to learn more about its approach to Forest School learning. Staff within school have embraced this and there is already expertise within the school to take this further. A sharp focus on promoting wellbeing, building resilience and good mental health is evident, Inclusion is such an integral part of school life and the environment reminds everyone to Dream-Aspire-Achieve. Strong links have been forged with others who can support their aims, for example Sports Partnership provide specific healthy activities for pupils with SEND, to build character, resilience and confidence; the EMP and Nurture Group seek out experiences which provide context for pupils such as bringing a Planetarium into school. Staff within school find imaginative and innovative ways to bring the curriculum to life and are eager to integrate their aims into their nurture/pastoral curriculum.
Sharing Inclusive Practice
Since the last review the Inclusion Leader, who is Assistant Head Teacher and SENDCO has been designated a Specialist Leader in Education for SEND and this has widened her remit in modelling provision, sharing inclusive practice, policies and procedures and offering advice and guidance to other professionals across the locality. This is a result of involvement with the Peterlee Partnership Teaching School Alliance which has given greater opportunities to access training and support and to collaborate on educational innovations, strengthening its already strong links with other schools in the area. The school has also developed links with Carmel Teaching School and is using these to develop Mastery Maths within school and provide CPD for all staff.
IQM Cluster Group
During Cluster meetings, ECPS has had a strong leadership role across its network. The schools have collaborated on research relating to behaviour management and parental involvement. This has led leaders towards continuing the research into methods which will support pupils within the GLC to settle quickly into their new setting as well as being transferable into mainstream classrooms. It is of great advantage to have the newly appointed assistant head also attend cluster meetings as she takes on the remit of effective interventions for disadvantaged pupils and parental communication.
Ingrained Inclusive Ethos
The Inclusion Leader and wider team have maintained a steady course to ensure the inclusive ethos of the school is ingrained in its culture and practice. There has been significant work to realise the action plan over the year to sustain Flagship status. Inclusion continues to be a driving force for school improvement at all levels at Easington Colliery Primary School. A comment made by the Inclusion Leader summed up the whole school commitment "Inclusion has to be lived and breathed here for us to keep moving forward in the direction we want our school to take". The school has identified areas for ongoing development and has created a project action plan for the next twelve months.
Find out more about the IQM Inclusive School Award
If your school is interested in obtaining the IQM Inclusive School Award or you wish to talk to a member of the IQM team please telephone:
028 7127 7857 (9.00 am to 5.00 pm)
or email: info@iqmaward.com for further details.
Want more information on the IQM Award? Click here to request your free IQM information pack.