Churchfields Infants School in Redbridge has achieved Flagship status.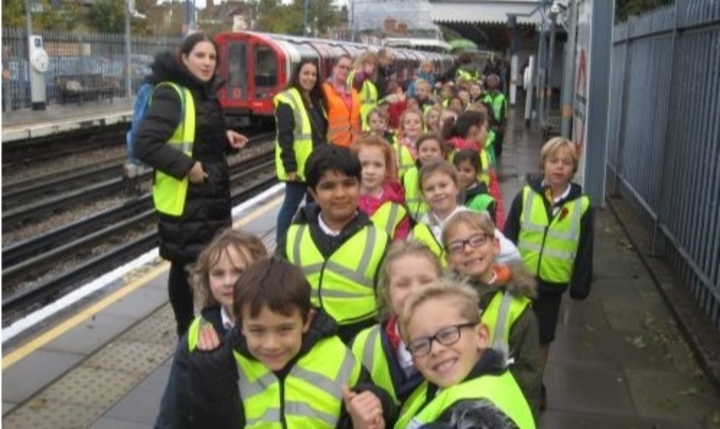 A Forward Thinking School
The school has continued to develop its excellent inclusive practice since the last IQM review a year ago. As a Centre of Excellence Churchfields is forward thinking, looking towards ways to ever improve their practice and provide the very best outcomes for children and families.
New Resources Purchased
Since the previous assessment, the PTA has raised a significant amount of money towards a new wooden outdoor classroom which has just begun being used by the children. This calm, natural space allows for a whole class to sit in a circle together on benches and has clear plastic panels which enable natural light to enter giving a lovely feeling of space. Just sitting there early in the morning you could hear the birds singing and the wind in the trees. Churchfields continues to benefit from a really well thought out external learning environment. At the moment classes are creating boxes of equipment for the outdoor classroom to support the curriculum and maximise the time there.
Improved Facilities
The reception playground area has also been enhanced since my last visit, with a lovely new multi-sensory street environment where children can be together on the all-weather grass or cycling around. The new climbing frame brings an added dimension to the learning allowing children to take measured risks with climbing up and sliding down the rope.
A Welcoming Environment
Churchfields continue to provide a welcoming environment with polite, happy children and staff. Of particular note, this visit was the Churchfields Charter displayed in the main corridor. During an INSET day, all members of staff went to look at 'The Worker's Maypole' by Andrea Bowers. Following this visit, all classes contributed towards creating a wonderful art installation on recycled cardboard using marker pens. This amazing recycled cardboard and marker pen creation involved each class having a section of the overall theme to create when put together represented what it meant to be at Churchfields. What a fantastic idea!
Creativity
The school is a member of the Creative Schools Symposium. The theme of creativity continued through the assessment day. During the assembly, an introduction to a famous creative person was given. The key point was one of inspiration as they all started performing at a very young age. Children from the art club shared their artwork based on famous artists. The choir also shared the song they have been rehearsing. Parents were going to be invited into school to share their talents culminating in a talent show where children would be showing their talents and creativity.
Children are Fully Involved
Children are also fully involved in the life of the school and are keen to share their thoughts and feelings in an articulate manner. One pupil said '
I like that we get lots of playtime and lots of exercise. I like that everyone gets along well and we all have our own part to play, all in it together'.
Another said,
'I like everything, our teachers because they teach us lots of stuff and they do really hard work to show us what to do'.
'I am looking forward to 'Churchfields got Talent', we go around and ask people to join our group or sing a song with me and we show it out. We practice, you have to get good pretty soon before you do it!' When this was mentioned in assembly there was a definite buzz of excitement!
'I like special reading and maths and I like to do science. My favourite has to be drama, you get to act, it feels like its real life, but you are acting'.
Lunchtime Support
Lunchtime support is provided for targeted groups of children in year one and two. Clubs are run by staff and a tracking sheet ensures that everyone attends at least one club by the end of the year, some children access three or four. Teachers nominate children for clubs or children to opt into clubs themselves. Pupil Premium funding is used but also to develop children with talents, all are rigorously tracked, accessible and equitable. Year one enjoys craft, art and running. Year two enjoy choir, Spanish, running, multi-skills, tag rugby, Lego club, cooking and more.
Phenomenal Amount of Outreach Work
During the academic year 2017/18, Churchfields has engaged in a phenomenal amount of outreach work, working together with other professional services, schools, the Local Authority and carrying out action research. They have: offered leadership support to an infant school in a different locality, facilitated two visits researching the teaching of reading to a Redbridge primary school, interviewed NQTs for the Local Authority, participated in the sharing of high-quality art provision and RNLC Open Schools initiative.
Action Research
The school was asked by Redbridge Educational Psychology Service to participate in an action research study around Video Interaction Guidance (VIG), where a member of staff is videoed interacting with a child. This also involved some mentoring. The training was provided for the whole school by the EP service on the key principles of attuned interactions such as being attentive, interest levels, friendly posture etc. Staff were encouraged to think about their daily interactions in life. Two practitioners were videoed working with chosen children and feedback was given after editing was carried out, showing the practitioner what good interactions looks like during particular moments of their day and when they were particularly in tune with the child. The Educational Psychologist leads the discussion with the member of staff who, having been through three cycles becomes a mentor for others undertaking the process with support from the EP. This has had huge benefits for staff and children. Staff have valued being able to reflect on their own practice, appreciated having the opportunity to change some subtle aspects of their practice and grow in confidence. Staff have also had opportunities to develop their mentoring skills by becoming mentors to others. In the photographic evidence, children were showing improved eye contact, body language and total engagement. As a member of the staff said,
'This also encourages staff to branch out using their skills in a wider environment, bringing teaching out into the nursery, it was really worthwhile to do this and supports the work of language facility'.
Also new this year has been 'drawing and talking'. A member of staff has received training to deliver drawing and talking therapy in school and recently completed the Advanced Knowledge in drawing and talking therapy certificate.
'We are getting children to recognise any problems that are going on within themselves, helping them open up and see for themselves what it is that is bothering them'.
Children are put forward by staff when their emotional and behavioural needs are impacting on their learning. The programme has a clear outline; however, it is also flexible enough to incorporate children who may or may not want to draw, through play therapy techniques. This has led to improved children's self-confidence, focus and concentration, less preoccupation, more engagement in class learning and ability to self-regulate. Links are made with class teachers and in-class sessions. The school also runs a friendship group, where children can play and talk as a vehicle for communication.
"Child-Speak IEPs"
As part of the SENCo Accreditation course, the SENCo has implemented new 'child speak IEPs'. Results show that these are making a difference as all children are now more aware of their targets and what they have to do to meet them. These have been implemented from reception. Symbols are used to support understanding and the child decides where they want to put the shorter laminated versions for their use in class. The whole document is given to the class teacher, staff working with them and also to parents. Feedback shows that children really like having their own copies. Initial feedback from parents shows that they also like it. They have said they can put it up at home for everyone to see. Targets include self-help skills that can be practised in the home and parents are appreciative of this. Children in the reception with complex needs have access to widget symbols matching their PECS board. This is beginning to be used for children for whom communication and reading are difficult. The combination of pictures, graphics and symbols work really well. At the moment teachers lead on the IEPs for children at SEN support with the SENCO leading on children with SEN support plus and EHCPs. Next year will be a year of consolidation especially in light of the Headteacher relocating and SDP developments over the coming year. However, the plan would be for teachers to gradually increase responsibility for the IEPs for children with more complex needs. Teachers really like new formats.
Early Years' Forum
Churchfields was asked to be a part of the Early Years' Forum; identifying effective practice. This was held at City Gates and was run by Redbridge Educational Partnership (REP). The brief was to quality assurance practices which have had a significant impact on children's progress, attainment and well-being and then share these through knowledge table sessions. The feedback from attendees indicated that a number of schools would like to continue sharing good practice with Churchfields.
Interventions
Interventions are assessed and tracked over the weeks, and entry and exit criteria identify the progress children made. This sits nicely alongside teachers' reports of children's improved coordination, confidence and engagement in learning. Having reflected on the conference, staff have decided that the next time they run knowledge tables they will already have identified times and dates for delegates to sign up for sessions and visits there and then.
Identified Priorities
Leaders are very clear about standards in their areas and have identified priorities. An example being the review of current practice, provision, progress, assessment of children moving from EYFS to year 1. The Maths lead, Year one lead, and Year two leaders worked together on this. At the end of this, Churchfields confirmed that their arrangements were effective and matched the children. In the end, they decided it was important to maintain the self-initiated elements of Year one practice alongside small group work. However, following visits and discussions with staff; it was felt there was an argument for more whole class teaching earlier on in the academic year. This has subsequently been instigated with the result that more children are ready on transition and have gained a level of independence. Staff feel passionate about maintaining good early years' practice with carefully planned structured self-initiated play opportunities not being lost as they are key to children's successful learning.
Evaluating Current Procedures
A further focus for review last year involved evaluating the effectiveness of current procedures for teaching spelling. A review was held, strategies identified to improve children's ability to spell accurately and trialled. These included providing children with individual spelling bookmarks, giving children half termly lists with six or eight common exception words which are sent home for parents to help their child learn and apply and then applying these words in dictation to aid transference and memory. Assessments so far have shown that these approaches and provisions are having an impact however staff will make the final judgment of impact at the end of the year.
IQM Cluster Group
Churchfields is a member of the IQM Cluster Group 'C12' a group of 12 schools and will be attending the summer term cluster meeting. This will provide them with new schools to share the practice with and engage in the process of wider discussion and reflection.
Classroom Level Action Research
During the coming academic year recruitment for the new Headteacher of Churchfields will continue to be a priority. In the interim, plans are in place for the established senior leadership team to continue to lead the school with support from the local authority. Churchfields is committed to continuing the emphasis on classroom-level action research, collaborative working and dissemination to a broader cluster of schools to sustain and develop inclusive practice. In recognition of the significant strategic work supporting other schools, professionals and the Local Authority, I am pleased to recommend Churchfields move to Flagship Status and be reviewed in one year's time. I am in agreement with their action plan and have detailed in my report below intended activities to achieve this.
Find out more about the IQM Inclusive School Award
If your school is interested in obtaining the IQM Inclusive School Award or you wish to talk to a member of the IQM team please telephone:
028 7127 7857 (9.00 am to 5.00 pm)
or email: info@inclusionmark.co.uk for further details.
Want more information on the IQM Award? Click here to request your free IQM information pack.