Castle Hill School in Huddersfield has achieved the Inclusion Quality Mark's Inclusive School Award.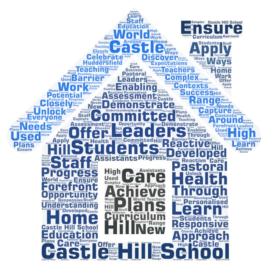 Leaders Are Committed
Leaders at the school demonstrate their commitment to the students at Castle Hill School through their 'responsive, not reactive' approach. From curriculum to pastoral care, the staff have developed their school's offer with the students' Education Health Care plans at the forefront, enabling all students to demonstrate progress and apply their learning and understanding of the world around them in a range of contexts. Teachers and Education Teaching Assistants work closely to ensure planning and assessment are personalised with high expectations of what everyone can achieve. The development of the assessment ensures opportunities to capture and celebrate progress and achievement. The complex needs of the students are not used as a barrier to success but rather as an opportunity to discover and learn new ways to unlock potential.
A Supportive Ethos
Staff are very knowledgeable about their school and most importantly their students, and their differing needs that must guide their practice. Staff are tireless when it comes to achieving the best for their students and all without complaint. The leaders set the tone for the supportive, community ethos where cooperation, acknowledgement and celebration of different abilities, aspirations and happiness are truly valued.
They Have High Ambitions
The school has appropriately high ambitions for its students. Due to the communication needs of Castle Hill students, it is seen by all staff as a priority to develop all students' ability to express their wants, needs and opinions. Staff at all levels are highly skilled in this regard and act as advocates for the students in many respects.
Communication is Excellent
Parents talk highly of the school and see the staff as an extension of their family as the staff at Castle Hill are said to, 'look beyond the label.' For those parents who have other children attending mainstream schools, they could not help but compare their experience of Castle Hill to mainstream provisions as more positive due to the openness of staff and the excellent level of communication felt by all.
A Positive Environment
The school is a positive environment for all stakeholders, and success, no matter how small, is highly celebrated. All areas have been thoughtfully designed to respond to the needs of students. One to one therapeutic spaces have been developed to support students during their transition between groups whilst the outdoor spaces have seen substantial investment to provide wheelchair users the experience of play without limitations. The extra step and careful financial investments are life-changing for ensuring students have the experiences and opportunities which are denied to them elsewhere in life.
Everyone is At Ease
Upon meeting the principal and vice principal their calm and purposeful leadership of the school washes over you making you feel at ease. They demonstrate the school's tireless commitment to inclusion for their students from the moment you enter their doors. In the entrance way a wonderful display of humanity and remembrance stands with the names of those no longer at the school. A sea of colourful student portraits adorns the walls; again, another reminder of all the lives Castle Hill School has impacted on over the years.
The School Council
The School Council seeks to involve as many students as possible in school activities and decision-making. There is a core steering group of students, with groups of other students from each phase in school, invited to take part in meetings throughout the year, as appropriate. This ensures students across the phases, regardless of their complex needs have a voice.
Constantly Improving
Ensuring the school is supported through strong governance is also evident through the appointments of individuals with a wealth of experience and knowledge of what is needed to constantly adapt in ensuring that all students at Castle Hill have excellent support in enabling them to have their own voice. Despite the school being recognised as a highly effective school, leaders describe how they are constantly self-assessing to improve for their students and their families.
The Curriculum Is Ambitious
Personalisation is key to ensuring the curriculum is inclusive. The curriculum is designed to enable all students to be effective communicators, giving them confidence and preparing them to take an active role in their community, influence their world, make positive contributions, be responsible and achieve social and emotional fulfilment.
Students' Progress
Students are supported to enable them to progress throughout the different phases of the school and beyond. Strong links with post-19 providers and social care enable students to be ready for the next stage of their journey. Transition at Castle Hill School can begin more than a year in advance to ensure all professionals are knowledgeable of the needs of the students and how to support them. This extensive and long-term collaboration of staff is what makes the difference.
Find out more about the IQM Inclusive School Award
If your school is interested in obtaining the IQM Inclusive School Award or you wish to talk to a member of the IQM team please telephone:
028 7127 7857 (9.00 am to 5.00 pm)
or email: info@iqmaward.com for further details.
Want more information on the IQM Award? Click here to request your free IQM information pack