Castle Hill Academy in Croydon, Surrey achieves the Inclusive School Award with Centre of Excellence status.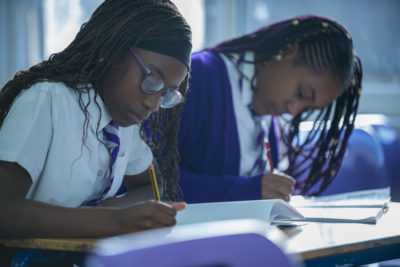 Context
Castle Hill Academy is a school for children from three to eleven years old including an Enhanced Learning Provision for children with Autistic Spectrum Disorder.  The Academy is a member school of the Platanos Trust. Over the last two years, results have risen steadily and all involved are proud of the Academy's commitment to learners and the community. The Academy is positioned in New Addington, an area of Croydon historically and currently associated with prolific strands of social deprivation. Senior leaders describe how pupils come to school burdened with many complex and far-ranging issues. 51% of pupils are eligible for free school meals, compared to the national average of 28.9%. 56% of children receive Pupil Premium funding and 53% of pupils receive SEND support compared to the national average of 11%. Castle Hill Academy is an inclusive school and caters for pupils of all abilities. Pupils at the school are part of an inclusive and inspirational learning environment.
Staff Going the Extra Mile
Staff have worked stoically to embed a wide range of opportunities to support the emotional health and wellbeing of the students, this includes worry boxes in every classroom. As a result of this, themes can be quickly identified and targeted through assemblies, class support and specific targeted strategies. During the pandemic each family was contacted on a regular basis, at least weekly, home visits and telephone conversations, with this increasing substantially where there were any concerns around individual families. The gratitude expressed by the families as to how they were supported was tangible. A parent of one child who has additional needs told me "I'm just not sure how we would have got through without the help and support of the great team at Castle Hill."
The School's Tailored Curriculum
High expectations are the norm at Castle Hill Academy, with pupils receiving a diet of a variety of learning experiences with the aim of helping pupils to exceed these expectations. The tailored curriculum meets the needs of the pupils, where learning is at the forefront of all practice. Pupils are motivated by teachers to play an active role in the learning process within a nurturing and safe environment. Individual lessons are planned with pupils' learning outcomes at the forefront, these are monitored by leaders and support offered where required.
Supported Learning
The learning environment is well planned to support learning and teaching, with innovative use of modern technology being used to bring displays alive with the use of QR codes, enabling pupils and visitors to listen to pupils read and discuss their own work, thus increasing the overall speaking and listening skills. Consideration has been taken in the development of a whole school marking policy, enabling pupils to be identified more quickly who may need additional support. Learning objectives for each lesson are shared with pupils and on display throughout lessons.
The Cocoon
The staff are keen to think outside the box and develop strategies which meet the needs of all pupils. In the case of a number of vulnerable pupils who were struggling with social, emotional and behavioural problems, The Cocoon, a special unit, was set up and has enabled this group of pupils to be successfully reintegrated into the mainstream. Prior to the pandemic and planned for when society returns to normal, hopefully from the autumn term onwards the Academy will provide numerous opportunities for parents and carers to interact with staff and build on the increased relationships which they have built throughout the crisis.
We Are All Justifiably Proud
The Academy, its staff and all involved are justifiably proud of the fact that they are an inclusive community, and this is embodied in their two greatest assets; pupils and hardworking, enthusiastic, and highly motivated professional staff who see their role as a vocation rather than a job. This has a massively positive effect on them and the school and its community as a whole and was talked about during the assessment.
Find out more about the IQM Inclusive School Award
If your school is interested in obtaining the IQM Inclusive School Award or you wish to talk to a member of the IQM team please telephone:
028 7127 7857 (9.00 am to 5.00 pm)

or email: info@iqmaward.com for further details.
Want more information on the IQM Award? Click here to request your free IQM information pack