Bishopton PRU in Stockton-on-Tees has achieved Centre of Excellence status.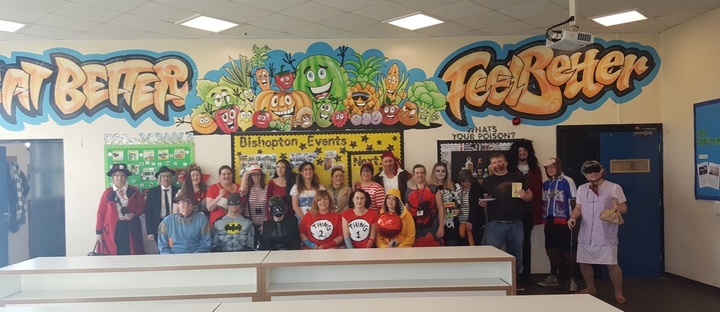 Context
The Bishopton Centre is a complex Pupil Referral Unit in the Stockton-on Tees Local Authority. Bishopton PRU provides education to pupils from key stages two, three and four, across the whole authority, receiving placement referrals from sixty Primary schools, and thirteen Secondary schools. Bishopton takes permanently excluded pupils from across the borough, as well as pupils who come into the area via the Fair Access protocol. In addition to permanently excluded pupils, the school also provide in-reach support for those who are at risk of a permanent exclusion or those not attending mainstream school for other reasons such as illness (physical and/or psychological). The centre also brokers alternative vocational provision for pupils who remain solely on the roll of mainstream schools. The Redhill building on the same site supports pupils who are anxious or have medical illness and those who are also supported through the home and hospital teaching service. The proportion of disadvantaged pupils supported by the Pupil Premium is above average.
School's Values
C.A.S.T.L.E. stands for Creativity, Aspiration, Self-belief, Tolerance, Love and Enjoyment. The school's values are represented simply by a picture of a castle; a fortification built to protect the people inside. The Bishopton Centre achieves this and more with its ethos of care and its provision of what is necessary for the well-being of all within.
A Warm Welcome Awaits
From the moment one arrives in the grounds of the Bishopton Centre, a warm welcome awaits. Smiling staff are outside ready to greet pupils and visitors to ensure their day starts with a personal approach. Inside, this warmth and inclusivity continues with each and every member playing their part to ensure a sense of belonging pervades the calm, purposeful spaces. Relationships are positive and genuine, there is laughter and harmony, aspiration and ambition.
A Listening School
Communication is a key strength of the school. From the open-door policy of the Headteacher, the pupil voice opportunities and the parental engagement strategy which celebrates every achievement, someone is available to speak to you. This is a listening school. Staff are consulted so that they feel informed, comfortable and ready to embrace change. Their contributions are celebrated through staff 'Shout Outs' which recognise and reward the extra efforts they so willingly provide. This engenders team spirit, boosts morale and acknowledges staff well-being as a vital investment towards achieving inclusion for all.
Leaders are Relentless
Leaders are relentless in pursuing their aim to move pupils from a position of vulnerability and/or crisis to one of hope, strength and success. The Headteacher, Management Board and Senior Team are inspirational in their commitment to inclusion. In Bishopton, strategies don't simply sit on shelves in colourful binders. Rather they are dynamic processes that facilitate learning and change. The Headteacher regularly communicates the vision and moral purpose to all, presenting an exciting picture about where they are now and where they are going in the future. They have a thorough understanding of the challenges their pupils and families face and are committed to seeking the right support to provide the most effective impact. Senior leaders provide a compass so that all stakeholders understand not just what this strategy will provide for pupils, but also for the organisation as a whole.
Nurturing Staff
Leaders and managers also have a keen ability to nurture their own staff so that they play to their strengths for the benefit of their pupils, develop expertise and ensure successful succession and retention. CPD is well developed, is self-reflective and evaluated for impact. Confident staff are keen to share their own wide range of skills and specialisms to help prevent pupil exclusion through a menu of services available to local mainstream schools, the impact of which has already been recognised.
Developing Strong Networks
A further strength of the school is how it looks outward to develop strong networks and positive relationships with a wide and varied range of specialists within and beyond the community. They are outward facing, keen to make partnerships and develop new skills which will benefit pupils across the borough. New ideas and innovative strategies are rooted in data and solid evidence such as the Sutton Trust or Therapeutic research. They ask the right questions, challenge for a wider dialogue with others and are passionate about breaking the myths about what they do; which is to combine the very best academic and social interventions to allow pupils to thrive and succeed in the future. Comments made by pupils include
"This school is my inspiration, they saved me and saved my education",
"Teachers manage to make you feel better if you're upset or worried about anything",
"You can trust this staff, they believe in you"
"They help you make friends and inspire you to want to be something."
Polite and Engaging Pupils
It was a pleasure to meet and talk to the pupils, who are polite, engaging and eager to recount their successes since joining the school; presenting as well-rounded individuals who have re-engaged with learning and are committed to doing their best; for their school, their families and for themselves. They are valued here for their uniqueness and character and are supported to see this school as a place for a fresh start, where every day offers new opportunities and new beginnings. Staff take the time to learn about their individual needs, carrying out detailed assessments which allow for gaps to be closed. The extensive and careful assessments undertaken on entry are then matched to innovative curriculum and learning opportunities so that pupils can thrive.
Targets to Improve
Pupils understand why they are here and have clear targets to help them improve as quickly as possible, both academically and socially. Classes are small, the help given is differentiated and bespoke to the individual's needs. They quickly develop independence and the solid relationships help them to grow in confidence and self-esteem.
Patience and Respect
Pupils appreciate the patience and respect they are shown and know that here, their voice matters. In return, they work hard and have embraced the challenges to strive for more, being ambitious and taking pride in their achievements. They buy into the BRAG behaviour system because it builds resilience, is consistently applied across the school and allows pupils to measure for themselves the positive changes they are capable of making.
Articulating their Experiences
Older pupils were able to articulate their experiences with clarity and maturity, describing how staff took time to find their talent and helped them to believe in themselves. Trusted adults teach them coping strategies and life skills which prepare them for the world.
"They saw something in me and I have changed as a person. They showed me that I can enjoy school. I have high hopes for my GCSEs now."
Sources of Evidence
The Inclusion Quality Mark Coordinator, Sophie Johnston, produced an accurate evaluation of the school's position. This was further supported by highly detailed documentation and effective data.
A Wide Range of Inclusive Practice
The evidence presented to me during my visit to the school and information contained within the Self Evaluation Report clearly demonstrates the wide and varied range of inclusive practice in place within the school and the on-going commitment to future improvement. Suggestions for future development outlined in this report have been identified accurately through the school's own self-evaluation.
Find out more about the IQM Inclusive School Award
If your school is interested in obtaining the IQM Inclusive School Award or you wish to talk to a member of the IQM team please telephone:
028 7127 7857 (9.00 am to 5.00 pm)
or email: info@inclusionmark.co.uk for further details.
Want more information on the IQM Award? Click here to request your free IQM information pack.