Babington Academy, Leicester has achieved Centre of Excellence status after its second assessment.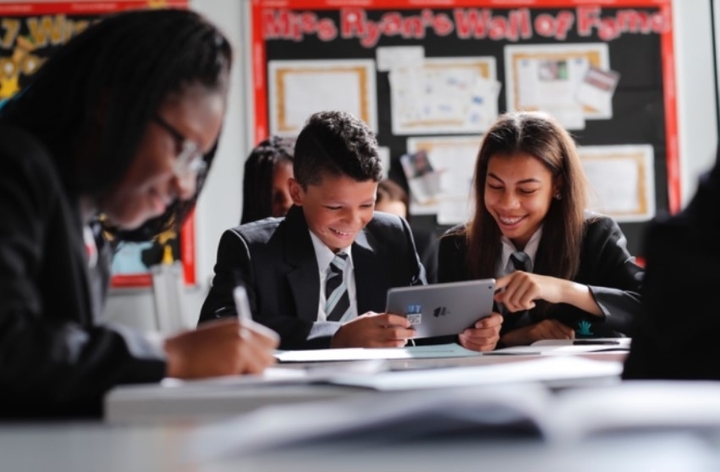 Rapid Growth in Numbers
Babington Academy is a larger than average sized secondary school, and it is situated in the second most deprived ward in the East Midlands. Attracting students from across the city, the current Year 7 cohort came from 36 different primary schools. This has been as high as 51 feeders previously. There has been seen rapid growth in the past three years, 671 students in 2013 to 1036 currently.
School Context
Babington Academy serves a culturally diverse cohort with over 50 different home languages spoken by students. Current Year 11 is 73% EAL. There has been a significant increase in the number of Indian students from 11.5% (2013) to 29.8% (2016). In 2016 girls outnumbered boys at 53.9% of the cohort however this is reversed with the current Year 11 cohort; the proportion of girls dropping to 43.7%.
Notable Successes
Babington Academy has enjoyed some notable successes in recent years. In the last inspection in March 2013 the school was judged to have achieved the top grade of 'outstanding'. In 2015 the school were in the top 100 secondary schools in the country for the KS2 – 4 value added performance measures and were shortlisted in the national TES awards in the secondary school of the year awards. The academy won the Leicester Mercury anti-bullying award in their annual awards ceremony. Babington was also one of the regional winners of the inaugural 'DofE Character Awards' and were presented with the award by Nicky Morgan, MP, the then Secretary of State for Education.
National Support School
In 2014 Babington was designated as a National Support School. They are also the lead school for the Leicester City Partnership School Direct (teacher training). The Principal is now a National Leader in Education and recently seven members of staff have been awarded Specialist Leader in Education status. Babington Academy is the lead school in the Learning Without Limits Academy Trust.
A Moral Commitment to Inclusion
Students, parents, staff and governors are very proud of their diverse and inclusive Academy. They share a moral commitment to ensure that all 'grow, thrive and are visible' and they work tirelessly to ensure that students both aspire to, and achieve success within the 'no excuses' culture of high expectations.
The Babington Academy vision is to be 'Outstanding and being the best that we can be'; their motto is 'Aspiring to Success' and all students at the Academy are 'Proud to be Babington!' In addition, there is a new aspirational motto for the Academy Trust: 'I grow, I thrive, I am visible'.
A Pledge to the Students
The staff of the academy make this pledge to the students:
'We all want the best for you, to help shape your future and make a positive difference to you. We want your eyes opened to the many opportunities that there are in life so that you aim high and believe that you can achieve anything. We want your horizons broadened through building your character and by promoting self-belief and self-esteem. We will recognise and nurture the talents, skills and abilities of each and every one of you to enable you to grow and develop and become learners for life'.
This sits alongside the Academy Pledge which we expect all students to ascribe to and which is read in assembly each morning.
'I will always to the best of my ability treat Babington with respect during my years here.
I believe that all staff and students should treat each other with respect and I will lead by example.
I will try my best to take advantage of the opportunities offered to me here.
I will cherish those who help me to achieve my goals.
I understand that bullying and unkind words are not tolerated in our college and I will not treat anyone differently because of their religion or culture.
I will value everyone for who they are.
I will respect the right of everyone to worship their God and I will embrace the cultural diversity of the College.
I understand that my college is judged by my actions and I will always try to give a good impression of the place where I learn'.
During the assembly, I visited on the first morning of my visit, I heard Year 7 students recite the pledge which is also prominently and permanently written on a wall adjacent to the entrance to the building. It became very clear during my two-day visit, that these are not empty words but embody the ethos and culture created at this vibrant and welcoming school.
A Wide Variety of Nationalities
As I walked through the entrance to the building there was a large display of 94 national flags from Angola to New Zealand representing the nationality of all students who have passed through those doors. It was clear from the outset, that the diverse nature of the population of this school is not only accepted but celebrated.
I spoke to members of the Equalities student group who support students across the Academy including those with SEN and disabilities and LGBT for example. There are special events to celebrate diversity through the cultural assembly calendar and cultural food days. In discussion with a number of students, they told me about such events and quite a number were very proud to tell me that they had been recipients of a variety of awards.
Pupil Premium Funding Used Effectively
Pupil Premium funding is used effectively and practice at Babington is exemplary. Their work, led through the Associate Principal, is recognised nationally and they support other schools particularly in Leicester. There is an impressive and comprehensive toolkit freely available from their website (The Babington Closing the Gap Toolkit).
Excellent Facilities
The building where Babington Academy now resides was opened three years ago as part of the BSF programme. It was purpose built to meet the needs of 21st century learners whatever their needs and abilities. Due to the expansion of the academy, further building work was underway during my visit, albeit the installation of mobile classrooms.
Coloured Coded Faculty Areas
The Academy is arranged into colour coded faculty areas situated around a pleasant student reception area and a spacious auditorium which is used for assemblies and meetings and for students to meet and talk at social times. Each faculty has an open area, access to a 'breakout space', faculty planning rooms, toilets and bespoke printing facilities. The Babington Bistro is located on the ground floor. As a specialist Sports Academy, there are excellent sports facilities which include two full sized sports halls, one equipped for Badminton and a gym which is also used for dance.
Excellent Student Resources
Each faculty area has a set of laptops and iPads. The Learning Support area also has specific rooms with computers. Classrooms have visualisers and where needed, specialist equipment for visually impaired students. Students in Year 7 have access to working with Raspberry Pi. In addition, all LAC have been allocated a laptop or iPad for individual use. Facilities for Science and Technology are excellent. There is also an excellent space for students to experience learning outside the classroom. There is a woodland classroom, kitchen garden and shortly, the aim is to keep bees.
A Well Resourced Library
The library is situated at the heart of the Academy and it is well stocked and well used. Books are updated regularly. The Learning Support department also has a wide range of resources for 'Catch Up' literacy. There are several ex-stock books which are available for students to keep, free of charge. There are also two prayer rooms available for students and are appropriately fitted out.
Buildings are Well Maintained
The building is professional in appearance and very well maintained. Students are proud of the place where they learn and they treat it with respect. Despite my best efforts, I found no graffiti or evidence of vandalism!
An Appreciation of Different Needs
Central to the ethos of the school is respect for others and appreciation of different needs. Students at the Academy are actively encouraged to treat each other with respect and this was evident during my visit. Staff model this behaviour and most students are all able to recite the Academy Pledge. Students and staff made me feel very welcome and during both lunch engagements with different groups of students, I was impressed with the mature and responsible attitude of those I met.
A Very Strong Pastoral Care System
The Academy has a very strong pastoral care system and there are many dedicated staff who work tirelessly to ensure that students are happy, safe and can flourish. Expectations are very clear and are summed up in 'The Babington Way for Behaviour for Learning'. During my visits to classrooms, students were actively engaged in their learning and behaviour was very good in all the classrooms I visited. Behaviour at lesson changeover was observed and was equally good. I saw several Student Welfare Officers at key points supervising the change over from one lesson to the next. The first port of call for students who require support are the Student Welfare officers. Attached to each house they are readily available to support when required. Students are regularly reminded and signposted to places where they can find support. This happens in assemblies and in PHSE lessons. The mental health noticeboard and the mental health ambassadors guide students to where to seek advice for this area.
Best Possible Outcomes
Building character for learning (BC4L) is an important strategy at Babington Academy aimed at supporting students to achieve the best possible outcomes. It is a strategy that permeates all areas of the Academy and focuses primarily on building traits that support students in becoming resilient, happy and confident learners equipped with the necessary skills and character traits to be successful.
An Anti-Bullying Culture
There is a strong commitment to creating and maintaining an anti-bullying culture which is palpable. The academy is actively engaging with the Stonewall School programme and is well positioned to becoming a Champion School in my opinion.
Many and Varied Extra-Curricular Opportunities
There are extensive opportunities for students to broaden and enrich their experience. The extra-curricular opportunities are many and varied and there is a good deal of curriculum enrichment. During my visit, I saw students assemble to be taken to watch the England women's world cup game and I heard about the Academy's involvement with the Prince William Award. Participation is carefully monitored and ensures that all students have access to a broad range of high quality experiences. Statistics reveal an impressive provision and take-up from students.
The Importance of Pupil Voice
Babington Academy has a Head Boy and Head Girl and a number of prefects. School issues are regularly discussed with them through the Assistant Principal responsible for Student Voice. The Year 11 Prefect team lead a student focus group (Student Progress and Achievement Leaders) and meet with faculty leaders on a termly basis. Each year there is 'Student Takeover Day' where Year 10 students have the opportunity to apply for roles within the school for a day.
Student voice has played a substantive part in shaping Babington Academy. One student told me that the Kaleidoscope badge that students and staff sign up to wear came about through the creation of an equalities group of students. Other students described their work as sports leaders. In addition, the Academy conducts termly student surveys, and there is a termly faculty conference with student focus groups and faculty leaders. Students also complete a questionnaire and the results are analysed by SLT who then produce a 'you said – we did' response.
Performance Data is Readily Available to All Staff
Performance data is readily available to all staff and arrangements for monitoring and analysing data are comprehensive, thorough and regular. The Academy undertakes a comprehensive analysis of baseline data and where students do not have data they undergo a rigorous baseline testing procedure including CATs and Faculty Assessments. This information is then used to allocate students to appropriate groups and courses and for support if required. Assessment information is available to all staff as class data on SIMs and through the SEN Gateway. There is an able, gifted and talented strategy in place to ensure staff are also aware of the needs of this group of students. Contextual sheets are then produced by staff for each class and regularly updated. Individual SEND students are identified and strategies recorded. They include the prior attainment of students, their SEN needs, and reading ages, and if they are disadvantaged etc. Students with very specific needs are provided with access arrangements for all external exams and, where possible, for major internal exams.
The Importance of Analysing Data Regularly
Analysis of data takes place after each tracking point and discussion takes place at subject level, in line management meetings and Raising Achievement Board meetings. Students that require extra support are identified and monitored at these meetings. I was able to see how the school tracks student progress including the flight paths sheet contained within the progress folders as well examples of the contextual sheets that contain pedagogical responses to the outcomes of data analysis.
Learning and Teaching Rigorously Monitored
In a similar vein, learning and teaching is rigorously monitored and a wide range of INSET opportunities are available to staff at all levels. CPD is organised in 'home and away groups' and there is also a teaching and teach leadership team (TLLT), made up of consistently outstanding teachers. Their role is to research new ideas and share good practice. Teachers also belong to teaching and learning communities (TLCs). A teaching and learning good practice briefing is held weekly.
TA Deployment is a Strength
Teaching Assistant deployment is as a strength with specialist subject TAs attached to faculties. Students with an EHCP or statement have individual or group support and TAs also deliver interventions including Catch Up Literacy, Lexia, Mental Health, Social and Communication skills, Anxiety Programme, ADHD, and GCSE exams. A recent development to support teaching and learning is the use of 'IRIS Connect' for professional development and to provide an opportunity for self and peer reflection. All staff are required to complete a contextual data sheet and seating plan, highlighting individual student needs for all classes. Teaching assistants and support staff also receive training and support to improve their practice within the classroom. They have recently developed a pilot project for TAs to use IRIS Connect to improve their practice in the classroom.
The Importance of Inclusion
Leaders and staff recognise that outstanding learning and teaching involves an awareness of a number of specific areas, for example, data and assessment procedures, a relevant curriculum which is matched to student need, knowledge of SEND issues, building character for learning, and robust behaviour management procedures. Staff are actively involved in these key areas and they are encouraged to become involved in training at all levels. The leadership of teaching is strong, well informed and dynamic. There is a desire to continue to improve and to this end, the Academy is on its way to becoming an 'Advanced Thinking School'.
Working with Parents and Carers
Working with parents and carers in supporting learning continues to be a priority for the Academy and leaders recognise that this remains a challenge. The academy has been awarded the Leading Parent Partnership Award and intends to renew this reward at the earliest opportunity. Attendance at parents' evenings and other events for example, has increased, however the Academy is clear that it wants to move from 'parental involvement' to 'parental engagement'.
Parents Very Supportive of the School
Parents I spoke to were extremely supportive of the school. One parent summed up the mood by saying she was "proud to be a Babington parent". Communication is excellent in their view and they always feel able to communicate with staff freely. Parents meet formally with teachers twice per year and reports are sent home each half term. Parents are regularly consulted and surveyed, their concerns are dealt with quickly and with empathy. Parents of children with additional support needs were particularly keen to impress upon me just how well they feel their children are cared for and made to feel a valued individual. They were confident with the staff who work with their children and in particular the SENCo.
A Fully Committed Governing Body
The governing body is also fully committed to the Academy's vision and plays a very positive, active and supportive role in the Academy. They are aware of all aspects of the inclusion agenda and are active participants in the Academy's efforts to include and to care for all students. There is a great deal of experience and skill which was evident in discussions with governors. In a telephone conversation with one governor, it was clear that the governing body was very well informed and able to hold leadership to account and to support their ambitions. I was also told how governors accessed support through governor services, the school's advisor and the National Governance Association.
Working with Other Schools
The academy has an established tradition and commitment to working with other schools and organisations to support and to receive support. Recently designated a National Support School, this support role has expanded significantly. The Academy has close links with several local schools, including the two MAT primary schools and MAT secondary Academy.
Working with the Local Community
The curriculum is designed to make the most of the local community including local colleges and providers and local industry. Local partners from the world of work recently attended the Living Library event for Year 8 options and the school regularly receive reading support from Leicestershire Cares. This has been a long-standing arrangement and the school is grateful for the support of Viking Direct in helping with EAL reading development. In turn, the Academy's impressive sports provision is available for hire and club use.
In Summary
This is a school that is providing a very good experience for its students and their families. All staff are dedicated, work hard and are very skilled at what they do. Outcomes are good and improving. There is a clear sense of warmth and an ethos and culture that ensures that everyone is respected and offered every opportunity to achieve their potential. The inclusive ethos is like a "little stick of Blackpool rock", it is right through the organisation! It was a pleasure to visit this inspiring school in which all stakeholders are "Proud to be Babington".
Find out more about the IQM Inclusive School Award
If your school is interested in obtaining the IQM Inclusive School Award or you wish to talk to a member of the IQM team please telephone:
028 7127 7857 (9.00 am to 5.00 pm)

or email: info@inclusionmark.co.uk for further details.
Want more information on the IQM Award? Click here to request your free IQM information pack.