Abbey Hill School and Performing Arts College in Stoke-on-Trent has achieved Flagship status.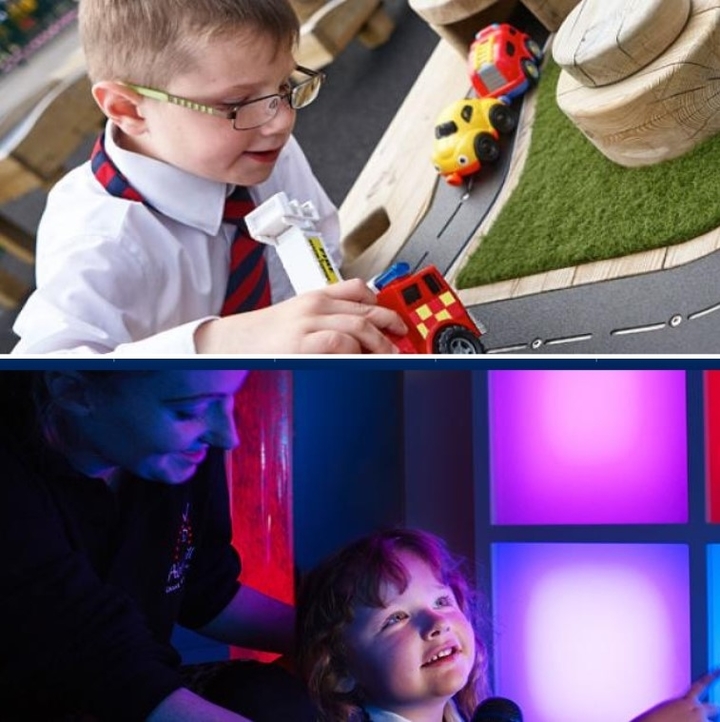 Total Commitment to Inclusion
The targets agreed during my review visit in 2017 have been addressed and in most cases, fully achieved. The fact that eleven targets were included in last year's action plan is an indication of the school's total commitment to the Inclusion agenda. The school has submitted clear and accurate evaluations of the targets and has recognised that where only partially completed, they wish to continue the work over into the coming twelve months. Having completed three successful years as an IQM centre of Excellence school, Abbey Hill have now completed an Action Plan for 2018-19 to gain accreditation as an IQM Flagship School. I was able to verify the accuracy of the school's evaluation of targets from my discussions with the new Head Teacher (in post from September 2017), key members of the Senior Leadership Team and a tour of the school.
EYFS Provision Review
Conversion from Statements to Education Health Care Plans is now complete and the school is hoping to achieve Autism Accreditation in February 2019. The Local Authority has also conducted a review of the EYFS provision.
Ofsted
In addition to the noted targets for IQM, the school has undergone an Ofsted inspection (May 2018) and a complete internal review to identify areas of strength and areas where development needs to take place.
The Ofsted inspection judged the school to be Good in all areas and noted many areas of significant strength:
"Leaders have taken effective action to improve teaching since the last inspection. Lessons observed show that teaching is consistently good."

"You have recently introduced a new assessment system for recording and tracking pupils' progress. This system breaks down the curriculum into smaller steps and enables the tracking of life skills for pupils with autism."

"Extensive staff training provides a wider range of opportunities for all teaching and support staff to improve and increase their skills, knowledge and expertise. This ensures that the provision for pupils is enriched further. Through your collaborative work with other special schools within the trust you have been able to offer bespoke training packages to all staff ".
DC Pro Tracking System
The school now uses the DC Pro tracking system.
("DCPro pupil tracker is unique, linking teacher assessments, targets, interventions and pastoral factors. It meets all the requirements of the new Ofsted framework and the new curriculum whilst at the same time allowing you to easily highlight the progress made by individual pupils, classes and groups, keeping the whole school picture in mind. Pupil tracking has never been easier or more powerful.")
Significant Progress Made
All areas for development have been addressed and significant change and progress has been established over a relatively short period of time.
Focus on Strategic Management
The school review also included a restructuring of the Senior Leadership Team with a direct focus on strategic management, career development and succession planning. The school has now been reorganised into three key phases: Junior, Secondary and FE. This has also promoted specialist teaching opportunities utilising the excellent teaching areas and resources available.
Internal Changes
The changing cohort of pupils, more complex needs and a particular focus on ASD has prompted the development of an extra Autism Support Class. Other internal changes include the development of communal areas into working classroom bases and the provision of a new IT suite, the former room is planned to be converted into a sensory teaching space. The school might like to make connections with other similar IQM schools where the focus on ASD provision is driving changes in both the curriculum, resources and also the building:
• Newfields School, Blackburn, Lancashire.
• The Village School, Brent.
• Riverbank School, Coventry.
• Calthorpe Academy, Birmingham.
User Friendly Website
The school website is user friendly giving parents an excellent source of information concerning day to day events, essential information and advice. The school has an established routine of Parent coffee mornings which are well attended together with a parents' magazine.
Collaboration with Other Providers
As a Centre of Excellence Abbey Hill has always sought to collaborate with neighbouring schools and providers and has over the past twelve months successfully established a satellite class based in the nearby Weston Junior Academy. This has improved opportunities for shared CPD, pupil integration (specifically into Music, Drama and lunch breaks). The satellite class is staffed by 3 members of the Abbey Hill teaching and support staff with pupils registering at the Abbey Hill site before travelling to Weston Junior Academy. Further collaborative plans include the formation of a Multi Academy Trust group of 3 special and 5 primary schools with a conversion date between October 2018-January 2019. Some Abbey Hill students are now taking their GCSE courses (Art) at a neighbouring High school and another group of 10 students following IT courses.
Work Experience Opportunities
In line with the targets from last year the school has also developed a wider range of work experience opportunities for pupils including:-
• Internships at colleges (Nine have been confirmed with a start date of September 2018 3 days in workplace/2 days in school) Workplaces such as Trentham Gardens, LA City Council, Dudson (pottery), NHS.
The school has hosted a careers awareness conference (Careers and Enterprise) attended by 50+ local business representatives. This was supported by Rymans, Young Enterprise (interview skills) and also included a presentation of Makaton training.
CPD Planning
A particular feature of the Action Plan from last year was the CPD planning which has now been launched and is becoming an embedded feature in the school's determination to ensure teaching in all areas is outstanding.
Triads Approach
The Triads approach, the Classroom handbook and the Abbey Hill Alphabet of Excellent Teaching and Learning have all had impacts on both the quality of teaching, staff wellbeing and the progress and achievement of students.
Staff Buddy System
The school has an established staff buddy system which includes bespoke features such as staff reflection time, show and take board in the staff room, weekly briefings and SLT-teacher meetings on a termly basis. The Breakfast Research group meets half termly, Music and Rebound therapy have now become established elements of the school curriculum. Retention and recruitment for the school is good, the school runs open days for new staff (most recently attended by 35 delegates.)
Bespoke Teaching and Learning Approach
The "Abbey Hill Alphabet of Excellent Teaching and Learning" programme is a bespoke approach to teaching and learning which has been very carefully planned, researched and put into practice over the last year. Data provided for me indicates the positive impact the approach is already having. Staff have already been involved with self and peer analysis, including the use of in class video with a reduction in classroom observations and a stronger focus on a coaching model. The school has already attended the IQM Cluster Group meetings and I would strongly suggest they use a future meeting to introduce schools into the "Alphabet" CPD model.
Alphabet of Excellent Teaching and Learning
"Abbey Hill Alphabet of Excellent Teaching and Learning"
A. Attitude
B. Basic Skills
C. Challenge
D. Differentiation
E. Engagement in Learning
F. Feedback
Outstanding Centre of Excellence
The school is an outstanding model of an IQM Centre of Excellence and continues to meet all of the IQM criteria in its relentless focus on Inclusion, improvement and collaboration. I am totally confident that the school has the drive and capacity to meet the requirements of Flagship status and would support their accreditation as such. The Flagship Action Plan as submitted as part of this review is both full and challenging. I have no doubt that all aspects of the plan will be addressed but in our discussions on the day of my visit, it was agreed that the school would focus on a maximum of 3 elements of the plan. Details of the revised Action Plan will be submitted by the school on receipt of the updated IQM paperwork.
The next review will look closely at how the school has interacted with its Inclusion Cluster and promoted continuing outreach and in-school research. Evidence of Cluster working will underpin the capacity for the school to maintain its Flagship status.
Find out more about the IQM Inclusive School Award
If your school is interested in obtaining the IQM Inclusive School Award or you wish to talk to a member of the IQM team please telephone:
028 7127 7857 (9.00 am to 5.00 pm)
or email: info@inclusionmark.co.uk for further details.
Want more information on the IQM Award? Click here to request your free IQM information pack.