Ysgol Glan Gele in Abergele achieves Centre of Excellence status.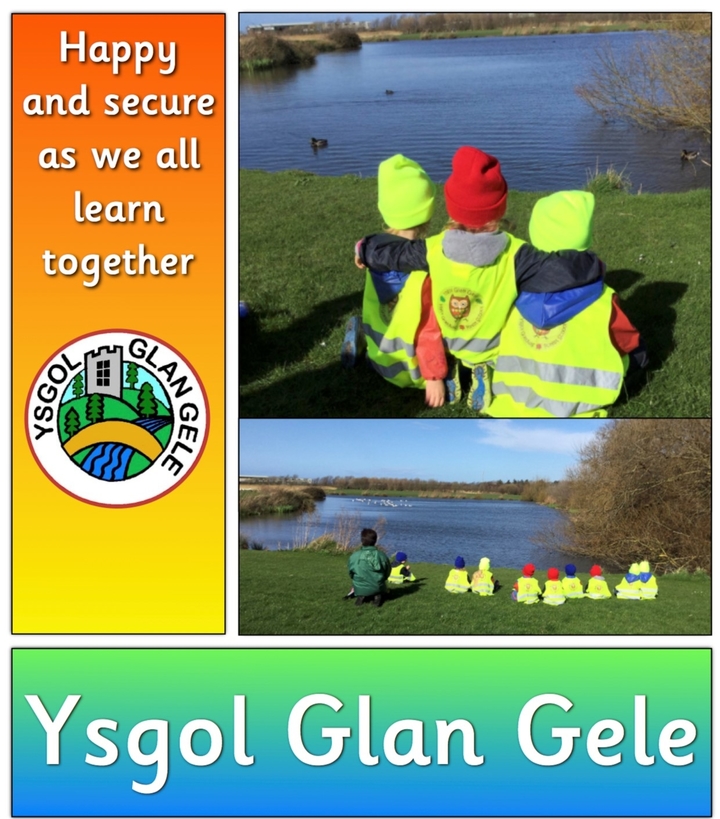 School Context
Ysgol Glan Gele is located in Abergele, North Wales in the county of Conwy. It is situated in a Communities First area having one of the highest levels of deprivation throughout Wales. Two hundred and ninety-seven pupils attend Glan Gele and of those, approximately 28% are eligible for free school meals. There are ten classes from Nursery through to Year 2 and 29% of pupils are identified as having additional learning needs. The school's Estyn inspection described Ysgol Glan Gele as providing, "outstanding levels of care, support and guidance for pupils and parents" and that, "Provision for the development of pupils' thinking skills is outstanding and as a result, most pupils are independent and reflective learners."
Inclusion Lies at the Heart of the School
The school's Mission Statement is 'Happy and secure as we all learn together' and alongside this is the Cluster of schools' vision which is 'Learning has no boundaries.' Entering the school car-park, I was met by a very kind and helpful gentleman who showed me where to park my car and then wished me a good day. This continued when I entered the school building and was greeted with warmth and smiles from everyone I met. The school is full of vibrant and stimulating displays of children's work that show pride, along with a focus on high expectations and high standards in all that staff and pupils do. Imaginative use is made of all available space to raise pupils' standards of numeracy and to develop further their problem-solving skills. Inclusion continues to lie at the heart of the school.
Very Happy Parents
On speaking to parents on the day of the assessment they stated that,
"Nothing is ever too much, they go above and beyond" and
"I never worry after handing my son over, they do not waste a minute, the children love it!"
One of the parents explained how a 'Beach Day' that was meant to be at the local stony beach had been changed to a sandier beach further down the coast to accommodate her son, a little boy in a wheelchair, making the day more accessible for him. The parents felt that the staff's relationships with the pupils was second to none as was the support from Mrs Buckley Jones, the Headteacher.
Community Links
There are many community links. On the day of the assessment I met Amy Hughes from the Dinorben Family Centre, Alison Pring, the warden from Pentre Mawr Sheltered Housing accommodation and Rosemary Dodd, the school's Family Liaison teaching assistant. We discussed how the children visited the sheltered housing accommodation to do litter picking, to interview the elderly residents, to take part in craft days and to play bowls. The children's relationships with the elderly residents is an inter-generational one and is very successful. Residents attend Glan Gele for lunch with pupils and vice versa, an active venture for all who take part. Parents are signposted to the family centre for advice on debt and to see professionals. There is also a strong link with Tesco who donate food items and provide their 'Farm to Fork' programme to pupils. A recently built Community Cabin in the grounds is available for meetings and gatherings for parents and the wider community.
Very Happy Pupils
Speaking to the pupils they explained why they thought their school was excellent,
"We raise money for charity, we help animals, the planet and the farmers",
"Our teachers help us to learn, they are kind and the best!" and
"Mrs Buckley Jones is kind and respectful, we make lots of friends in our school."
External Benchmarks
Ysgol Glan Gele holds the Healthy School, Eco School and Fairtrade school awards and it has the Religious Education Quality Mark. Glan Gele has also gained the Leading Parent Partnership Award after demonstrating their commitment to investing in parents and carers so that pupils achieve. The school is a Professional Learning Pioneer School and works closely with the Welsh Government to support the implementation of the "Successful Futures" curriculum in 2020. The school readily reflects on its current practice and is ever moving forward and developing further in order to improve.
Find out more about the IQM Inclusive School Award
If your school is interested in obtaining the IQM Inclusive School Award or you wish to talk to a member of the IQM team please telephone:
028 7127 7857 (9.00 am to 5.00 pm)
or email: info@iqmaward.com for further details.
Want more information on the IQM Award? Click here to request your free IQM information pack.