Woodhall Primary School in Suffolk achieves the Inclusive School Award with Centre of Excellence status.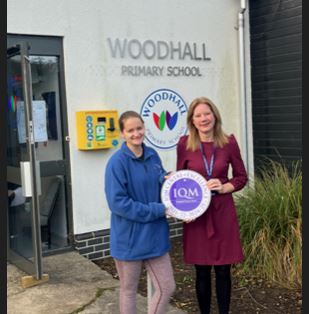 A Welcoming and Supportive Setting
In the school's most recent Ofsted report of 2019, it was noted that, 'Woodhall Primary School is a school for all children. In this highly inclusive school, pupils with a wide range of needs are warmly welcomed. Parents are overwhelmingly positive about the school….and value the support that they receive.' This was definitely my experience at Woodhall Primary, which I found to be a welcoming and supportive setting with inclusion at the heart of the school ethos. There is a culture of positive relationships and respect where diversity is celebrated by all.
Equity Rather than Equality
The Leadership Team recognises the unique characteristics of the community it serves, and this is reflected in the distinctive school culture that I experienced. It is also acknowledged that a community must continue to develop and grow to be sustainable. Equity rather than equality is understood as the essence of successful inclusion and there is a growing culture of 'no place for standing still.'
Making the Remarkable Happen
The Executive Head Teacher has been in post since September 2021 and is proud of, and resolute in, ensuring that the school will "transform lives and make the remarkable happen." As a result, the new Leadership Team at Woodhall has continued to retain what is working well whilst actively looking outwards in pursuit of excellence for every child.
High Aspirations for All Children
Leaders increasingly understand and promote the wider inclusion agenda as central to the school's vision and purpose. This model sets an expectation in which all work takes place – high aspirations for all children is emerging as a 'no limits' approach at Woodhall Primary School – staff are committing to encouraging ambition and providing opportunities for everyone. Relationships have been built and links made with another school in London to collaborate further and expertise is drawn from, and shared with, partner school, Houldsworth Valley in Newmarket.
A Happy, Supportive and Safe Place
Woodhall is a happy, supportive, and safe place where adults' wellbeing is prioritised, and pupils are nurtured. The Pastoral Support Team work hard to ensure that children's emotional needs are effectively met. In terms of inclusive practice, it is acknowledged that having high self-esteem is crucial to pupils' wellbeing and that this becomes the platform for successful learning. There is a palpable sense of taking this now to the next level where the ambition is to ensure that all children acquire the skills and attributes necessary to help them move on enthusiastically and successfully to the next stage of their education and to be successful members of their school and wider communities.
Supporting an Individualised Approach
To achieve this, the school is looking for ways to adapt its approach, practice, and procedures to further develop inclusion and achieve an optimum balance of high support and high challenge. Inclusion is about how children feel within the educational setting, how they learn and how pedagogy and evidenced-based, best practice can support an individualised approach whilst enhancing progress for all children, regardless of need. In this way inclusion can helpfully be seen as a process, as opposed to an end point – and is continually changing and developing.
Highlights from the Visit
• Instructional Coaching (commenced in September 2021,) alongside targeted Continuing Professional Development to grow expertise and a solution-focused approach – these are all embedding and helping to achieve the aspirational targets and vision set for the school by the new Executive Head Teacher.
• Igniting a love of reading – the change in approach to reading includes immersing children in rich literature in class to help develop and widen their vocabulary and inference skills. This is supported by a half hour slot before school each day introducing pre- and post-teaching interventions to scaffold and reinforce learning, enabling access to all.
• Learning Behaviours (secrets of success) – this initiative has been successfully implemented and is having a big impact on children's understanding of the attributes that contribute to their progress and achievement. During the Learning Walk, I heard this referred to and saw it displayed in every classroom.
• New SENDCo appointment (started with the school in January 2022 and is clearly an asset to the school) – they have the relevant qualifications, expertise, knowledge, and experience in terms of SEND and what works, essential for the ongoing pursuit of excellence. It was clear from our discussions that a finger is most definitely on the pulse regarding next steps for inclusion in the school.
• Early Years' Provision – I met with two teachers (both new members of the Senior Leadership Team) who spoke passionately about the development of excellent practice within the Nursery, Reception and Key Stage 1 classes. Transition arrangements have been further enhanced because of, and learning from, the COVID pandemic. There is language screening and early intervention in place for all children on entry and an increasing focus on oracy.
Find out more about the IQM Inclusive School Award
If your school is interested in obtaining the IQM Inclusive School Award or you wish to talk to a member of the IQM team please telephone:
028 7127 7857 (9.00 am to 5.00 pm)

or email: info@iqmaward.com for further details.
Want more information on the IQM Award? Click here to request your free IQM information pack