The Deans Primary School, Swinton, Manchester, has achieved Flagship School status.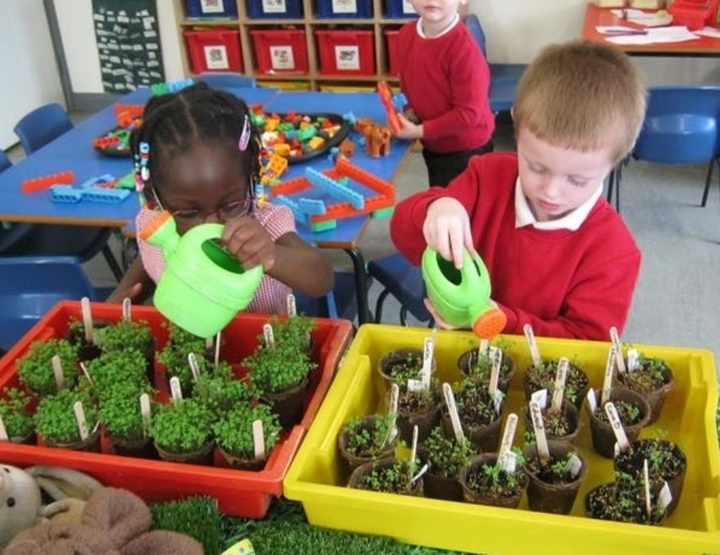 Background
The Deans Primary School is an average-sized primary school in Swinton, Salford, currently with 320 pupils on roll. School numbers will continue to rise, as the school takes on an additional 30 children in reception class each year. Over the next four years, it will evolve into a large two-form entry school. The new state of the art building is purpose built and has been executed to a very high standard. Just two years old, it is a stunning example of a modern, highly impressive building, which is exceptionally bright and airy.
Context
The context of the school is both varied and challenging. The proportion of pupils with support for special educational needs and/or disabilities is 23% and this is on the increase, this is almost twice the national average. The proportion of pupils supported with a statement of special educational needs or an education, health and care plan is currently less than the national average but again will rise due to the latest intake and proposed EHC Plans. The proportion of disadvantaged pupils supported by the Pupil Premium funding is average (22% FSM6). The percentage of pupils from minority ethnic backgrounds and pupils who are at the early stages of learning English as an additional language are broadly in line with average (18%). It is worth noting that the school has 14 out of the 17 possible ethnic groups amongst its pupils.
Innovative, Ambitious and Highly Inclusive School
The Deans Primary School is an innovative, ambitious and highly inclusive school. Children, irrespective of their background, get the best chance to achieve and experience success. Though starting points on entry are generally below national expectations, children make rapid and sustained progress because inclusion is at the heart of everything the school tries to achieve. Under the guidance of the visionary Headteacher, the extremely talented and hardworking Senior Leadership Team and staff most certainly go above and beyond the call of duty. Staff morale is high and there is a shared commitment to excellence.
Highly Effective Learning Environment
This school has a highly effective and spacious learning environment. Its displays are inviting and stimulating. Staff have worked hard to make the building welcoming and reflective of their values. It was very noticeable on my tour of the school that children were engaged in their learning activity and the atmosphere was very calm. The very proud Headteacher, who knows his school very well, commented on how well the children had adjusted to the new build.
"There is a culture of trust, the shared spaces demand a shared sense of responsibility and the children and staff rise to this."
Excellent Ambassadors
The pupils are excellent ambassadors for their school. They are polite, courteous, confident and their behaviour is very good. They are delightful, friendly and eager to learn and improve. During my tour, I visited every class and I was impressed by the consistency of behaviour and attitude to learning. Year 6 pupils relished telling me about the many roles that they and their Year 5 counterparts have at The Deans Primary School. After listing the many duties, I came to the conclusion that children practically ran this school and they felt proud because they did this really well.
Individuality is Celebrated
The Headteacher is rightly proud of making this state-of-the-art building into a 'family feel' school. Parents are highly impressed when they walk through the 'oasis of goodness' that is The Deans Primary School. One of the many reasons they chose The Deans Primary School is because of its philosophy on inclusion. Families are assured that their child's individuality is celebrated, no matter what their barrier. Children get a great chance to experience a 'quality education through high expectations!' as echoed by the schools' mission statement.
Team Work
The school has many 'home grown' teachers who have been here for a long time and after speaking to a parent and several members of staff, it exemplified that, at The Deans Primary School, team work is second to none. People and 'relationships' matter here, everyone including pupils, parents and staff all work together as part of one harmonious team.
Well Supported Teachers
Due to the school's expansion programme, a newly appointed member of staff started with the school a term ago. Through the schools cooperative Cluster work, as part of the Salford Alliance of Learning Schools (SALS), he had previously completed a successful teaching placement at the school. He commented that it was a very easy decision to make when offered a chance to work here in the schools EYFS department. He didn't hesitate to take the opportunity with both hands and proudly said:
"The best thing about working here is that, when I need help, I know I can go to anyone for advice and I know I will get it!"
As a newly qualified teacher, he felt very well supported by his trusting mentor, who encouraged him to take risks, a resourceful teaching assistant and his highly experienced parallel teacher.
Enjoyment of Working Together
Another great example of teamwork, albeit, out of school hours, was offered by one long serving teacher. The following week, all the staff would bring a contribution to the staff Christmas meal. He stated:
"The enjoyment that we get by working together to prepare this meal, could not be replaced by eating 'shop bought' pre-prepared food."
It was evident that the time spent by preparing the meal together was considered priceless!
Barriers are Removed
At the time of my visit, I had the opportunity to speak to a parent who had nothing but praise for the schools Headteacher, staff and SLT. Her positive relationship with the school spanned many years and indeed she still has two children who attend the school. The family had experienced a particularly traumatic time recently and the DHT had provided a 'life line' just when she and her family needed it the most. Her eldest was being challenged both emotionally and physically and this was impacting negatively on the children's learning in school. One child was assisted in 'writing' his story 'Living with an Ill Sister.' This was used effectively to aid communication at home. Mum used this to work out how to manage this very stressful and sensitive situation by including all of her children and family in what was going on. The DHT didn't hesitate to support the family through the lengthy CAF process and offered guidance, which aided the family immensely. Again, this highlights how staff go 'the extra mile' to support pupils and families so that barriers which affect their learning or well-being are removed in a timely and effective manner.
Developing Communication Skills
Though still in its infancy, Philosophy for Children has been very well received by staff and children alike. After watching a Year 3 class taking part in this, the pupils were already well versed with the outline and rules of the session. The pupils analysed and discussed a series of pictures linked to 'water pollution' before being invited to pose some 'deep' questions.
All the questions were highly perceptive and included:
• How can we save marine life?
• Do fish have emotions?
• Why do people litter the ocean?
• Where does the litter come from?
• How can we reduce our use of plastic?
The ability to question, agree and disagree on 'real life' topics is a great skill to nurture and hone. The children at The Deans Primary School, by starting these skills early, will not only build on their communication skills but also give them the ability to debate in an emotionally friendly and articulate manner.
Taking a Lead in the Community
Since the last review, The Deans Primary School has embarked upon a 'Global Learning Leaders' Project. This hugely exciting initiative currently involves ten local schools. At present, seven of which are active participants. The project involves learning through both local and global communities and is being led by the Year 3 teacher at The Deans Primary School. When speaking to several pupils about this, they amazed me with their knowledge on gender equality. They were keen to share how they had not only promoted this learning locally, amongst other schools, but also through their own Collective Worship sessions within school. Again, this is another fabulous way to engage children in real life, local and global learning and 'moral' issues, which impact all of our futures. The school should be very proud of its work in this area and for taking a lead in the community.
Inclusion at its Best
Over the past 12 months the school has participated in all of the Inclusion Cluster group meetings, aptly named 'Inclusion Pioneers'. This active membership is testimony to the school's outward facing philosophy in sharing and further developing their own and inspiring others' inclusive practice. The first of the meetings was hosted by The Deans Primary School and enabled the Inclusion Co-ordinator to share best practice through their accolade of being a Level 2 Dyslexia Friendly School. The Deans Primary School is set up to ensure equality of opportunity for all who attend here. Each classroom has a floor to ceiling buff coloured interactive wall used as a white board. Colour coding, visual timetables and subject specific words/technical vocabulary charts are the norm in classes and these are used to remove barriers and aid learning. These are just a handful of the myriad of approaches used to achieve success. These strategies are further exemplified in a fabulous 'mini' film clip, which show children sharing what works for them and their peers. Children here are confident in talking about their barriers to learning and more importantly, how they can overcome them. This is inclusion at its best and must be highly commended.
Unwavering Commitment to and Belief in their Pupils
This excellent school is driven by a strong, palpable and unwavering commitment to and belief in their pupils and their community. They provide an innovative and broad curriculum that motivates and inspires learners. At the same time, helps them learn in the real world through the vehicles of Philosophy for Children, Global Learning Leaders and their Well-Being agenda.
Dedicated and Committed Teams
The school has dedicated and committed teams of staff, parents, children and governors who never fail to take on an idea and run with it to great effect and an inspirational leadership team who have, with the support of all stakeholders, brought The Deans Primary School into the twenty first century for the pure enjoyment of learning.
Find out more about the IQM Inclusive School Award
If your school is interested in obtaining the IQM Inclusive School Award or you wish to talk to a member of the IQM team please telephone:
028 7127 7857 (9.00 am to 5.00 pm)
or email: info@iqmaward.com for further details.
Want more information on the IQM Award? Click here to request your free IQM information pack.