St Mary's RC Primary School, Levenshulme achieves the Inclusive School Award with Flagship School status.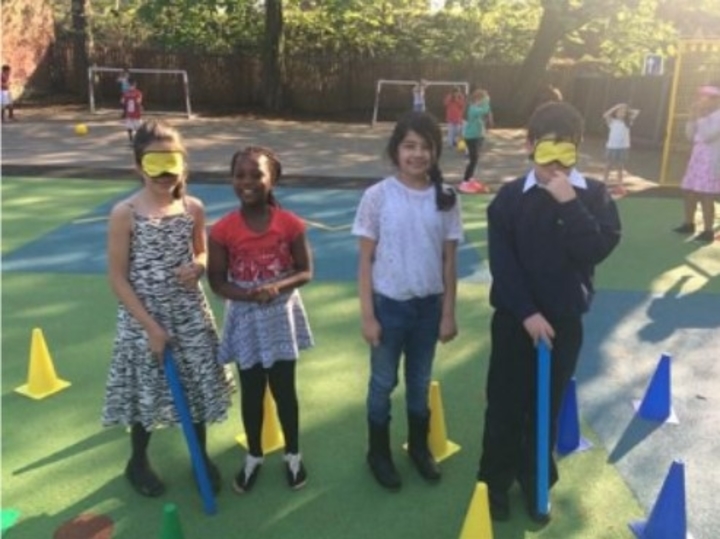 Background
St Mary's R.C. Primary School is a larger than average sized primary school with a nursery in Levenshulme, Manchester with 385 pupils on roll at the time of the review. The school and its staff work very hard to give their pupils the best education possible and a superb level of pastoral care so that they learn well and are very happy in school. This is achieved through its outstanding commitment to providing a highly inclusive teaching and learning environment for all pupils and staff. It is a superbly inclusive, enjoyable and very friendly place for all to come to work and learn and this is due to the fact that everyone involved with the school believes in and works hard on a daily basis with the pupils to ensure it happens. This is truly a school where all pupils matter and are valued for who they are and who they will become, this is a fact I can attest to from the evidence of this and previous reviews and from discussions with stakeholders. Everyone involved with St Mary's is committed to providing the very highest standard of teaching and learning experiences which not only develop the pupils' knowledge and skills, but an enjoyment of learning as well.
A Vibrant and Developing Community
This is a school that firmly believes that 'Every Child Matters.' Where the Headteacher states very clearly,
'We are a vibrant, ever-changing and developing community with a happy, family-orientated environment where many exciting things happen in and out of the classroom! We are a Catholic School and celebrate each unique child. We embrace our differences, create space for forgiveness and journey towards a shared understanding of God's love for each of us. Because our children are listened to and valued, they feel they belong and continue to achieve and grow'.
These are inclusive statements that I fully concur with. This is supported by their mission statement, 'love one another as I have loved you' that underpins everything that happens in the school and is enacted through their catholic ethos on a daily basis. The superbly caring, inclusive environment that St Mary's provide ensures each pupil receives the very best education possible, delivered by dedicated staff. This is a fact supported by Ofsted in November 2018, who stated, 'While achievement of high standards in the basic skills is the school's priority, enriching pupils' daily learning through a wide variety of creative experiences has helped to engender their love for learning. Pupils speak highly of their outdoor learning work, their trips and their community projects. The school's strong emphasis on personal development and sound values has created a harmonious and purposeful learning environment. Pupils feel valued and believe that the school truly lives up to its vision to 'celebrate the uniqueness of every child.' I would agree with this statement and evidence was seen throughout the review supporting the belief that every pupil is entitled to experience as many opportunities as possible in order to broaden life experience, develop confidence and self-esteem, allowing each pupil to find what is unique about them and to capitalise upon it, whilst easing through areas of challenge. In terms of inclusion St Mary's is an outstanding school in every sense. It's clear that superb care, nurture and support which are the foundation stones of inclusion are at the heart of everything that happens on a daily basis at the school and was seen in all interactions between staff and pupils; between pupils and between staff; from discussions with all stakeholders and from evidence provided in a variety of different contexts and in meetings. Everyone involved with St Mary's understand that this is a superbly inclusive community where staff and pupils come to work and learn. This is a school that is clearly at the heart of its community where inclusion is a natural part of the everyday occurrence, where pupils are encouraged to reach their full potential, where everyone involved is committed to the inclusion of all, whatever it takes. A school that is constantly looking at ways to develop for the benefit of the pupils and families that it serves.
A Stimulating and Vibrant Learning Environment
Visitors to St Mary's experience the same calm, yet stimulating, vibrant learning environment that the staff and pupils experience on a daily basis. It is contained but not bounded by its superb learning environment that focuses on helping pupils to develop the skills they need to be active participants in their community and in society. The school environment is superb and is full of vibrant carefully thought out and prepared displays that celebrates what the school does best, valuing everyone and including all pupils in the life of the school. The school's learning environment is simply superb and continually evolving. Every aspect of the interior and outside learning areas, every nook and cranny, is seen as a valuable space to aid the learning process, with a considered purpose. Pupils observed during the review in classes, at play and during lunch were extremely well behaved and there were superb positive and supportive interactions seen between pupils and between pupils and staff. Everyone I met was helpful and spoke very positively about their experience at the school and where the focus on improving the attainment and wider outcomes for all pupils is paramount and not just about promoting the learning of the lowest or highest achievers.
Extremely High Aspirations for All Pupils
As with the previous reviews it is clear to see that the school's actions to care for pupils academically, socially and emotionally in my judgement is superb. This can be seen from the pupil responses to the most recent Pupil Survey in June 2019, where in response to the question 'I am happy at School' 90% of the pupils responded 'All of the time or most of the time'; 'The school helps me to do as well as I can' 94% positive; 'teaching at this school is good' 96% positive. This is a fantastic accolade and demonstrates the highly inclusive and superbly positive atmosphere that prevails at St Mary's. The staff are dedicated and aspirational for all who are lucky enough to be educated at the school. The staff know their pupils very well. Every member of staff has a fantastic depth of understanding and knowledge of the pupils in their care and the pride they show in their pupils and their achievements shone out in every conversation and in the way they spoke about them during the review. It was very humbling to hear them talking about their school and their pupils. Everything the school does, is for the benefit of their pupils. The staff are extremely positive about the school, staff and pupils clearly show their love of the school and of learning. All staff naturally go the extra mile and beyond without thought to ensure that individual and group needs are met. There is an exceptional work ethic and ethos at St Mary's that drives everything the school and staff are doing for their pupils and families, coupled with a ferocious drive to continue to evolve and improve what is offered and extremely high aspiration for their pupils to succeed. Pupils observed during the review in classes, at play and during lunch were very well behaved and there were superb positive and supportive interactions seen between pupils, staff and between pupils and staff. Everyone involved with the school should be immensely proud of the way they conduct themselves around the school.
Mutual Respect and Care
Staff are justifiably proud of what they achieve both professionally and in terms of support for the pupils and themselves. There is mutual respect and care that is evident across the staff body and there is a fantastic rapport between the staff, the pupils in the school and between the staff at all levels. A mutual regard and respect that shines through in all interactions witnessed during the review. Everyone involved with the school should be extremely proud of what they achieve on a daily basis and the emphasis placed on ensuring everyone is nurtured and included.
Everyone is Included and Looked After
During the review process I talked to a variety of staff and pupils openly about their school and what was offered in terms of support. Everyone without exception was extremely positive about the school and they highlighted the fact that, in their opinion, the school was naturally a superbly inclusive setting and that staff are highly empathetic and understood the needs of the pupils and the needs of their colleagues and supported them extremely well. It was very clear from what was said and what was seen during the review that there are no barriers and no outsiders at St Mary's, everyone is included and looked after to the best of their ability demonstrating the school's superb level of inclusivity. As part of the review I was given a tour of the school that allowed me to see pupils learning and engage with them whilst also having the opportunity to talk to teachers and support staff. It was evident during the tour that there had been an almost continuous evolution of both internal and external learning spaces since the last review that has improved the school's already superb learning environment and has taken it to another level. I am sure delegates from TEAM NW will be blown away by the environment and how it supports inclusivity and learning when they get the opportunity to visit in March 2020. There were also opportunities to discuss the school's development of their EAL provision; Trauma and attachment provision and the proposed development of messy play therapy. During this discussion it was suggested that it would be worthwhile visiting Yew Tree Primary Academy, Halewood to look at what they offer in terms of Sensory Processing and Sensory circuits to support what St Mary's are proposing in terms of their targeted Flagship Research Plan, contact details were supplied. Further extremely interesting discussions focussed on the school's achievement of the Rights Respecting Schools Award at Bronze and the school's future plans in this respect. It was a pleasure to talk to the school's Outdoor Learning Lead and having seen the improvements that have taken place in the last twelve months in their superb outdoor learning environment on a tour of the school to discuss with him how they were being used and his plans for the future that include increasing the outdoor learning provision for vulnerable pupils. It will be interesting to see how outdoor learning continues to evolve at the next review point and I am of the opinion that what St Mary's offers in this respect should be replicated across the country. It is absolutely superb.
Future Plans
I had the opportunity to meet the school's outstanding Pastoral Manager and talk with her about the school's plans in respect of Peer Support and SEMH provision and to see the breadth and depth of provision that is provided at St Mary's, it is truly staggering. The priorities for 2019-2020 include: Anti Bullying Award refresher training for identified pupils; Achieving The Sandwell Well-Being Charter Mark where the school has committed to improving the mental health and well-being of everyone connected with it; developing opportunities for pupil voice following interventions – it was suggested that PASS (Pupil Attitudes to Self and School) may be a vehicle to baseline prior to interventions and to complete at the end to see what has changed – success criteria; heightening the profile of My Happy Mind that was introduced last year and developing the Boxall profile to give a flavour of what are pastoral priorities for the year ahead. I also had an interesting and wide-ranging discussion with the School Curriculum Lead about their Inclusive Curriculum that is adjusted to meet the changing needs of the school's pupils at key points, peer and self-assessment, the multitude of opportunities for outdoor learning that will continue to evolve and expand etc. As well as a discussion about St Mary's use of Knowledge Organisers and the opportunity to use Mind Maps in the future. As part of the discussion about Knowledge Organisers it was suggested that St Mary's and their pupils might benefit from the addition of Pre- Learning tasks added to the KO's, so that pupils can, if they wish, gain prior understanding and knowledge of the topic ahead and will aid what they will be learning. It has been successfully utilised in other schools and supports pupils' learning at home.
Find out more about the IQM Inclusive School Award
If your school is interested in obtaining the IQM Inclusive School Award or you wish to talk to a member of the IQM team please telephone:
028 7127 7857 (9.00 am to 5.00 pm)
or email: info@iqmaward.com for further details.
Want more information on the IQM Award? Click here to request your free IQM information pack.