St Mary's Lewisham CE Primary School has achieved IQM Centre of Excellence status.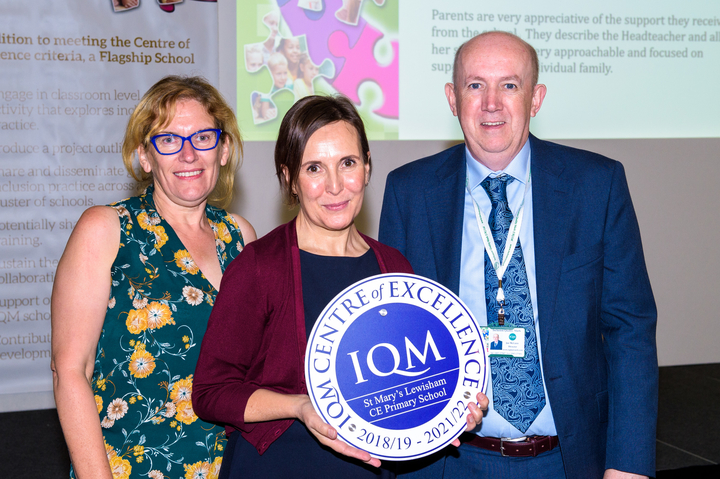 Welcoming and Caring
"Our school is a loving school where we respect everyone."
This was said by a year 4 pupil which gives a true sense of the atmosphere in St Mary's Lewisham CE Primary School. The school is very welcoming and has a caring ethos where each member of the school community is valued for their individuality. The children are well behaved, thoughtful and enthusiastic to talk about how great their school is. The two year 6 pupils who conducted the school tour were well informed and very pleasant.
Pupils are Aware and Proud of their School Values
The school's Vision, visible in each classroom and corridor, is lived throughout the day by all members of the school community. Work on making these Values a practical part of school life begins in the EYFS setting and all staff wear the 6 values on their lanyards to aid consistency and as a visual reminder for pupils. All pupils were involved in deciding which of the Values were the most important, their views were respected and acted upon. Pupils are aware and proud of the 6 school values of Responsibility, Hope, Respect, Forgiveness, Peace and Faith.
Very Appreciative Support
Parents are very appreciative of the support they receive from the school. They describe the Headteacher and all her staff as being very approachable and focused on supporting each individual family. They feel listened to and like that the Headteacher and Deputy Head know all the children by name. They are full of praise for the experienced home/school worker who organises a range of parent support initiatives, through the Community Hub, such as help with immigration, housing, and finances. She has also organised parent trips. Parents value the fact that the Community Hub is available as a prayer space throughout the day.
The Friends of St Mary's
The Friends of St Mary's is a valuable fundraising resource for the school that is led by parents. They have raised money on International day and around Christmas time through cake sales, non-uniform days raffles, World Book day/ parents' breakfast/help to sell books from the book people. Communication with parents is excellent and parents are kept fully informed of what their child is learning, through text messages and links as well as Links to Learning workshops, which are open to all parents and families.
A Very Inclusive Assembly
Particularly impressive was the very inclusive year 3 Worship assembly around Judaism. The performance was truly joyous with wonderful singing, public speaking by the children and was an excellent celebration. The year 3 worship was very well attended by parents. Some parents went on stage to join in with the singing and actions which delighted the children. All pupils were focused throughout the session and showed their pleasure with much enthusiastic applause.
Highly Effective Staff Support
Support for staff who are new to the school is highly effective. A previous Teach First teacher praised her mentor who was always available for support and advice. The Higher-Level Teaching Assistant was also complementary about the continuing professional development opportunities at the school. She had gone from a voluntary position to be funded at the level 2 TA qualification, then level 3 qualification before recently becoming a HLTA.
Self-Reflection is a Strong Feature
Self-reflection about their teaching practice is a strong feature of the teaching staff. As part of a project on Speech, Language and Communication Needs, all EYFS teachers worked on improving their performance and skills in particular areas and reported back to each other. This has had a definite positive effect on classroom practice. All year 6 pupils are given the opportunity to take on an area of responsibility through the Young Leader initiative. Examples of this are reading buddies, play leaders, helping younger children at lunchtime in the dining room, helping prepare the hall for Worship and leading the achievement worship. Pupils are proud of this responsibility. In conjunction with the active school council, they are leading a campaign to improve road safety outside the school, following an accident. They have surveyed local residents and children and written letters to the local MP and to the Mayor of London. Year 4s are currently running a whole school Recycling project to see which class can recycle the most during the year.
Emotional Well-Being is a Priority
Emotional well-being is a priority for the school. Children are encouraged to have a go at answering questions but are given the option of passing if they would rather someone else answered. There is also a worry box for children who lack the confidence to discuss their worries openly. "How are you feeling?" charts are used as needed. The flexible start to the school day between 8.45 and 9 o'clock ensures that the children have time to settle in before lessons begin. Parents are invited to come in and read with their child in all year groups during this time.
Inclusive Practices and Strategies
High quality teaching is apparent in each classroom with evidence of a range of inclusive practices and strategies. The Curriculum is enriched by strong community links and educational visits. One class went to the beach as a reward for their excellent writing based around "The Lighthouse Keeper's Lunch." They wrote to the author who sent the school a long letter and some more original drawings. These are proudly framed in the foyer. Year 5 and 6 were out on a visit to Westminster Abbey. Other visits have been to a cricket festival, the Houses of Parliament and a fun fair visit to see how forces work on a practical level.
Multi-Sensory Displays
Multi-sensory displays around the school are topic-based and their excellent presentation brings the Curriculum alive. The RE displays are a particular strength. The school recently hosted a RE showcase day for 20 schools where they shared the excellent practice of St Marys which was highly praised by all invited.
Find out more about the IQM Inclusive School Award
If your school is interested in obtaining the IQM Inclusive School Award or you wish to talk to a member of the IQM team please telephone:
028 7127 7857 (9.00 am to 5.00 pm)
or email: info@iqmaward.com for further details.
Want more information on the IQM Award? Click here to request your free IQM information pack.