St George's Preparatory School in Jersey has achieved the Inclusive School Award.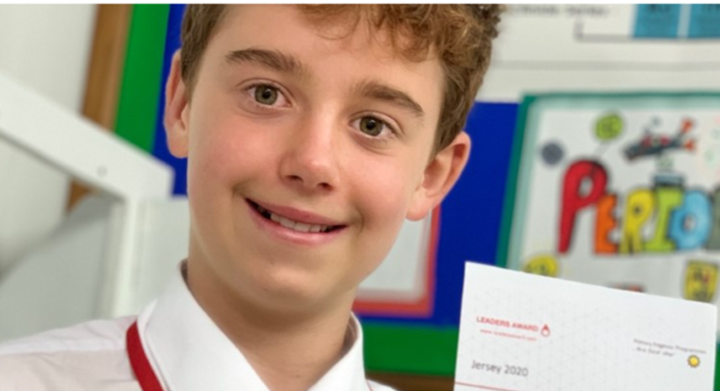 Inclusivity at the Forefront
The school website welcomes you with a video where the Headmaster explains that the school is, "A place where children are challenged to excel. It is a place of discovery and opportunity. It is a place of tradition and forward thinking. But most of all, it is place of fun." Through a virtual visit to the school and upon meeting children, parents, staff and Directors, it is clear this statement is a reality and alongside this, that St George's Preparatory School values each child, welcomes diversity and places inclusivity at the forefront of its school experience. St George's Preparatory School is a non-selective independent school that recognises the importance of delivering high quality teaching and learning to a diverse population, in order to be outstanding.
A Calm, Purposeful and Well-Resourced Environment
At St George's, the learning environment is calm, purposeful and incredibly well-resourced. The classrooms are well-organised. The children commented on how they like their learning environments as they could access everything they needed to progress in their learning and had the opportunity to work individually or collaboratively depending on the context. There is access to a variety of specialist learning spaces to enhance learning such as specialist science classrooms, art classrooms, a large sports hall for PE and a swimming pool. The school also has a Wellbeing Room where children work with an ELSA (Emotional Literacy Support Assistant) member of staff, dependent on their need. EYFS classrooms were incredibly well-resourced and allowed for a variety of learning through play experiences.
Exciting and Engaging
The school's outdoor environment is vast, very well-organised and used effectively for a variety of activities. On the virtual tour of the school, I witnessed several different play areas (for different age groups) containing exciting and engaging play equipment. The school has a large and very well-maintained sports field (where children were enjoying a lesson in tag rugby). The school also has a magnificent outdoor classroom and Forest School area, that is set far back from the building and secluded to create an area of natural escapism. All classes get the opportunity to experience a Forest School (and the benefits of outdoor child-led learning) and the children manage and maintain the area themselves, developing responsibility.
Impacting the Wider Community
The school clearly takes great pride in its outdoor environment and promoting wild spaces. Recently the school was part of re-wilding project, where they planted 500 trees in the local community. The school is also part of a Jersey States project called Eco: Active, where they promote environmental causes; recently through part of their forest school programme, they built bug boxes that were gifted to other forest schools within Jersey. The school also has an accredited UNESCO Climate Change Teacher, who develops learning across the school about climate change and sustainable development. This teacher also works to advise the Jersey Curriculum Council on the teaching of climate change and sustainable development; an example of one of the ways in which the school impacts the wider community.
Kindness, Resilience, Responsibility and Achievement
St George's upholds the school values of Kindness, Resilience, Responsibility and Achievement. The Headmaster explained that the school's ethos was entirely underpinned by these values. They work hard to embed these values and recently surveyed the children about their understanding of them, using a survey written by the School Council. The results showed clearly that children could understand the values and articulate them and conversations with children on the day of assessment demonstrated this.
Incredibly Welcoming
On the day of assessment, the value of 'Kindness' was incredibly prominent. It is an incredibly welcoming place and through discussions with the children, you get the sense that kindness is at the forefront of behaviour choices and personal development. When asked what they liked about the school, several children commented on how friendly everyone is. When asked for one word to sum up their school, one child responded with,
"Kindness, because everyone is kind and supportive."
Another child responded to the same question with,
"Inclusive, as everyone is included, no matter who you are and your background."
It was evident that adults showed care and compassion to the children and were supportive of all their needs. The staff at St George's Preparatory School were happy in their work and it was clear they were proud of the school and their practice. One child commented that,
"If I can't do something, I can ask anyone for help. The teachers are really supportive and will keep going over things to help you – your friends will help you as well."
Another child explained,
"The teacher is my friend."
The relationships between adults and children are entirely positive and this could also be seen in the teaching witnessed during a school tour, children were all listening respectfully and adults were calm and purposeful in their use of language. St George's has an accreditation as a UNICEF Rights Respecting School and it is evident that children's rights are wholeheartedly met.
Developing Resilience
The school has focussed on developing the value of 'Resilience' in their children, assessing resilience through Jigsaw (PSHE scheme) resilience questionnaires twice yearly and placing interventions in place for children who need targeted support to develop resilience. The school has a Wellbeing Team with a member of staff specifically trained to develop resilience in children. When discussing what it was like to learn at St George's, one of the children talked about what happened if they found their work challenging,
"It's not the end of the world if you get things wrong, as you learn from your mistakes."
Concurrently, the Headmaster explained the importance of children developing resilience. Now, children were not afraid to challenge themselves and make mistakes as they were resilient and recognised they learn from their mistakes. Each class also takes the responsibility to produce and live by an inspirational class motto; an example of this being, "When we fall, we come back stronger."
Children Demonstrate Responsibility
The children demonstrate responsibility widely and take ownership over many aspects of school life. For example, Year 6 children had written mindfulness calming scripts (with names such as Amazing Atlantic, Meadow of Wonders and Ocean Breeze), to be used in mindfulness sessions across the school. The Year 6 group, on the day of assessment, were also busy preparing lesson resources on developing kindness for younger learners in EYFS and KS1; they were also creating tutorial videos on how to use the resources. The School Council also plays an active role in developing the school; most recently asking all children to draw pictures on how they would like to develop the playground and using the ideas in these pictures to purchase a roundabout and play- houses amongst other things. The School Council were clear of their responsibilities, in terms of developing the school and wider relations (planning charity events, such as cakes sales and smoothie bars), as were the Head Boy and Head Girl who articulated their roles as role models and representatives of the school morally and academically.
Celebrating All Achievements
The school celebrates all its achievements big or small and children are encouraged and supported effectively to achieve their potential. The children's books demonstrate the effort put in by the children to achieve their learning goals; similarly, they show how the teachers give feedback verbally and in writing to support development (which is responded to by the children and improvements are made). Learning goals and outcomes are written in child friendly language so that the children fully understand what they have achieved. Children are rewarded for their efforts with House Points and they could talk with pride about their House Point System. They also talked excitedly about showing their achievements to the Headmaster and the stickers they received for putting effort into their work. Parents explained how they were kept really well informed about their children's achievements through a weekly bulletin, regular emails and phone calls. Parents also explained that they knew clearly how their child was progressing academically as they were sent an update of progress towards learning goals every six weeks and a formal report twice annually.
A Place of Opportunity
The Headmaster had explained that St George's was a place of opportunity and this is demonstrated in the variety of experiences delivered in their curriculum and extra-curricular activities. Across the curriculum, the school uses a variety of specialist teachers in subjects such as Art, Science, French, Spanish, RE, PE, DT, Swimming and Forest School. These specialist teachers ensure clear progression across subjects. Excellent progression was also seen in the children's books across English and Maths. The school has an incredible wealth of extra-curricular activities. Every child can attend an after-school club, each day for one hour. Club choices include, amongst others, silk painting, cooking, homework prep, science, Mandarin, Brazilian Soccer, yoga and a variety of sports clubs. The school is inclusive with their sporting opportunity, ensuring that every child has the opportunity at some point to represent their school in competition.
Inclusive Practice is Highly Valued
The leadership in school is passionate about inclusion and this is driven fervently by the Headmaster. It is apparent that the Headmaster has been instrumental in changing attitudes towards inclusivity and creating a culture where inclusive practice is highly valued. Conversations on the day of assessment showed this inclusive culture is wholly supported by children, parents, staff and Directors. The Chair of Directors articulated the vision of inclusivity and equity explaining,
"The school has a desire to help everyone…everyone keeps up and we end up in the same place, together."
The school offers regular inset on medical conditions and learning needs to its staff to ensure their practice is constantly developed so that they can effectively cater for a variety of needs.
Supporting Emotional Needs
In particular, the school has worked hard to develop its capacity to support the emotional needs of the children (through ELSA provision) and staff could clearly articulate the importance of this provision, especially due to the stresses caused by the COVID-19 pandemic. The school maintains strong links with the Local Education Authority and accesses resources through them such as Jersey Childcare Trust, CAMHS and Mind, to meet the needs of the children. The school works hard to investigate underlying causes to children's needs and relevant possible diagnoses; they use resources within their power such as independent Educational Psychologists to ensure children are given the correct level of support. Accordingly, for children with a specific diagnosis, the school supports the parents effectively, helping them to understand how their child will be supported and dispelling any concerns they have. This was evident through a conversation with one parent, who explained the complex needs of their child but also explained how the school did not see any issue in this and supported her to help her child effectively integrate into, and thrive in, school.
Highly Individualised Learning and Support
The learning and support for children at St George's is highly individualised. Children are regularly assessed using standardised tests and tracked, using a tracking system that pinpoints specifically the learning goals they have achieved. This system allows teachers to know which children may need further support. Where necessary, children are placed on individual learning plans which are shared with parents, that build up an effective programme of support using SMART targets. These individual learning plans take into account academic, social, emotional and behavioural needs to ensure each child is fully supported. The plans are clear and concise and can be accessed by any relevant member of staff working with a given child, so that each member of staff knows how to fully support that child.
Strong Inclusive Practice
St George's is a school with strong inclusive practice. They also have a desire to continually improve this inclusive practice. The Chair of Directors explained that although the school is an independent school, it is not built around the desire for profit and there is no pressure placed upon the Headmaster for profitability. Instead, St George's is built around providing the best school experience for all of its learners, whatever their needs. The Chair of Directors stated that they wanted to continually develop and make improvements to allow their young people to achieve and be all they can be.
Find out more about the IQM Inclusive School Award
If your school is interested in obtaining the IQM Inclusive School Award or you wish to talk to a member of the IQM team please telephone:
028 7127 7857 (9.00 am to 5.00 pm)
or email: info@iqmaward.com for further details.
Want more information on the IQM Award? Click here to request your free IQM information pack