Riverside Primary School in Medway has achieved IQM Flagship School status.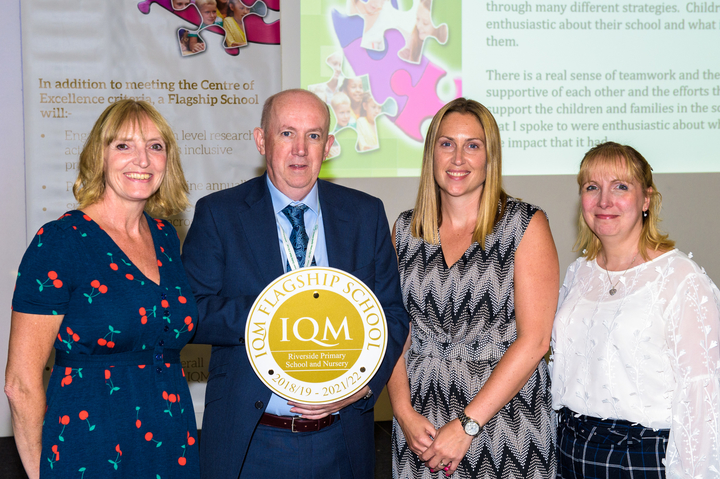 A Growing School
Riverside Primary School is a large school which has rapidly grown in size and now in numbers. It has expanded from a PAN of 20 to now accommodating 60 children in year R and 1, which will grow throughout the school. The school has worked hard with the local community to build its reputation as a school that cares for its pupils' education and wellbeing, while also reaching out to its parents and community. The school has been extended and provides a modern, bright and purposeful place for learning.
A Collective Responsibility for Children
The school has funding for two School Resourced Provisions, one for Autism Spectrum Disorder, and one for Visual Impairment and they use this funding wisely to integrate these pupils into everyday school life and learning in the classrooms. They firmly believe that every child should succeed and lead their learning. Their vision – Happy, Helpful and Hardworking, and values of- Respect, Achieve, Resilience, Independence, Communication, Teamwork and Enjoy, permeate throughout the school, and the staff team use these in everything they do. The children are very familiar with these values and these are celebrated in every classroom and around school. There is a collective responsibility for children with need and learning and support for these children is led by the staff in the classrooms. Training is a high priority and staff are given the tools to support the particular needs in their classroom.
Calm and Well Organised
There was a calm and well organised atmosphere in the classrooms that I visited and children are supported to develop independence in their learning through many different strategies. Children are enthusiastic about their school and what it has done for them.
A Real Sense of Teamwork
There is a real sense of teamwork and the staff are very supportive of each other and the efforts that they put in to support the children and families in the school. The staff that I spoke to were enthusiastic about what they led and the impact that it had.
The Importance of Well-Being and Healthy Living
Riverside has a real desire to support the children in their school beyond their learning. Well-being and healthy living are high on the agenda and the school has bought a 'Bio Dome' and outdoor gym equipment to extend the children's experiences of fitness and healthy living beyond the classroom. They plant and grow fruit and vegetables in the Bio Dome that are offered at lunchtimes in the dining hall for everyone to try. This has been skilfully led by one of Riverside's talented TAs who has also chosen plants that stimulate sensory needs.
Eddie, the Therapy Dog, has had a Real Impact
Eddie, the school's therapy dog, has had a real impact on the school and the children benefit from him in a variety of ways. He has been transformational for pupils who have found it difficult to communicate with other people. During my visit I was able to observe a training session for Eddie. His interactions with a child were remarkable and the child he worked with was engaged and communicated with him, and us, about what she was doing. Eddie's trainer is one of the school's Teaching Assistants and he has worked extremely hard on the therapy dog training, attending courses in Scotland so that he is able to work in school.
Passionate and Forward Thinking
The Headteacher has a real passion for her school and is always striving to develop her school to be forward thinking. She has skilfully led strategies and has given her staff the ownership to develop these strategies so that they suit the school. One of the children that I spoke to, with a high level of need, said that she
'Helps everyone try their best in their own special way!'
Including all Children in Learning and School Life
The IQM co-ordinator is instrumental in leading the provision for children with SEND and wrote a very comprehensive review document. During my visit I was able to see the work that had been done on their targets and confirm that they had been met. She has an inclusive attitude to learning and supports the staff at Riverside to include all children in learning and school life.
Find out more about the IQM Inclusive School Award
If your school is interested in obtaining the IQM Inclusive School Award or you wish to talk to a member of the IQM team please telephone:
028 7127 7857 (9.00 am to 5.00 pm)
or email: info@iqmaward.com for further details.
Want more information on the IQM Award? Click here to request your free IQM information pack.