Rivermead School in Kent achieves IQM Flagship School status.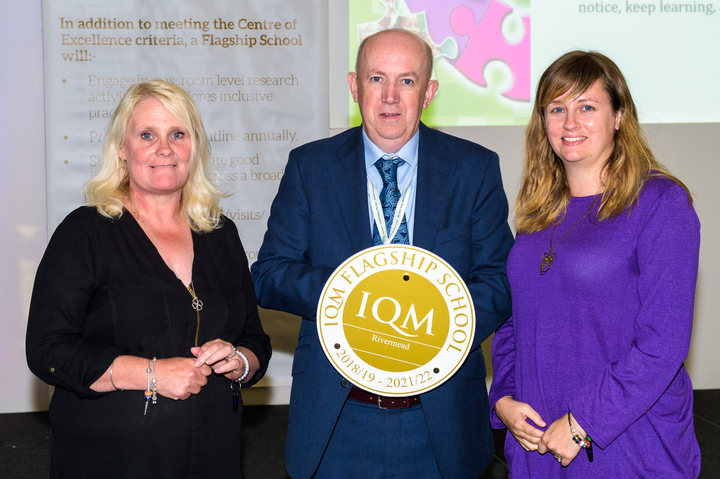 Context
Rivermead is a community special school for young people aged 11 to 19 years with a range of complex needs, specialising in Autistic Spectrum Disorders and Asperger's Syndrome, although colleagues report that there is a change in the needs of the cohort of learners as there is a growing demand for placements within specialist provision in the area. This reflects a national trend.
Ofsted
The school operates as part of the Rivermead Inclusive Trust which currently comprises Rivermead Special School and two mainstream primary schools. Rivermead retained it's 'Good' judgement in the most recent Ofsted inspection which took place a week after the last COE review in July 2018.
Curriculum and Policy Reviews Underway
Since the last IQM assessment, a new Headteacher has been appointed and major reviews of curriculum and policy are underway. Much has been achieved towards the goals set out in the development and action plan, particularly around the development of the new Year 7 curriculum offer for September 2019. Building on the goals of achieving a more effective transition from primary provision and with a clear focus on building on students' prior knowledge and interests, the first seven weeks of year 7 will have a clear focus on getting to know students, understanding areas of strength and challenge and learning through a topic based curriculum offer which builds on strengths and well-being.
Rivermead Routes to Reintegration
There are currently 149 students on roll; 106 on the main site and a further 43 sixth form students who attend at Mid Kent College through the Mid Kent Partnership. The proposed RRR provision for Tier 3 and 4 students has been well established since opening in November 2018. RRR (Rivermead routes to reintegration) currently meets the needs of 15 tier 3 students referred by CAMHS and 5 tier 4 students who have been referred from secure provision. A further 8 students are due to join in September 2019. The cohort includes 3 LAC, 2 children on CP plans, 3 on CIN plans and 10 children with open EHAs. There are no identified young carers at present. The school team has seen a significant change in the needs of the transferring cohort and in this academic year, 4 of the year 7 students have gone on to SEMH provision where their complex needs can be met more successfully.
Attendance
Attendance is currently 87% across the school; the main school is 96%, however, the sixth form attendance is lower.
Developing Therapies and Holistic Interventions for All
The Head of the RRR provision has led the development of the new provision and has taken on the Trust-wide role to develop therapies and holistic interventions for all learners. In line with the agreed criteria for the provision, the goal is to move students at Tier 3 to re-integrate them to mainstream wherever possible. Tier 4 students are supported through highly personalised therapeutic programmes. Colleagues from the Rivermead site deliver subject input at RRR, including art and maths. Some RRR students have benefitted from work experience at the local 'Flake and Bake' café.
Focus on Curriculum and Well-Being
The middle leaders' group has been further developed and there are now regular meetings between SLT and MLT with a clear focus on curriculum and well-being development. Roles and responsibilities have been under review.
Re-structuring of the Team
The new Headteacher is leading a re-structuring of the team and the Rivermead families have been extended with each middle leader overseeing the curriculum development and support team interventions for their family; there are now 6:
• Sixth Form and transition family (Learning mentor and LSAs).
• Creative arts, and enrichment family.
• Maths, PE, Science & Technology Family.
• Nurture, year 7 and humanities Family.
• Therapy family.
• Senco family.
In addition, there is an RRR family which includes pastoral facilitators, home tutors, TAs and the SALTTAs. The Head of RRR is also the Head of therapy across the school and the Trust lead for therapeutic development.
The Progress 8 score last year was -1.01 and is currently predicted at -0.019 (up to term 3); predicted progress is currently under review. Attendance is currently 87%.
Find out more about the IQM Inclusive School Award
If your school is interested in obtaining the IQM Inclusive School Award or you wish to talk to a member of the IQM team please telephone:
028 7127 7857 (9.00 am to 5.00 pm)
or email: info@iqmaward.com for further details.
Want more information on the IQM Award? Click here to request your free IQM information pack.