Prestolee Primary School, Prestolee in Manchester, part of the Prestolee Multi Academy Trust, has achieved the Inclusive School Award with Centre of Excellence status.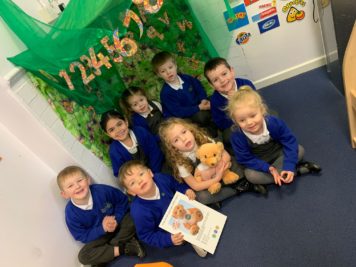 Introducing Prestolee Primary
Prestolee Primary School, part of the Prestolee Multi Academy Trust, sits at the heart of its local community within a small village on the edge of Bolton. The one form entry school has created a family focused culture – staff at the school know the children and their families extremely well. They are highly ambitious for the children regarding academic attainment but also make sure they take the time to support individual families in a personalised way with whatever they need to thrive. Prestolee is outward facing and demonstrates high levels of collaboration with the other schools in its Trust, other schools in the Bolton Local Authority, and schools outside the UK through the Erasmus programme.
Aiming High
It is clear from the evidence submitted that the school have a deeply embedded commitment to inclusive values and practice throughout the school. Their school mission statement
'To be better than you have ever been before – Aim High'
really comes to life as you spend time looking through the school website and speaking to all sections of the school community from pupils and parents through to teachers and Governors.
Inclusion at the Heart
The school has lower than average numbers of multi-lingual and ethnic minority children. It also has lower than average numbers of children with Special Educational Needs, or economically disadvantaged children. This can sometimes make it more difficult to create an inclusive culture as numbers within those groups are so small. Prestolee have bucked this trend by showing a high level of awareness around the potential vulnerability of minority groups and taking proactive steps to ensure that every child has a fair and equal access to a first-class education.
Supporting Pupil Success
Many children start nursery at Prestolee with lower than age related attainment. However, the school works hard to address any barriers to learning and are highly successful in raising attainment to above average expectations by the time the children leave at the end of Key Stage 2.
Positive Transition Support
There is strong evidence that children receive an extremely high standard of education at Prestolee that prepares them well for the next stage of their education. Parents spoke of how well their children had been able to make the transition into secondary provision even with the difficulties of a Pandemic, through the support of their teachers at primary school. A summer enrichment programme was set up to rebuild confidence, self-esteem and strong relationships between children following the damaging effects of school closures during Covid.
Inclusive and Inspirational
Prestolee has developed an inclusive and inspirational curriculum which strives to raise children's awareness of the world outside and prepare them for life in modern Britain.
Rewarding Success
Awards assemblies take place every Friday where every child is supported to experience success and a sense of achievement from their own starting point in both academic attainment and the celebration of personal strengths and qualities.
Love of Literacy
The literacy spine is a strength of the school with essential texts for each year group which ensure children become familiar with a diverse range of authors, stories, and characters.
Bridging Gaps
From the earliest stages, staff use a range of strategies to gather as much information as they can about the prior learning journey and experiences children have encountered within their homes and families. This information is used to provide a clear picture of any gaps in knowledge which are then targeted by means of a carefully constructed curriculum.
Vibrant, Valuable Vocabulary
There is a focus on development of communication skills and a rich vocabulary within the Early Years department which is starting to filter up into the later Key Stages.
For example, children are encouraged to talk through problems in Maths – acquiring confidence in mathematical language as they do so and becoming resilient learners who are not quick to give up when things get difficult.
Confident Communicators
The staff are united in a common purpose of ensuring that every child is a reader, every child a writer and every child is numerate. The school has adopted a Growth Mindset approach which has proved to be highly successful in instilling confidence in the children so that they are willing to try new things, face challenge and aim high.
Pupil Voice is strong at Prestolee – the Pupil Leadership Team meets weekly and encourages pupils to discuss issues that matter to them, and influence decision making at the school by expressing their views to the school leaders.
Pupils are also supported to take up a range of alternative leadership roles – whether through becoming Prefects, Digital Leaders or Peer Mediators in the playground. Pupils spoke with unusual maturity about how they were able to influence change and suggest improvements at school but also about their responsibilities towards others in their school community.
The children spoken to during the assessment evidently had absorbed the key messages of; Be ready/Be respectful/Be safe and understood exactly what that meant in practice.
Parental Praise
Parents spoken to as part of the IQM Assessment clearly felt that their children were cared for as individuals, and that the school would also support them as parents through difficult times and beyond. Without exception this wide range of parents were unanimous in their praise for the way the school communicated with parents and had supported them during the Covid19 Pandemic in particular.
Shared Goals
School Leaders are keenly aware of areas for improvement as identified in their data analysis, School Improvement Priorities, and Governing Body minutes. Their determination to engage staff, embed improvement strategies and make a difference in these areas is evident at all levels.
It is rare to come across a school where staff at a wide range of levels and roles – from the Leadership Team through to support assistants speak so clearly about their shared goals for the future and understand so well the part they have to play in achievement of these goals.
There is evidence of a strong, reflective learning and culture throughout the staff team where both teachers and Teaching Assistants are engaged in their own learning and continuous development which links into the school's priorities.Staff feel valued and consistently spoke of having extremely high expectations for themselves and the children. They explained how the school Leadership Team was interested in their views and how they were fully involved in any changes that took place. Staff across the board knew how they could ask for support, and that opportunities were readily available for them to grow professionally through high quality training and the chance to move into different roles and responsibilities over time. All staff could easily draw on real life examples of inclusive practice across the school whether that be the use of visual schedules, language rich classroom environments, the emphasis on positive praise, the pre-teaching of key vocabulary, the use of strategies such as scaffolding to aid children's independence, reward systems such as the green tokens, the use of WALT (we are learning to) and WILF (what I'm looking for) in classrooms to give a clear focus for children's learning and more.
Find out more about the IQM Inclusive School Award
If your school is interested in obtaining the IQM Inclusive School Award or you wish to talk to a member of the IQM team please telephone:
028 7127 7857 (9.00 am to 5.00 pm)

or email: info@iqmaward.com for further details.
Want more information on the IQM Award? Click here to request your free IQM information pack