Platanos College, Lambeth in London, has achieved the Inclusive School Award with Flagship School status.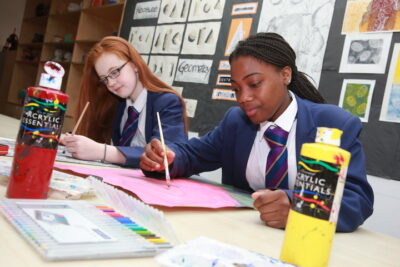 Introducing Platanos College
Having completed two previous CoE Reviews of the College – all on-line, it was a great pleasure to visit the school in person and see it at work. The Assessor was able to tour the building with the Headteacher and had the opportunity to talk to staff and students as we went around the school. The building is bright and spacious and is well organised with wide corridors that allow students to move around easily. The playgrounds and outdoor areas are also surprisingly spacious, and each year group has their own dedicated playground. Displays are carefully planned to carry appropriate information around the school. We dropped in on a number of lessons where pupils where working on an enterprise project as part of their PHSE lesson.  
Popular School
The College remains a popular choice with parents and is oversubscribed. Furthermore, the school is fully staffed for September. Staff turnover has been low, and staff tend to stay for a long time. This is important as the pupils become very attached to staff and they provide the stability needed in many pupils' lives.   
Trauma Informed Practice
The college adopted a trauma informed practice approach in recognition of the effects of trauma on the way children (and adults) behave. Staff have had training on the subject, and the assessor was told this has had a positive effect on their practice. They have been working with a couple of SCMH schools and a respite centre and are seeking to create a nurturing, and kinder ethos and approach to behaviour for learning.
Enrichment Activities
As school returned to normal service after the two years of the Covid pandemic they found pupils had forgotten many of the routines and so had to go back to basics to remind them of the expectations. They now do this at the start of every term. They have also brought back the 'rites of passage and cultural capital' trips and visits and residentials that pupils will always remember as part of their school experience. 
Wellbeing Support
Staff and pupils' wellbeing is a priority at every level of leadership. As part of a small Multi-Academy Trust the CEO and Trustees have supported the Headteachers in the MAT schools. Staff wellbeing is bespoke and it's about what individuals need. It's about knowing each member of staff well and knowing what they need. They are continuously checking in on people and are confident they will speak up if they need additional support. Consultation about school priorities and whole school issues suffered during the pandemic as staff could not meet together to discuss and debate different issues but the college is ensuring that these opportunities to get involved and to shape the direction of the school are reinstated. The assessor was told there had been a staff wellbeing group set up, but this had fallen by the wayside but may need to be reconstituted. 
Transition Process
Looking ahead to September the transition process has indicated that there are a number of children who will need specific additional support when they arrive and indeed before then. Transition for some of these children has to be bespoke, as a blanket approach is not appropriate for many. The school has many feeder primaries, and some children will already have an EHCP on transfer, but a great many will not.  
Support and Guidance
The College takes personal development and PHSE very seriously and have produced their own Portfolio for Life curriculum. This is far reaching and covers a wide range of topics. This is a Safeguarding Curriculum that includes SRE, and it is taught by Subject Specialists. Pupils learn about consent and about peer-on-peer abuse and the themes of curriculum are also covered through assemblies and in Tutor Time. There is flexibility in the programme to include discussion and debates on real life issues that occur in real time. Careers Education and guidance is an important part of this curriculum and is successful in preparing pupils for the next phase of their lives. 
Cohesive Inclusion Team
The College Inclusion Team includes Pastoral, Safeguarding and SEN. The Safeguarding Team are part of the wider Inclusion team, and the Safeguarding Curriculum (Life Curriculum) covers all of these areas. It was written by the two Deputy Heads (SEN & Pastoral) and is mindful of the issues they were dealing with currently. Transition from primary to secondary is a key priority and students are really enjoying it and are learning a lot from it. The Life Programme includes various workshops built around stories children had told staff about what had been happening to them. The workshop involves tutors, but the programme is delivered mostly by the Inclusion Team. Most of this has happened during drop-down days where external providers can add to the input and discussion. 
Reflective Provision
For a school that is built on strong relationships and one where emotional regulation and trauma informed practice is part of the ethos, the many sanctions for infringement of the rules seems to be at odds with such important principles. Balancing the emphasis on sanctions and restorative justice and a trauma informed approach is tricky but I know the Senior Team are reflecting on this and will go on to address this dilemma in the future. 
Mutual Support 
One teacher said, "We are never alone." They continued "We support each and SLT always support us" The teachers told me that their voices are heard and are listened to. They know who to go if they need support and don't feel they cannot speak up. Every member of staff belongs to a team and the teams meet regularly with the Head of Department who then talks to the line management. They also commented that the core ethos has never changed and its always about the pupils. Furthermore, they are part of the consultation process around new initiatives. They feel empowered and have a say in agreeing the school priorities. They don't always get what they wanted or suggested but they trust the SLT to make the final decisions.  
Platanos Trust
The Board of Trustees is a diverse and is served by a number of people who are highly qualified and bring great expertise and experience to the table. They come from the world of Education, Finance, Business and from the Community. I was reminded that theirs is a Business and Enterprise Trust, and they have lots of Governors who work in this sector. The Trustees work as a team and are a stabilising factor for the MAT. They are resilient and aim to create a place where each Governor has a portfolio of education. They monitor the outcomes from pupils and work with CEO to move forward. They listen to pupil voice and keeping things going with clear and open communication with all stakeholders. Trustees have a clear Business Plan which is constantly reviewed. Being a small MAT means that they can properly monitor what is happening across all the schools and act as a critical friend. 
Find out more about the IQM Inclusive School Award
If your school is interested in obtaining the IQM Inclusive School Award or you wish to talk to a member of the IQM team please telephone:
028 7127 7857 (9.00 am to 5.00 pm)
or email: info@iqmaward.com for further details.
Want more information on the IQM Award? Click here to request your free IQM information pack