Perryfields Primary PRU, in St John's, Worcester has achieved Flagship School status.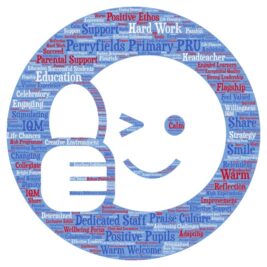 Warm Welcome
The welcome for visitors at Perryfields is an incredibly positive experience, everyone is met with a smile and is made to feel valued. Whether a visitor, taxi driver, parent, inspector, prospective pupil, current pupil – the welcome is the same. As the Headteacher explains – many people have a preconception of what a Pupil Referral Unit is like, and unfortunately many of those preconceptions are negative. Addressing those preconceptions starts on arrival and is relentlessly reinforced throughout your time at the school.
Stimulating and Celebratory Environment
Most pupils may have had negative experiences of education prior to their arrival at Perryfields and subsequent educational and emotional progress will be hugely determined by their willingness or otherwise to re-engage. Nothing is left to chance: a frequently changing and adapting, stimulating, and celebratory environment; development and maintenance of exceptional relationships; a demanding, high-quality curriculum expertly taught; clear and consistent expectations and exceptionally robust procedures. Bringing those components together requires effective leadership and management. The team at Perryfields is exceptionally effective.
In Partnership with Pupils
Given the environment that schools have operated in during the pandemic, school leadership teams have had to face unprecedented challenges. Leaders at Perryfields have always been mindful of staff wellbeing, but this attention has intensified during the Covid outbreak. Pupils at Perryfields have complex issues, are often challenging, and staff need to be extraordinarily resilient to continue to offer high quality support to these most vulnerable learners. It is recognised that staff cannot ensure the wellbeing of pupils if their own wellbeing and health is compromised. The Headteacher's claim that staff at Perryfields "want to come to work" is absolutely vindicated. Staff attendance through the pandemic has been exceptional and the school stayed open throughout.
Collegiate Collaboration
During the review, staff talked about ways in which they support each other. Staff routinely reflect on incidents, both positive and otherwise, and this contributes to an ethos of collaboration and to continual improvement. Although there is an element of spontaneity about this, it is likely that this highly supportive culture has been carefully constructed over time and that maintaining such a culture is often more difficult than creating it.
Removing Barriers
The culture described above does not, of course, exist in a vacuum. The bottom line is that the school's purpose is to re-engage young learners who are in danger of being failed by an education system. Parents spoken with during the visit gave highly personalised, and at times very moving, accounts of the impact the school has had on their children. One said that, from the initial visit to the school,
"the talk was of removing barriers, about beginning to succeed, about imagining a more positive future"
rather than a "catalogue of poor choices made by (the child) – of problems – of incidents – of threats about what would happen if (the child) did not get their act together." The same parent went to explain that there were still challenges and setbacks but that the "culture of blame had gone." The child had been given more effective coping strategies. Everyone made reference to the excellent levels of communication – something which was reassuring and practically helpful. One parent said
"It may sound obvious, but the staff at Perryfields treat (the child) as an individual. They have worked out what he needs and what might work. And they talk to me every step of the way. and it's never judgemental – even when he's had "a bad day."
One parent said that "for the first time in a long time, I can go to work without worrying. Without waiting for the phone call to come and take him home again."
Flagship 'Behaviour Hub'
In 2021, the government launched its £10million "Behaviour Hubs" programme within which schools were invited to play a part in delivering an ambitious strategy to improve behaviour in schools across the country. Just 22 schools and 2 Trusts were successful and one of these is Perryfields. Tom Bennett, Lead Behaviour Adviser to the DfE said "It's been a real honour to recruit some of the best schools in the country to offer their support to other schools who want to refocus on behaviour and culture." Every school can, with assistance, be calm places where everyone is treated with dignity, and students and staff can learn and flourish together." When the (then) Education Secretary announced the details of the successful schools, the only school included in the press release was Perryfields and Headteacher Pete Hines was quoted as saying
"we want to share with other schools how we have created the culture at Perryfields which is underpinned by exceedingly high expectations and a belief that all pupils matter so each and every one of them can be set on a pathway to fulfil their aspirations and potential. We look forward to working with colleagues across the country to share our passion for making a difference and improving young people's education and life chances."
Capturing the learning from this programme as they work with schools across the country is Perryfields proposed Flagship project. There is little doubt that they will reflect on the process – as they always do – to become even more successful with these most vulnerable learners.
Find out more about the IQM Inclusive School Award
If your school is interested in obtaining the IQM Inclusive School Award or you wish to talk to a member of the IQM team please telephone:
028 7127 7857 (9.00 am to 5.00 pm)
or email: info@iqmaward.com for further details.
Want more information on the IQM Award? Click here to request your free IQM information pack