Outwood Academy Freeston in Wakefield has achieved Centre of Excellence status.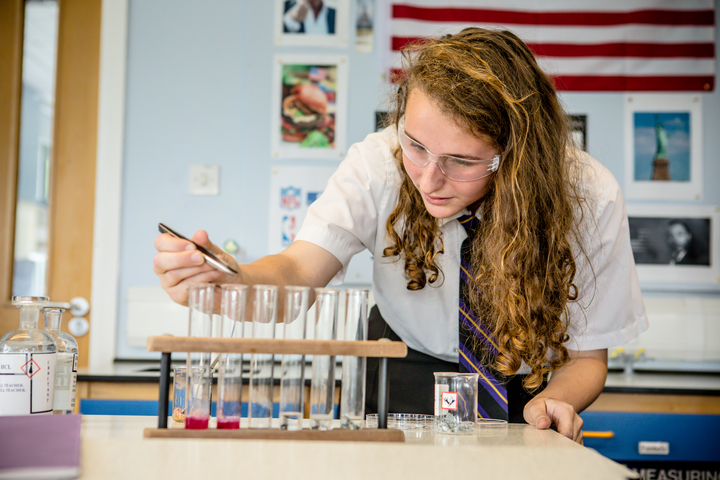 Context
Outwood Academy Freeston (OAF) is a smaller than average secondary Academy in Wakefield with 821 pupils on roll. The Academy community is largely White British with a small percentage of pupils with other mixed heritage. The community served by the OAF is mixed, with some students who live in areas containing significant pockets of deprivation, characterised by high unemployment and low average incomes, 24% of students are eligible for the PPG, 1.70% of pupils have an EHCP and 12.4% are SEN support.
An Increasing Roll
The numbers in year groups have steadily increased over the last two years and confidence in the school has significantly improved within the local area, so that Year 7 intake is now almost at PAN (increase from 130 in 2018 to 205 in 2020).
COVID-19
In recent months the Academy has been significantly affected by COVID-19 with high levels of both staff and student absence. Leaders have acknowledged the impact this has had upon both staff and student wellbeing and have adapted support in line with this. Leaders have also taken swift action to ensure the virtual learning environment has been developed, particularly through the use of Google Classroom.
Freeston is Unique
Leaders within the Academy feel that Freeston is truly unique, demonstrated through:
• The firm connection to community history with its founder John Freeston and continued work with the Freeston Foundation.
• The ongoing personalised support to students, the Academy expresses "we never give up."
• The warm, friendly and welcoming feel within the Academy and how staff truly care about and support students and each other.
Putting Children First
At Outwood Academy Freeston there is a clear aim to put students first in all that is done. The Outwood Grange Academy Trust vision is that 'The whole point of schools is that children come first and everything we do must reflect this single goal' (Sir Michael Wilkins, founding CEO). This Trust vision is permeated across Outwood Academy Freeston. They put 'students first' and care deeply about children, strive to be experts in their respective fields and are obsessive about attaining the highest standards.
Transforming Lives
As a Multi-Academy Trust OGAT want to be known for placing students first, raising standards and transforming lives. Outwood Academy Freeston are well supported by the trust at many levels.
Inclusion is About Everybody
At OAF inclusion is at the absolute heart of all which is done. The Principal is clear that inclusion is about everybody, there is a clear vision around inclusivity and there is an ownership of inclusion at all levels. There is a real sense of genuine care and affection for students which permeates throughout and quality of relationships is strong.
Staff Feel Confident and Empowered
The Leadership structure at OAF promotes inclusion, with the Vice Principal for Deep Support skilfully leading the inclusion agenda throughout the Academy, with a shared drive and passion demonstrated by teams. Leaders explain that team collaboration is crucial with real open communication. Huge passion and persistence are the norm, real resilience around students, again, staff express "we don't give up on a child." This ethos is shared across the whole team with all staff on board, including Teaching Assistants who very much buy into CPD opportunities. Leaders report that their "enthusiasm and passion is wonderful." This team approach has led to staff feeling empowered and more confident, everyone has a voice, it is OK to say that something is not working, as trust is there. Everyone at OAF aspires to be the best and do the best for the children. Inclusion is also about the staff as much as the young people, everyone is supported and leaders ensure staff have a voice and are listened to.
A Culture of Professionalism
Well targeted CPD ensures teachers' pedagogical and subject content knowledge supports effective class teaching. Quality assurance, performance management and robust line management enables the effective identification of any underperformance to reduce in-school variance in the quality of education across subjects. Leaders at all levels manage staff and their workload with efficacy. A culture of professionalism, high expectations and support ensures a positive working environment for all. Leaders outline that since 2018, the Academy has needed to make radical improvements, pace has been considered and change has been implemented accordingly, ensuring students' needs are not compromised. Staff have been encouraged to only remain on board if they are fully committed to the ethos and prepared to give 100%.
Behaviour for Learning
There are clear and consistent policies and procedures in place across the school which are shared and understood by all stakeholders. The expectations around behaviour are explicitly shared around the school visually, as well as regularly in assemblies and in lessons. There are increasingly high expectations for learners' behaviour and conduct which are applied intelligently, consistently and fairly. As a result, learners' behaviour and conduct are, in the vast majority, respectful, responsible and safe. On visiting the Academy behaviour for learning and also during unstructured times, was observed as very positive. Also, despite consistent policy in place, reasonable adjustments are made for individual students often on a day by day basis with many personalised interventions.
Safeguarding Procedures are Robust
Safeguarding procedures are robust with developed electronic systems in place for securely recording, sharing and monitoring sensitive information. The school has recently invested in a new dedicated full time Designated Safeguarding Lead role who is able to ensure immediate support and intervention around any student concerns, as well as taking a lead role in engaging with Children's Social Care and other external agencies.
Cognition and Learning Needs
The highest area of need across school is in Cognition and Learning needs, although the number of pupils with SEMH needs is also large. The SENCo facilitates a robust CPD program for staff at all levels to ensure increased awareness and understanding of pupils with SEND. Recent TA training has concentrated very much on SEMH. The Inclusion Team ensure they work effectively with parents, feeder schools and other professionals such as EPs to ensure a clarity of individual student needs, parent/student voice is key.
Student Profiles
Each student has a one-page profile, generated through the online platform, Edukey, which teachers can access. This is updated with a TA and student together ensuring student voice is heard. The one-page profile provides teachers with top tips for individual students and regular learning walks by the SENCo ensure recommended resources/strategies are in place.
A Wide Range of Bespoke Provision
The Academy offers an extremely wide range of bespoke provision within school to include vulnerable learners. There is a real solution focussed approach from leaders, so that if a student needs something more than what is available, the Academy will develop provision to include that pupil. This Academy has inclusion at its heart.
This provision includes:
• The PLC (Personalised Learning Centre) where students who may be presenting with challenging behaviour, experiencing exclusion or have attendance concerns can attend on a full or part time basis to complete set work in a small, contained and structured classroom environment with skilled and experienced staff offering mentoring and tailored interventions.
• The Bridge offers full or part time placements for vulnerable students who may be experiencing anxiety, are school refusers or have medical/home issues in a small, nurturing environment. Skilled staff offer an alternative curriculum which addresses the SEMH needs of the cohort and often provides tailored reintegration back to a full-time mainstream provision. The Bridge also offers a drop-in service as and when needed as well as breakfast and lunch clubs which provide a nurturing and safe space at less structured times, which is important to SEN students.
• The Academy offers a wide variety of Teaching Assistant support, supporting students with a range of needs. TAs have presence in lessons for targeted students, supporting with differentiation and keeping on task. Structured intervention programmes are delivered in both core subjects and around specific need such as 'Life and Living' which covers issues such as body changes, e-safety and keeping safe.
• TAs use Edukey to ensure provision is based on individual assessment which then demonstrates progress. The Maths TA uses Numicon as a diagnostic assessment and then plans intervention according to gaps. Literacy intervention is bespoke and tailored according to need, from communicating and interacting with teachers.
• Interventions are time limited and the expectation is that impact is measured with pre and post assessment. However, the Academy acknowledges that this is not yet fully embedded.
• Reflections, which is an internal isolation room is based on consequences within the Academy Behaviour Policy. This is a maximum of half a day and often replaces fixed term exclusion, ensuring students receive a clear message about unacceptable behaviour, whilst remaining in school for reflection and support. It should be noted that there is reasonable adjustment for pupils with SEND and careful monitoring of pupils who are repeatedly in reflection, to consider whether additional support is also required.
More Personalised Support
At times, students require a more personalised approach or specialist support and the Academy accesses a wide range of additional agencies. Other provision includes:
• Prison me, no way.
• Guns and knives take lives.
• A school coach.
• Future in minds – CAMHS.
• Kooth – CAMHS.
• LA specialist teachers.
Leaders report that the additional provision made in school for vulnerable learners has made a positive impact on outcomes.
A Virtual Wellbeing Classroom
During lockdown, this high level of provision has continued as the Academy set up a virtual wellbeing classroom and continue to offer literacy/numeracy intervention for those who need it. Students can message the Bridge Manager on the virtual classroom and staff are also making regular phone calls to vulnerable students for wellbeing check ins, as well as sending out wellbeing packs. Parent relationships are steadily improving and staff report that lockdown has supported this, as the Academy staff have been in regular contact.
Alternative Provision
The school uses Alternative Provision for a small number of students (less than 1
%). TLG (Transforming Lives for Good) is a small independent school supporting students on short placements of 12 weeks for 4 days a week, where they continue with core subjects as well as engaging in a curriculum focusing on SEMH needs. In addition, the school uses Action to Change which is a Year 9-11 provision focussing on vocational subjects on a longer term basis. The Academy has named staff who visit students on AP placements on a weekly basis, as well as senior staff liaising regularly. The school talk about AP placement staff as going above and beyond for students on these placements. Outcomes are positive and no students who have attended AP are currently NEET.
Personal Development, Behaviour & Attitudes
Leaders report that significant improvement has been made around the quality of behaviour in school and incidents of bullying have decreased. There is a holistic and joined up approach to supporting children with issues around attendance, behaviour and SEND. The Attendance Team are well embedded with an AAP leading on the positive aspects of celebrating attendance. Attendance is still a priority for the school, it is an improving picture. Small steps are recognised, particularly in vulnerable groups with targeted individual support in place. PA is still high but is improving.
Bullying is Not Tolerated
Bullying is not tolerated at OAF; all students have access to an app called 'TootToot' to self-log any concerns they wish their Learning Manager to be aware of or to support with. In addition, they know who to go to if they have a problem and that these will be dealt with confidently by staff.
British Values and Diversity
There is an appreciation of fundamental British values and diversity. The Academy celebrates its community and promotes respect for the different protected characteristics as defined in law and students value the importance of this.
Students are Very Inclusive
Staff report that Normanton is not a culturally diverse community, however students are very inclusive and often oppose their parents' views. Students are inquisitive and want to know and understand different cultures, they are keen to learn. The Academy ensures that images and displays around school reflect diversity.
Gender Non-Binary Students
There has recently been an increase in gender non-binary students. The Academy has encouraged a culture with openness around encouragement to ask questions and Barnardos have delivered training on LGBTQ+ for both staff and students.
Mental Health
The Trust and Academy demonstrate significant commitment to the mental health and wellbeing agenda, with a Trust wide strategy in place and an Associate Assistant Principal leading on mental health within the Academy. The AAP displays real drive and passion towards this hugely important part of school life and has implemented several actions recently which include:
• Training from the Charlie Waller Foundation around suicide prevention, this has supported to de-stigmatise the issue and staff now wear a green mental health ribbon badge, which highlights to students that staff are approachable should they need to talk.
• Assemblies covering a wide range of issues such as anti-bullying, world mental health week and signpost to support services. These have impacted on students' empathy on mental health issues.
• Each VMG has a Mental Health Wellbeing Champion with whom the AAP meets regularly, this ensures information is disseminated both ways.
• Close liaison with the Inclusion Team who regularly identify issues around mental health in students.
• Visually there are a wide number of services advertised on boards such as Childline, Kooth and Samaritans with many subliminal messages around the school.
• An area in the Learning Resource Centre has been developed with a focus on mental health. This is a calm, chill out area, with bean bags to sit on and relevant and age appropriate books and leaflets related to mental health.
• The Academy supported the 'Hello Yellow' campaign from Young Minds, which again raised awareness around mental health issues and was a day where students wore yellow.
• There is a Green button on the school website, which signposts to both local and national support services. This also links to a newly developed specific website for OAF on mental health and wellbeing with a wide range of resources and information for both students and parents.
• 'TootToot' the anti-bullying app for students to disclose any issues has recently been made more accessible.
All these initiatives have enabled students to 'open up' more and the culture within school is increasingly aware, open and vigilant to mental health issues. There has been a focus on addressing the 'men don't cry' culture, creating an environment where it is OK for everyone to open up and talk about their feelings.
Staff mental health and wellbeing is also prioritised, there has been consideration of staff workload and several staff activities such as of yoga, mindfulness and fun activities. There is a 24-hour staff assistance line and much general bespoke staff support.
Enrichment
Another real strength of the school is its opportunities offered for enrichment. A wide range of opportunities are offered including:
• Arts and Drama opportunities through a weekly club as well as performances and a Christmas showcase.
• A wide range of educational visits including London art galleries, adventurous residential settings and theatre trips, these are fully funded.
• Several weekly lunch time and after school clubs such as Photography club, Sports clubs (which have led to rugby scholarships with professional teams), a SEN social club and a Technology club.
• SEN sports day at Wakefield college.
• Graduation assemblies.
The Academy also provides free uniform and equipment for all students when starting the school. Unfortunately, some enrichment activities have been impacted by COVID-19 restrictions but as soon as they can, the Academy plans to return to the full timetable on offer.
Transition
Transition both in and out of the Academy is given the highest priority. In the summer term weekly meetings are held to consider the new Year 6 pupils coming into the Academy and what is needed for them. Transition for pupils with EHCPs start in Year 5 when the Learning Manager attends the annual review. The Year 7 Learning Manager has a focus on building relationships with feeder primaries and will attend Year 6 events providing personalised support for pupils with SEND.
Careers Support
For Year 11 students, the Academy works closely with 'Careers Inc' who provide unbiased careers advice for students. There is a dedicated Support Team within the Academy who provide careers advice, giving realistic advice, with a phased, staged approach. This team supports students in applying for college, ensuring applications are in on time. The Year 11 Learning Manager has built strong relationships with local colleges, including specialist colleges and supports in bespoke packages for students. Colleges are invited to Year 11 EHCP reviews. Destinations data demonstrates, 96.2% in sustained education, employment or apprenticeships. This was significantly higher than the national proportion (94%) and Wakefield District 93.3%.
Find out more about the IQM Inclusive School Award
If your school is interested in obtaining the IQM Inclusive School Award or you wish to talk to a member of the IQM team please telephone:
028 7127 7857 (9.00 am to 5.00 pm)
or email: info@iqmaward.com for further details.
Want more information on the IQM Award? Click here to request your free IQM information pack