Outwood Academy Shafton, Barnsley, has achieved Centre of Excellence Status.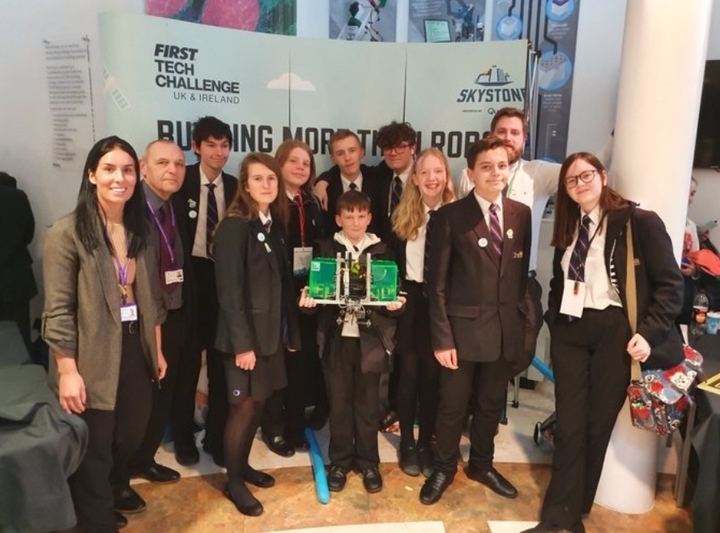 Context
Outwood Academy Shafton is a larger than average Secondary school in Shafton, Barnsley. The school community is 96% White British with a small percentage of pupils with other mixed heritage. The number of pupils with Special Educational Needs and/or Disabilities is slightly below National average (10.7%) with pupils with Social, Emotional and Mental Health Needs being the most significant area of need. 24 pupils across school have an EHCP. 41% of pupils are in receipt of the Pupil Premium Grant. Since the school has joined the Outwood Grange Academy Trust, numbers in year groups have steadily increased so that it is now the school of choice within the local area and is oversubscribed.
Welcoming, Vibrant, Inclusive Community
The school is a welcoming, vibrant, inclusive community with happy staff and pupils. On touring the school pupils presented as engaged and motivated to learn within lessons demonstrating very positive behaviour and all pupils were polite and well-mannered in interactions with me throughout the day.
Inspirational Leadership
The school has been on a significant journey since it converted to an Academy in 2015, showing sustained and rapid improvement. It achieved a "Good" OFSTED judgement in 2018. The drive, passion and inspirational leadership of the Principal, together with a highly skilled and committed Senior Leadership Team and Governing Body have been instrumental in bringing about this change.
Improved Behaviour
Although Shafton is part of the Outwood Grange Academy Trust, it works closely with Barnsley Local Authority's "Fair Access Panel" to offer places to students from across Barnsley who have experienced permanent exclusion elsewhere. The Principal, Governors and other Senior Leaders recognise that when the school first converted to Academy status both fixed term and permanent exclusions were significantly higher than national averages. In response to this, the Principal has worked with colleagues from across the trust to review the OGAT Behaviour Policy and a new policy was launched this academic year. The new policy, along with a continued high focus on a praise and reward culture, offers more flexibility and a more bespoke approach to negative behaviour incidents, allowing reasonable adjustments where necessary. The impact of the new policy has been significant with a reduction in exclusions and an improvement in the quality of behaviour this academic year.
Bespoke Approach
The Academy offers a wide range of bespoke "Alternative Provision" within school to include vulnerable learners, this includes;
• "The PLC" (Personalised Learning Centre) where students who may be presenting with challenging behaviour, experiencing exclusion or have attendance concerns can attend on a full or part time basis to complete set work in a small, contained, nurturing environment with skilled and experienced staff offering mentoring.
• "The Bridge" which offers full or part time placements for vulnerable students who may be experiencing anxiety, be school refusers or have medical/home issues in a small, nurturing environment. Skilled staff offer an alternative curriculum which addresses the SEMH needs of the cohort.
• Provision from external agencies e.g. "Prison? Me? No Way", Chilli Pep – "The Bruv Project", Adastra, Ignite, "No More Knives" and The School of Military offering initiatives around risky, anti-social behaviour, substance misuse, prevention of young suicide and self-harm.
• A counsellor in the Academy 5 days a week through a Service Level Agreement with CAMHS.
Close Relationships
In addition, when all other options have been exhausted, the school uses external Alternative Provision (currently used by 1% of the school) to offer an alternative to the school curriculum, for example, at a sports base or offering vocational qualifications. The Academy ensures it offers a safeguarding visit for any pupils attending off site AP on at least, a 6 weekly basis and in addition to this, Academy teaching staff visit pupils off site to deliver the curriculum. These pupils are discussed on a weekly basis with close relationships and ongoing communication with external providers.
Relentlessly Ambitious
The Principal is relentlessly ambitious in further developing support for the whole school community around mental health and well-being and is currently considering viable options for a dedicated on-site provision/space around EHWB.
Clear Knowledge and Understanding
Designated safeguarding leads are skilled and experienced, demonstrating clear knowledge and understanding of individual students' circumstances and needs. A weekly inclusion meeting, attended by DSL, Bridge and PLC managers, EWO, VP for Deep Support and Learning Managers ensures all vulnerable students are discussed, vulnerable register is updated and support is swiftly actioned.
Support for Mental Health & Well-Being
The Academy experienced a significant traumatic event last academic year whereby it lost one of its students. This tragic event has been dealt with thoughtfully and sensitively by leaders, with close liaison with the Samaritans, taking advice and guidance on how best to support students and staff. The Samaritans now visit the Academy on a regular basis and learning from this tragic loss has enabled the school to further develop its support around mental health and well-being for its students.
Low Staff Turnover
Staff well-being is also given high priority and leaders endeavor to create work/life balance for staff where possible. Current staff well-being initiatives include; 24hr employee assistance, employee benefit scheme, yoga, pilates, kettlebells, couch to 5K club, book club, team well-being days out (funded by school) and staff kindness awards. Leaders pride themselves in being approachable and report that the staff team go above and beyond. CPD for staff is plentiful and opportunities to develop and progress are offered across the trust. There is strong sense of fun and laughter across the Academy, with a strong team ethos – during the visit SLT were dressed up in 1970s fancy dress in a drive to develop learning recall and help students hook their learning! As a result of all of this, the Academy experiences very low staff turnover (only 1 staff member left this year out of a team of 250) and has the lowest staff absence rates across the trust.
Students First
At Outwood there is a clear aim to put "Students First" in all that is done. The Outwood Grange Academy Trust vision is that "the whole point of schools is that children come first and everything we do must reflect this single goal." (Sir Michael Wilkins, founding CEO). This trust vision is permeated across Outwood Academy Shafton. The Academy relishes the opportunity to be part of the much-needed regeneration within the local community and to achieve this aim staff within OGAT have three values in common. They;
● Put 'students first' – they care deeply about children,
● strive to be experts in their respective fields and
● are obsessive about attaining the highest standards.
As a Multi-Academy trust OGAT want to be known for placing "Students first: raising standards and transforming lives."
Expectations are High
Expectations are high, robust systems and leadership/staffing structures are in place and there is clear expertise and experience across the whole school. Staff speak warmly, with genuine care about pupils and weekly inclusion, weekly RAG and half termly praising star meetings ensure every child's needs are considered, timely support and interventions are actioned and therefore, no student is left behind.
Ambition and Drive
The whole team demonstrate ambition and drive with a relentless insistence on every child, no matter what their starting point, receiving an excellent education. The Chair of Governors speaks proudly of how well the staff know their individual pupils and how the Academy is led. The leadership team ensures it has a clear presence across the school, including being out in the playground on the gate at the start of the school day and in corridors at key transition times throughout the day. There is a "No office in school hours" policy ensuring Senior Leaders have a real involvement in the day to day learning of students, carrying out regular learning walks, talking to staff and students and in turn, developing positive relationships across the school. There is an open-door policy with parents, governors and other visitors welcomed into the school at any time, without an appointment. Parents confirm that leaders are accessible and any issues are swiftly addressed.
Pupil Voice
During the assessment I was privileged to meet with the Academy's Pupil Voice team. This group were elected by their peers, following a comprehensive election campaign and can articulate that they applied for their role because they:
"want to be able to change the school for the better" and address issues they feel are important.
Some of the recent issues which have been tackled include;
• Climate change. The Pupil Voice team have a strategy in place to reduce the need/use of single use plastics in school and to make school a more environmentally friendly place. Through meeting with the catering manager polystyrene cups are no longer being used and recycling is being promoted further.
• Adaptations to the lunch area to include a quieter seating area and privacy to toilets
• Links with local charities; local food bank, Heart Foundation, Mission Christmas (present collection for local vulnerable families).
• Senior Citizen lunch – I was lucky enough to be able to observe part of this event and saw the Student Voice team welcoming and serving elderly local residents a Christmas Dinner whilst being entertained by the school choir and band.
Pride within School
Students spoke with pride about their school, describing the best thing about it as the teachers and staff who go the extra mile, focus on the positive and always listen. They also spoke positively about the opportunities/trips offered (for example to Harry Potter world!) and experiences where other cultures are celebrated.
Encouraged to Aspire
There is a culture of aspiration and the Academy links with a number of external initiatives to ensure students are encouraged to aspire to higher education. The HEPPSY (Higher Education Pupil Pathways in South Yorkshire) and Discover U.S. (The University of Sheffield) offer a range of experiences and mentoring support for students and involvement in the Duke of Edinburgh award offers additional opportunities for developing skills. The school has recently been nominated as "School of the Year" in the National Citizenship Service Awards.
Wide Range of Enrichment Activities
A wide range of enrichment activities are available after school giving students the opportunity to access high quality provision in art, sports, drama and music, as well as targeted support and catch up interventions after school.
Spell Binding Performance
Within the local community, Brass Bands have played an important part for many years. When the new leadership team came to OAS there was no Brass Band in place and students did not have the opportunity to learn to play an instrument due to funding restrictions. Now OAS have an incredibly skilled and experienced Brass Band who I was lucky enough to hear during my visit, featuring a solo from one student who happens to have a diagnosis of ASD. A quote from Albus Dumbledore came to mind at the time; "Ah, music," he said, wiping his eyes. "A magic beyond all we do here!" The performance can only be described as spell binding and sums up what Outwood Academy is all about. This school nurtures the potential of every individual student, it knows and loves its whole school community and goes above and beyond to ensure every individual is happy, is included and belongs.
Inclusion Shines Through
The Principal speaks with passion about Outwood Academy Shafton being a place where everyone belongs, where students have a sense of ownership and pride about their school and it is a place worth belonging to. This drive for Inclusion shines out of all encountered within the school.
Find out more about the IQM Inclusive School Award
If your school is interested in obtaining the IQM Inclusive School Award or you wish to talk to a member of the IQM team please telephone:
028 7127 7857 (9.00 am to 5.00 pm)
or email: info@iqmaward.com for further details.
Want more information on the IQM Award? Click here to request your free IQM information pack.