Our Lady and St Joseph Primary School, Tower Hamlets achieves Centre of Excellence status.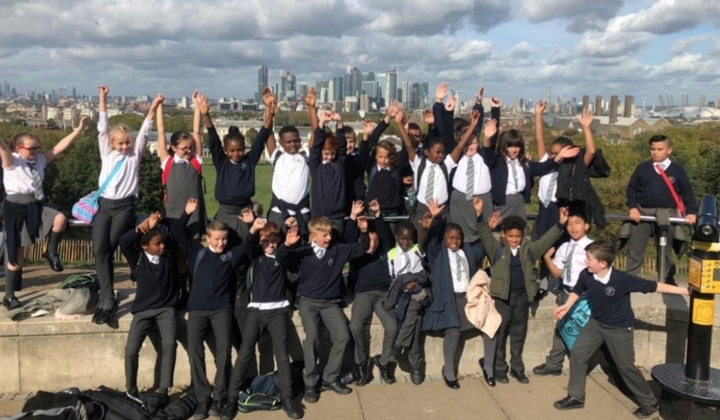 Context
Our Lady and St Joseph Catholic Primary is a two-form entry school in the inner London borough of Tower Hamlets. It was built five years ago when Holy Family Catholic Primary and Our Lady Catholic Primary schools amalgamated. It received 'Good' in its previous OFSTED in July 2017. 19% of the pupils have Special Educational Needs (5% above the national average), nineteen of whom have EHCPs. It serves an area of high-density housing where 44% of the pupils receive extra funding through the Pupil Premium Grant. Many of the pupils come from challenging backgrounds. This is an area of low mobility and a fairly stable staff. Although the school has modern facilities and playgrounds it has no grass for the pupils to use. However, they are happy and feel valued by the staff.
Highly Respected and Valued School
This is a highly respected and valued school in the local community. There are few classes that are not full. The leadership team is a modest group who do not shout about their successes, for example the Early Years was highly commended by OFSTED as Outstanding. Many parents of pupils with SEN know that they are well cared for and appreciate the efforts of the SEN team. Parents feel that communication between school and home is good.
Very Friendly and Inclusive
A Speech and Language specialist is employed for fifteen hours a week and she has a heavy workload. She feels that the parents know her well as she tries to meet them often. A member of the Phoenix Special School in Tower Hamlets works closely alongside the school knowing that his advice is taken on board. They both agreed that the school is very friendly and inclusive. The school works closely with the Cherry Trees and Stephen Hawkins Outreach teams who are both highly committed to inclusive education. They also work closely with the Educational Psychology Service, SALT, Child and Adolescent Mental Health Services and the Early Help Service.
Everybody has a Clear Sense of Purpose
Visitors who enter the school are warmly welcomed by the office team and the smiles continue through the school from all the staff and pupils. There is a sense of safety and calm. The school is fully accessible for those with certain physical needs. The staff have created a warm, friendly and welcoming place. Everybody has a clear sense of purpose. The pupils have confidence in their teachers and support staff and know that their needs will be addressed. All members of staff feel valued and no matter what their role, they enjoy their work and feel they are making a difference. The TAs are highly skilled and are being trained by the Speech and Language teacher. The team know that the frequency of support is imperative especially in the Early Years. Generally, the level of support diminishes as the pupils get older.
The Pupils are Strongly Supported
The pupils are strongly supported in all areas of the curriculum by passionate and dedicated staff led by a Headteacher who has a clear vision for ensuring that Our Lady and St Joseph's Catholic School offers the best possible education. He is ably supported by a strong team of senior leaders who share his determination that all stakeholders should be listened to and that all pupils can and will succeed, regardless of any barriers. The Inclusion Leader and SENCO share an inclusive ethos which pervades throughout the school. All staff have a clear sense of moral purpose and want the best for the pupils.
Pupils and Staff Respect Each Other
The Leadership team work hard to ensure that pupils and staff respect each other. The Gospel Values are reinforced in weekly assemblies. Pupils are given the chance to be part of the Chaplaincy Team. This opportunity is open to all faiths within the school. Pupils apply by writing a letter and eight of them are then given various opportunities to help those less fortunate, for example, cooking food at St Matthias Homeless Shelter and then reporting back to the rest of the school.
Change Leads to Positive Opportunities and Results
The Governing Body have a clear understanding of their role. They challenge the leaders and question them to ensure that any proposed change leads to positive opportunities and results for the pupils. They know that many pupils enter the school below Age Related Expectations but are proud that many pupils make better than expected progress. They recognise that the school must remain at the heart of the community especially as needs rise. They want to do more to support local families and recognise that the pupils can play a role in this vital aspect of school life.
Find out more about the IQM Inclusive School Award
If your school is interested in obtaining the IQM Inclusive School Award or you wish to talk to a member of the IQM team please telephone:
028 7127 7857 (9.00 am to 5.00 pm)
or email: info@iqmaward.com for further details.
Want more information on the IQM Award? Click here to request your free IQM information pack.