Newlands Academy, Peckham Rye, London achieves the Inclusive School Award with Flagship School status.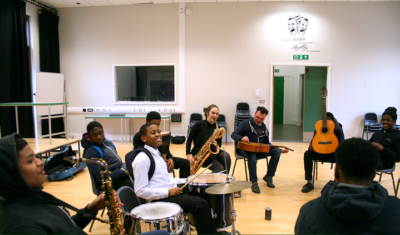 Context
Newlands Academy is a specialist social, emotional, and mental health (SEMH) boys' school in the borough of Southwark, all 70 students have EHCPs and attend from Southwark and the neighbouring boroughs. Many of the boys arrive mid-year or later into their secondary education. The students have SEMH diagnosis however many have social, and communication needs too.
Collaborative Partner Within Academies Enterprise Trust
Newlands is part of the Academies Enterprise Trust and are active within supporting the other schools within their Trust. They have also built on their outreach by offering opportunities for development by visiting or going to visit other schools to offer their expertise and strategies.
Child Centred Provision
One phrase came to mind when I met the staff at Newlands, and that is
"child centred".
From discussions with the leadership team to the support staff, it was evident that they mould and change their curriculum and experiences to suit every student that attends their school. It makes Newlands Academy a unique place and their personalisation of learning and extra-curricular opportunities, sets it above the other SEMH schools that I know in London. The opportunities that are provided for all their student (from boxing to looking after the school chickens), ensure the boys trust the adults – which is something they may not have experienced in a busy, mainstream school. A great example of this was the progress from a Manga club which slowly evolved into the students asking to learn Japanese. Which has now become part of their curriculum!
Partnership in Students Fulfilling Their Potential
The leadership team at Newlands explained that to ensure all their boys achieve success, they review and plan the curriculum to best fit their interests and needs, while also ensuring they achieve academically. High expectations are evident from discussions and from meeting members of their team today, this is a unified approach with a shared goal – every boy to reach their full potential. By working with external agencies including the Police, Newlands is working to break barriers and perceptions of professionals that the boys may meet in the community and support them in changing their views to safeguarding them and minimise county lines.
Active Citizens
From observing some of the lessons virtually, it was clear that the lessons are built around interest and subjects familiar to them to ensure the curriculum is modified that is accessible for all. All the students were working unsupported or with minimal promoting and were accessing their learning with interest. The school ensure life skills are also part of their day including healthy choices, self-care skills and environmental choices to ensure they are active citizens.
Continuous and Effective Support for All Students
Newlands Academy work with their local community and they are a school that goes above and beyond for their students. They want the boys to celebrate success, and from all my discussion it was clear that there is no limit on how they will support their students. Examples that were shared were calling each parent daily to discuss their child and look for triggers or reasons that have impacted the day. This solution focused partnership is something that is truly unique and something that should be taken into consideration by other schools who work with such vulnerable students. To know that they continue to offer support once the boys leave school, shows that Newlands is not only a school but a family network that is built around boys who need stability even into their adult lives.
Strong, Reciprocal Collaboration Among Teachers
From speaking to staff, their cross collaboration and support for each other was clear. They spoke of supporting each other and recognising when this was needed. The opportunities for staff to grow within their school is well established with teachers starting as support staff. The team effort to ensure a child succeeds is something to be proud of.
Sharing Good Practice
The central team within the Trust have all worked at Newlands and continue to keep strong links with the school. It is clear they use the skillset of the staff at the school, to share and support their peers across the MAT. The use of shadowing and peer support has ensured that best practice and unique skill set, and ethos is shared to benefit other students as an early help approach to ensure their needs are met in a mainstream setting.
A Well-Planned Positive Visit
This was a well-planned day by the IQM assessor, and her astute schedule ensured that I was able to get a snapshot of what happens at Newlands daily. I thoroughly enjoyed meeting the team and cannot wait to visit them in person to build links and adopt strategies that will benefit my own students.
Plans to Become an IQM Flagship School
This was the school's third year as a Centre of Excellence and they are interested in becoming a Flagship School which I fully recommend them to be considered for. Their proposed project has identified a need in borough where support is sparse, and I know of schools that will accept their outreach with open arms.
Find out more about the IQM Inclusive School Award
If your school is interested in obtaining the IQM Inclusive School Award or you wish to talk to a member of the IQM team please telephone:
028 7127 7857 (9.00 am to 5.00 pm)

or email: info@iqmaward.com for further details.
Want more information on the IQM Award? Click here to request your free IQM information pack