New City Primary School in Newham has achieved Centre of Excellence status.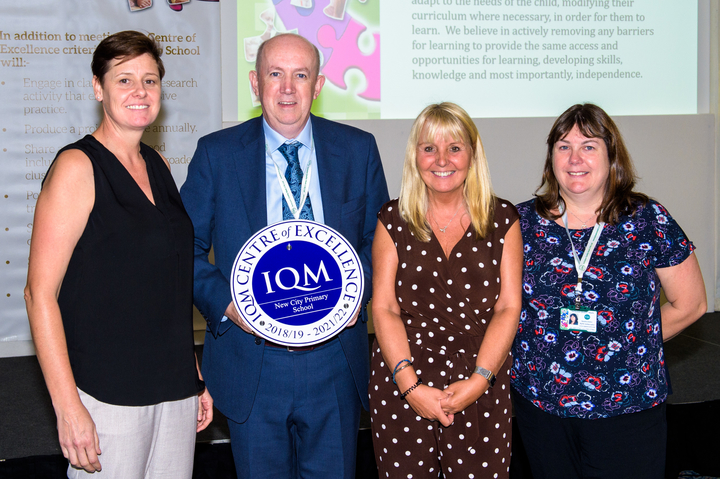 Context
New City is a larger than average primary school situated in the London borough of Newham which serves the community of East Ham. This three-form entry school for 675 pupils also includes a nursery. The school's last OFSTED inspection (2016) deemed New City to require improvement. The HMI visit in 2017 found the school to be making good progress against the priorities identified by OFSTED. In 2018 New City became part of the Boleyn Trust, a partnership of 7 schools across Newham. This has offered opportunities to work with leaders from the schools in the trust with visits to and from schools to see good practice as well as networking opportunities.
Very High Levels of Progress
A recent letter from the Rt Hon Nick Gibb praised the school on the very high level of progress that pupils made in their reading, writing and mathematics. The school is in the top 2% of schools in England in terms of progress and 2018 saw the best ever set of results.
High Standards
'Leaders at all levels sustain our high standards across all areas for development. They produce informed action plans for their subjects that link with whole school aims and ensure high quality teaching across the curriculum is sustained through half termly monitoring and producing ELT reports. At least 84% of pupils achieve ARE across the curriculum. Areas that require improvement are dealt with quickly.'
New Facilities
The school building is part original and part new build. They are soon to have a new dining area built which the Headteacher hopes will be ready for October half term. This will greatly enhance the children's lunchtime experience.
Outdoor Learning Spaces
Outdoor learning spaces are well planned and creative. The Headteacher plans to begin using a space which has been returned to them by the Local Authority as an outreach family hub for the community. This will benefit the community greatly and provide space for breakfast club, summer school, family learning sessions and outreach support. The school has established links with services in the community, an example being with the fire brigade.
Calmness and Purpose
On entering the school there is a sense of calmness and purpose. Staff greet visitors warmly. The Headteacher and senior leaders have a vision of excellence for their school for all children. In the Self Evaluation Report this was outlined in the following way: 'We believe that the school environment should be a place that all children can access every day, in order to participate equally, confidently and independently in activities.
Adapting to Need
'The focus is on the individual child. Therefore, in our school we adapt to the needs of the child, modifying their curriculum where necessary, in order for them to learn. We believe in actively removing any barriers for learning to provide the same access and opportunities for learning, developing skills, knowledge and most importantly, independence.'
'What a child can do today with assistance, she will be able to do by herself tomorrow.' Lev S. Vygotsky
Every Child is Unique
The Inclusion Lead explained the importance of every child being a unique individual who can see themselves reflected in their school.
'It's about everyone! Everybody is valued equally, we are a very diverse school. Celebrating those differences, acknowledging they come from different backgrounds, making sure we have conversations so they see they are valued. Important things, like finding out how children enjoyed their Eid celebrations.'
Committed to Inclusive Practice
Staff, parents and Governors are committed to inclusive practice. Inclusion and 'success for all' is an integral part of the School Development Plan. This was also evident through discussions had with staff and the Inclusion Governor.
Relationships are Key
During the two-day assessment it was clear that staff really know their children and do everything they could to put them at ease and ensure they are comfortable to participate. Staff know that relationships are key to achieving an inclusive school with happy children and staff.
All Achievement is Celebrated
Achievement for all is celebrated in a variety of forms. The whole school Friday assembly brings staff and children together to celebrate individual children's effort, progress, attendance and achievements whilst at the same time reinforcing the aims, values and qualities staff want the children to develop through the 5 Cs. In this assembly, prizes were awarded to children who had shown effort, positive personal qualities and achievement for that week. The 'Star of the Week' received a certificate. There will be a 'child of the term' award, which was eagerly anticipated by the children who will accompany the Headteacher to have lunch at Pizza Express. During this assembly, three school council representatives gave a motivational talk to the school about the upcoming sports day.
Supporting the Vulnerable
Care for children with emotional needs was seen both in the learning walk but also in discussions with the large Pastoral team at New City. The Headteacher has expanded this team over the past year in recognition of the growing need to support vulnerable children and their families.
Music Therapy
Music therapy is used to support children with a range of social and emotional needs. Today, it was also an absolute privilege to observe a 1-1 music therapy session. The connection between the therapist and pupil was palpable. The level of interaction and the joy on the pupil's face during this session was magical.
Polite and Helpful Pupils
Pupils were polite and helpful throughout the assessment. When asked what was special about New City, pupils had a lot to say.
'I like that we have lots of computers, IPads. Scratch is my favorite.'
Another said,
'The art room has lots of patterns and artwork, it is very colourful.'
Pupils Enjoy Their Lessons
Pupils enjoy their lessons, especially Times Table Rock stars, Mandarin and computing lessons. They were immensely proud of the art work around the school to the extent that they wanted to ensure that I had seen all the work and models around the school. Another highlight so far this year for another pupil was 'reading to the year one children my favourite book, Little Rabbit Foo Foo.'
Favourite Places
When asked to describe their favourite place in the whole school, one child chose
'in the classroom, I can see my learning, we have lessons in Science and History and Maths.'
Another chose the 'infant playground' where she
'helped the younger children play with their friends.'
Others liked the 'football pitch and different equipment best of all.' The children were articulate and confident expressing their views. They feel part of the wider school and their responsibilities; one peer mentor described his role as 'protectors of the school.
'We know how to protect them, cheer them up and find the right people to help.'
Children in the group had a good awareness of what to do should they have a problem or worry, with each child identifying who they would go to for help.
Lots of Colourful Displays
During the learning walk, pupils were engaged and focused in learning. The school has lots of colourful displays around the school which support learning. The arts are in abundance, especially three-dimensional art installations created by the children and art teacher such as wonderful clay work, vibrant orangutan, and papier-mâché totem poles reaching up to the heights of the doorways and above.
New City's 5Cs
The New City 5 Cs; Cooperation, Commitment, Consideration, Courtesy and Care are a key element of the vision and aims of the school for all its participants. This is shared by all; through assemblies and celebrations but also during class and in the community. Classes can display this in any way, one included a large colourful rainbow design over a pot of gold, and in another it was shown as a present just waiting to be opened!
Children are Well Catered For
Children are extremely well catered for and their needs are put at the heart of things. Behaviour for learning seen on the assessment day was good. Each class has a chart where initially all children start on good, however they can then move up through well done, fabulous to incredible. This is a clear representation of expectations. Children not exhibiting desired behaviour are given a stepped approach with warnings, with the expectation that they can rescue their behaviour at any time and make the right choice. Staff have been working this year on raising the profile of reading for pleasure. This whole school priority will continue to be developed next year. Staff foster a love of reading in many ways; exposing the children to high quality texts, providing every child in the class with individual copies, an attractive library and highly motivating reading corners such as having favourite Charlie and Lola characters displayed next to a canopy of twinkly lights. This attractive and comfortable area would attract any child to read and enjoy a good book.
Celebrating Different Cultures
Key assemblies take place throughout the year; raising the profile of different cultures and shared values and practices.
'Our Mandarin teachers contributed to a performance in Chinese New Year, the kids loved it!'
The upcoming International evening was mentioned by all groups spoken to during the assessment. Staff said
'It provides an opportunity to dress up and share the pride that comes from being in the school. Parents and staff share food and celebrate together.'
Staff are Aspirational
Another celebration of culture happens with the GAMELAN project in year three. Children learn to play musical instruments from Bangladesh and hear traditional stories. Artwork and writing are involved, culminating in a performance at the end of the week where parents join their children. Staff are aspirational for their children. An example being where the PE Coach has made links with the Olympic Park, athletes have visited the school to motivate the children and provide ambition in Sports. Another example is In to University which exposes children to a wider world of career paths and experiences than they may ordinarily have. Year 5 and 6 attend off site, Year four on site.
Find out more about the IQM Inclusive School Award
If your school is interested in obtaining the IQM Inclusive School Award or you wish to talk to a member of the IQM team please telephone:
028 7127 7857 (9.00 am to 5.00 pm)
or email: info@iqmaward.com for further details.
Want more information on the IQM Award? Click here to request your free IQM information pack.