Millennium Integrated Primary School in Saintfield achieves Centre of Excellence status again.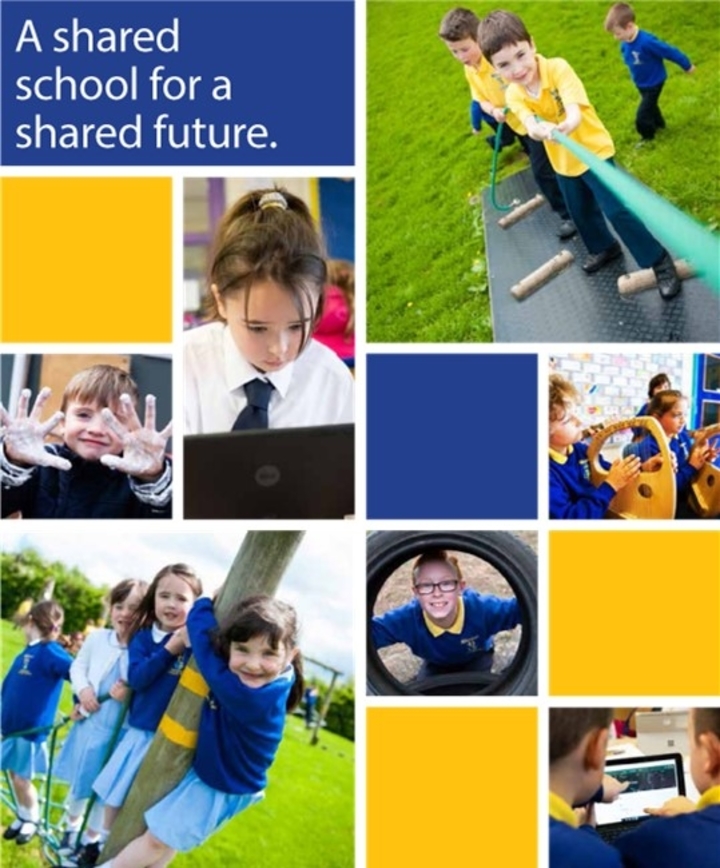 Best Possible Outcomes
It was an absolute delight to discuss the evaluation and the developments of the CoE Outcomes for 2019-2020 with Millennium Integrated Primary School. The Principal gave up his time freely so that he could be totally immersed in the review day. It was a pleasure to listen to the staff speak about their experiences and the developments that have taken place since the last review. It was clear to see that the Principal invests in the staff to ensure the best possible outcomes for all the pupils in the school.
Distributed Leadership Model
Staff spoke passionately regarding the opportunities they are given to develop their areas of expertise and interests to support the strategic direction of the school. There is a sharp focus on outcomes and accountability. Staff are given ownership of their areas of expertise and are keen and expected to develop as Leaders. This means that there is a distributed leadership model in place with everyone feeling valued and therefore determined to attain and achieve the high expectations they have set themselves. This filters down to the pupils in a caring and supportive environment.
Everyone has a Voice that is Valued and Heard
An example of the forward-thinking strategic leadership model is that the Senior Leadership Team is made up of Leaders with key strengths including the LSA Lead. The impact of this is that everyone has a voice that is valued and heard. All staff who lead in an area of the curriculum are Leaders as opposed to Co-Ordinators. This empowers them to lead in their area of expertise and to enthuse others as well as learn important skills to further develop their careers. Again, this empowerment cascades down to the pupils to become immersed in their learning too.
Enthusiastic Staff
Enthusiasm from the staff was in abundance which demonstrated how much they loved their role and valued pupils and families.
Experts in Online Learning Platforms
It was extremely impressive to see how they were so expert in using a variety of platforms for online learning. The current Covid 19 situation had therefore not been a challenge for them but had enabled some deep learning to take place.
Upskilling Pupils and Staff
They saw this as an opportunity to upskill the pupils and themselves. They spoke of the value of verbal feedback and the joy from the pupils hearing their teachers voice telling them how to improve their learning via the platform Seesaw. Google Classrooms and Microsoft Teams has supported KS2 pupils as a platform to learn. Staff meet their class online either as a group or 1:1 teaching if appropriate. The outcome has been that pupils have been engaged with their learning with the staff fully engaged in teaching and guiding them.
Successful Blended Learning
It was admirable to see the blended learning approach within the school and experiencing the use of technology going hand in hand with the pedagogical skills of the teacher. The staff are extremely successful in using the blended learning approach to enhance the knowledge, skills and understanding of all pupils.
Inclusive Prioritised Outcomes
In discussion with the Principal, the School Development Plan's (SDP) key priorities are all outcomes based looking at the developments in terms of 'What are we trying to achieve', and 'How will we achieve it' 'Will anyone be better off?' The key prioritised outcomes are inclusive and simple:
• Our children feel and are safe.
• Our children feel good about school.
• Our children see school as a partnership.
Supporting Pupils to Achieve
Pupils' Attitude to Self and School (PASS) is used to uncover emotional and attitudinal issues that may hinder progress. It ensures that any pupil is identified and receives the correct support to achieve in school. This is seen as integral to the priorities.
Medium Term Planning
The Principal has a ten-year vision which is broken down into a five year, and three- year vision. The Curriculum Leaders are expected to view their area of the school's development in the same way. Operational action plans address the strategic overviews.
Meetings Seamlessly Tie Together
Senior Leadership Meetings, Staff Meetings and Curriculum Leader Meetings seamlessly tie into together. The Principal has a clear overview of all meetings with outcomes and consequent actions. These are recorded on the colour coded online document.
Pupils are Motivated to Engage
There is a constant cycle of 'Assess, Plan, Do Review' using a RAG rating model to identify key immediate priorities. The adopted Outcome Based Accountability model means that everyone is disciplined to focus their thinking in a simple way to create a school community that focusses on the needs of the pupils and what they need to know, do and understand. The impact is that pupils are motivated to engage.
Pupils Can Flourish
Millennium Integrated Primary School has created an environment and a blended learning environment where pupils can flourish and become independent creative learners. They are given the opportunity to develop learning dispositions that will support them in their quest to develop their knowledge, skills and understanding and a love of learning in preparation for the next steps in their pathway to adulthood.
Find out more about the IQM Inclusive School Award
If your school is interested in obtaining the IQM Inclusive School Award or you wish to talk to a member of the IQM team please telephone:
028 7127 7857 (9.00 am to 5.00 pm)
or email: info@iqmaward.com for further details.
Want more information on the IQM Award? Click here to request your free IQM information pack.