Liverpool Football College, a work based learning provider for 16 to 19 year olds, has achieved the IQM Inclusive School Award.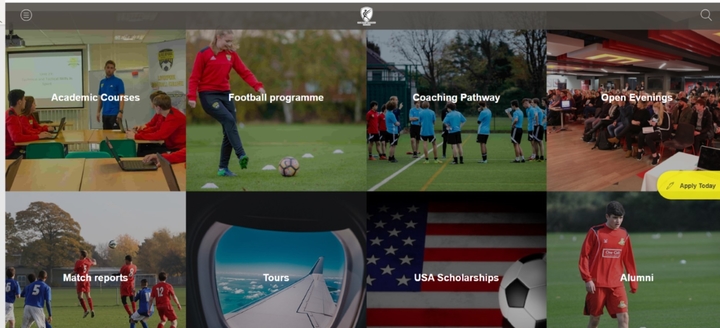 Work Based Learning Provider
Liverpool Football College is a Work Based Learning Provider that provides high-quality experience for learners aged 16-19 irrespective of background or academic achievement who are interested in pursuing further education and a career in football either as a player; as coach, performance analyst or in other careers in the sports' sector. They consider themselves to be the first-choice post-16 football college within the wider area. They clearly recognise that not all learners have enjoyed a positive school experience prior to them coming to the college and, indeed, some have not been given the opportunity to enter for all public examinations, so they ensure that they are given the appropriate opportunities during their time at the college to achieve their goals. All students are treated equally in terms of access to appropriate courses, support mechanisms, work experience, access to extra-curricular activities and tours and enrichment opportunities. Consequently, they provide a unique learning experience for their students offering them the chances to progress in education and football, promoting pathways for students to progress in football and educationally as well through a variety of different BTECs such as the BTEC National Level 3 Extended Diploma in Sport; NVQ Level 2 in Activity Leadership; BTEC Level 2First Certificate in Sport; level 1 Diploma in Sport and Active Leisure and Functional Skills and GCSEs. It is clear to see that the students are keen to embrace these opportunities through their excellent attendance which at the time of the assessment stood at 90.2%.
Context of the College
The college operates in the city of Liverpool with a wider intake from surrounding boroughs, including Knowsley, Warrington, Wrexham, Chester, Runcorn and International students from across the globe. In the most recent report available from the Local Authority Liverpool is ranked as the fourth most deprived LA in England and Knowsley is the 2nd ranked. Liverpool has ten of the most deprived wards nationally and is ranked 3rd most deprived in terms of Health Deprivation, 5th in Income Deprivation and 5th in Employment Deprivation. The scale of challenge in all areas is significant. The college has 128 learners on roll including 12 international students, who live with House Parents around Liverpool during their time at the college and provide a highly valued multi-cultural dimension to the College. Fifteen learners have ethnic origins other than White British; these include Black African, Black Caribbean, Asian and Eastern European, 9 of the 128 learners are female with the college planning to increase the number of females accessing their courses. Three learners have Education Health Care Plans, 2 learners have in-class support for English and Maths and in some other sessions. Learners are encouraged to declare needs at enrolment so that the college can organise support strategies. Forty two learners are entitled to free bus passes and other financial support, such as free meals. Currently there are 10 learners at Level 1, 32 at Level 2 and 86 at Level 3 including the college's International students. Each teaching group is allocated a dedicated tutor responsible for learners' academic and personal welfare. The tutors are supported by a safeguarding officer and deputy safeguarding officer. The most recent Ofsted inspection report involved the college as a sub-contractor to one of their prime funders – Brighter Futures in February/March 2019 which was extremely positive with an overall grade of 2 with elements of 1, this was highly complementary of Liverpool Football College. Stating; 'Tutors integrate English and mathematics creatively into vocational lessons. For example, sports learners use industry-standard vests that contain global positioning system technology to analyse data about their personal performance and fitness when playing and coaching. They look at angles in their hips to determine how to generate greater power. They interpret information from charts and graphs and compare the results with each other's performance and that of professional and semi-professional footballers. This helps to improve and optimise learners' technical and tactical ability, as well as develop their mathematical skills'. They also state: 'For example, sports learners act as match stewards at football events. They support older people with activities such as boccia and walking football and undertake football stamina coaching with very young children'. This is a fantastic accolade for the college and its students.
An Inclusive Community
The College provides taster sessions covering elements of the academic timetable and their outstanding football programme alongside cultural aspects, to give students an insight into life in Liverpool prior to joining and they also have a 42 day induction period when students start courses to ensure that students are on the right courses and that tutors and students agree that they can move forward successfully. They are proud of the fact that their academic achievements at all levels are above national benchmarks. They believe this is due not only to good teaching which stands at 90% good or better as verified in a meeting with the college's Prime Funders – Brighter Futures, but also to their excellent procedures in terms of inclusion. Learners are treated as individuals and are encouraged to be as independent as possible, given any special considerations and circumstances. The College is a special inclusive community, where hard work, commitment and high standards are the norm. They have witnessed many fine achievements since opening in 2011. This is a provision where staff and students have, and maintain, a conscientious approach, endeavour and dedication in raising aspirations and attainment at the college. Their motto 'Achieving Excellence Together' is fundamental to their continued growth and success.
Extra-Curricular Activities
The college has been very successful with their football programme; winning numerous cups including the 2017 Dallas Cup, many League trophies and seeing many of their students progressing to professional and semi-professional football. The college has also undertaken trips to Barcelona and Valencia where the female learners have taken part in 5-a-side tournaments and a visit to Martinique last year to support deprived youngsters and provide coaching activities for them. The college also provides playing opportunities for students in a number of leagues across Merseyside and often facilitate internal matches as appropriate for students to have game time and also to analyse their performances and to look at skill improvement and coaching opportunities, one of which we observed during the assessment. Success is evident in their young student coaches who have gained nationally recognised qualifications and progressed into coaching roles in the UK and USA. Students continue to achieve the highest possible outcomes in their studies. One hundred percent of university applicants have received offers from their first-choice university course. Staff at the college are very proud of their Alumni in Universities all over the UK and USA. Their first cohort of students are now graduating from Universities in teaching, sport science and sport business to name a few.
Very High Level of Care, Support and Learning
It is very clear to see from the evidence of the assessment that Liverpool Football College is an inclusive, positive, vibrant and successful college for both learners and staff. They provide a very high level of care, support and learning for all students and staff by promoting an environment in which staff can develop and share their skills.
Continuous Drive for Outstanding Provision
Everybody the assessors met over the one-day assessment was very helpful and spoke in a highly positive manner about the college, their involvement and their experience of the college, not only students and staff but also the parents, prime funders and the Bursar of Auckland College, an independent school for boys and girls aged 3-18 based in nearby Sefton Park, who was spoken to over the phone about the links that exist between the two provisions. Auckland College is a small but dynamic school that offers places for international students to study up to GCSE level and rated good by Ofsted in November 2016. They are an International Sponsor and hold the appropriate license with the Border Agency that allows them to host international students and they have entered into a cooperative agreement with Liverpool Football College to provide GCSE tuition to their 12 International students three afternoons per week. The bursar spoke highly of the agreement between the two colleges and believes that they are a highly inclusive setting and they are keen to continue to build and evolve the links they have in the future benefitting both settings and their students. The assessors met two staff from Brighter Futures who work closely with the college, one at least on a weekly basis. Both were very positive about the college which they had worked with for about a year and they were at pains to say that the college had been very quick to act on suggestions for improvement and took everything on board in their continuous drive to be an outstanding provision. Quality assurance by both the Prime Funders and the college is outstanding and they were very clear in their opinion that Liverpool Football College is a highly inclusive place to work and to come and learn and is now one of their best sub-contractors. The prime funders in many respects acting as 'Critical Friends' similar to the Governing Body in a school setting. They both should be commended for the way they work together to provide the best for the students they are entrusted to educate.
Mutual Respect, Care and Trust
The students spoken to were very mature, polite and courteous and spoke about their time at the college and offered their honest opinions on a range of topics concerning their education. In fact, the behaviour of the students spoken to on the day was exemplary. They have clearly bought into the culture of the college and take responsibility for their behaviour thriving in an inclusive culture where there are the highest expectations of them as individuals. Learning is often challenging, engaging, purposeful and innovative allowing for creativity, a sense of fulfilment and a desire to succeed. There is an open and honest culture where celebration of achievement is the norm and accountability is clear. Students and staff are given opportunities to discover and develop skills and talents. It was obvious during the assessment that students felt that the staff know them very well fostering excellent positive relationships and an environment in which, as individuals, they can flourish and grow. Every one of the assessors met were proud of their college and the excellent efforts made to ensure everyone is looked after and is successful. They should be very proud of their achievements. The importance of treating everyone associated with the college as an individual is deeply held and based on mutual respect, care and trust. The right for all to make progress is inherent and expected. The parents whom the assessors met spoke candidly about their experiences of the college. Overall, they spoke highly of the college and felt that they went above and beyond what was normally expected of staff in supporting their children and that they understood each student is an individual and that they are given many opportunities to succeed and be the best that they can be.
Find out more about the IQM Inclusive School Award
If your school is interested in obtaining the IQM Inclusive School Award or you wish to talk to a member of the IQM team please telephone:
028 7127 7857 (9.00 am to 5.00 pm)
or email: info@iqmaward.com for further details.
Want more information on the IQM Award? Click here to request your free IQM information pack.