Little Einsteins Day Nursery in Doncaster has achieved the Inclusive School Award.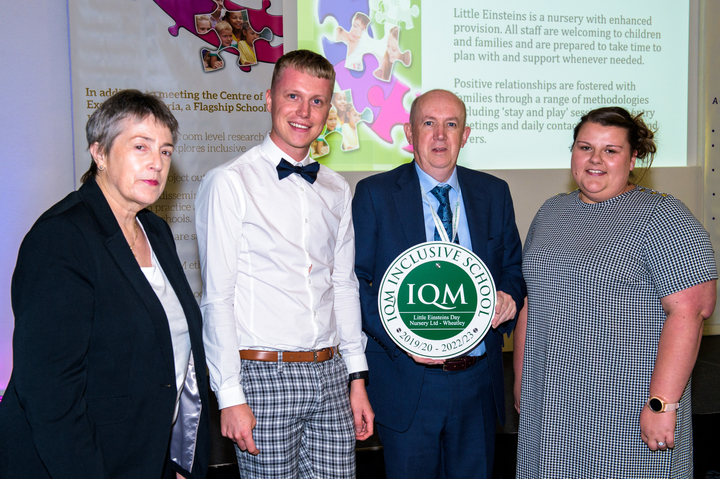 Context
Little Einsteins is a nursery with enhanced provision in Wheatley, Doncaster. All staff are welcoming to children and families and are prepared to take time to plan with and support whenever needed. The Setting is purpose built and close to a Family hub and a neighbouring school. The Setting is all on one level, so this enables usage by all families regardless of need. Use of walkers and wheelchairs can be accommodated easily. At the entrance, 'signing in' arrangements are made clear and the staff ensure visitors are known to the setting prior to entry.
Positive Relationships
Positive relationships are fostered with families through a range of methodologies including 'stay and play' sessions, pre-entry meetings and daily contact with parents and carers. Children are effectively supported through home visits and transitions arrangements whether this is 'on entry' or at point of moving into Reception. Parents feel that they can approach the setting for advice and that their children are well supported in the setting. Staff reach out to parents and children who speak other languages by providing some translation of key words and phrases. The use of Makaton is used to foster communication, signing supporting vocabulary. The value that is placed on the relationships with parents is highlighted on the setting website, "Here at Little Einsteins Day Nursery Ltd, parental partnership is of the utmost importance to us and we endeavour to develop and maintain positive relationships with children and their families. We understand that parents are the child's first and most important educator, and we work closely with parents and carers to ensure that children have consistency and reassurance." Attachment theories are well understood and recognised in the well-established key person system. The key person is an important figure in the Setting and information about each key worker is shared with parents via a display board. Staff share their role, interests and qualifications in order that parents can become familiar with their child's key person. Particularly impressive is the positive interaction of adults with children. This is noted during lunch and during children's outdoor play. All practitioners fully engage with individuals, encouraging, guiding but not interfering. The personal care of youngsters is handled with sensitivity and care is shown in respect of the very youngest of the children in the Setting. This builds strong bonds with the children to enable them to feel safe and secure. This can be clearly seen in the baby room as youngsters are appropriately challenged and comforted as necessary.
Healthy Learning, Healthy Lives
The setting demonstrates its commitment to the Healthy Learning, Healthy Lives programme by taking part in the scheme run by the Public Health department of Doncaster Council. The Setting website highlights the fact that children have the opportunity to try a range of different foods, including seasonal fruits and vegetables. An eye-catching display exemplifying the importance of this is in the Setting entrance available for children and parents to see. Staff use mealtimes as social events and encourage the children to develop their independence, self-help and social skills.
Stimulating Learning Opportunities
The environment is well planned, and the children have access to stimulating opportunities both indoors and outdoors. The well-presented rooms reflect the children's interests and needs. Displays are used to reflect the work of the children and to stimulate curiosity. They are of high quality. The Inclusion Manager indicates that to achieve consistency and good quality she needs to set expectations, offer training and allow for experimentation. This she has done with apprentices to enable them to develop their own skills in the context of the setting. Apprentices also state that they feel supported and that their reviews are helpful in enabling them to address targets for improvement. A range of sensory resources that are age appropriate are labelled for ease of access. The team recognise the importance of a language rich environment and this is evident in each of the rooms and corridor spaces.
Happy and Engaged Children
Children engage happily in their play, they are encouraged to try new things and are supported when needed. This can be seen during outdoor play; children travel across wooden blocks at different heights independently. All of the rooms have external doors enabling children to have free flow access to the outdoor environment.
Tracking and Communicating Progress
The Manager, staff and parents are able to explain how progress of children is tracked and communicated to parents. The use of the 'Baby Days' App has proved successful for enabling observations to be shared with parents and there is the facility to link these to stages of development which enables both staff and parents to discuss progress. Separate tracking is used to show progress of children with SEND, EAL, Pupil Premium and 2 and 3-year-old funding.
The Process for Progressing EHCPs
The Inclusion Manager ably describes the process for progressing EHCPs. They are completed effectively; parents speak highly of the advice offered by the team and the support in implementing these.
A Supportive Senior Team
The Senior Team effectively support room leaders and managers. Room Leaders have regular meetings with the manager, reflect on key aspects of the role and consider how best to improve. There is a layered approach to review of professional supervision and performance management as equally, apprentices are given time to discuss and reflect on their practice and impact. The Management team is well-established and is well trusted by the Directors of this happy and positive setting.
Meeting Each Child's Diverse Needs
"Little Einsteins, aim is to provide high quality care and education for all children, in an environment that offers an exceptional balance between LEARNING and PLAYTIME! We work hard to ensure that our provision recognises and meets the diverse needs of each individual child and their family." This aim is clearly evidenced in practice both in the rooms and in the way in which the staff show care and support for the children and families who attend the Setting.
Find out more about the IQM Inclusive School Award
If your school is interested in obtaining the IQM Inclusive School Award or you wish to talk to a member of the IQM team please telephone:
028 7127 7857 (9.00 am to 5.00 pm)
or email: info@iqmaward.com for further details.
Want more information on the IQM Award? Click here to request your free IQM information pack.