On International Women's Day the Government is setting out new standards for equal access to sports, making it clear that girls and boys should be offered the same sports during PE and extracurricular time in schools.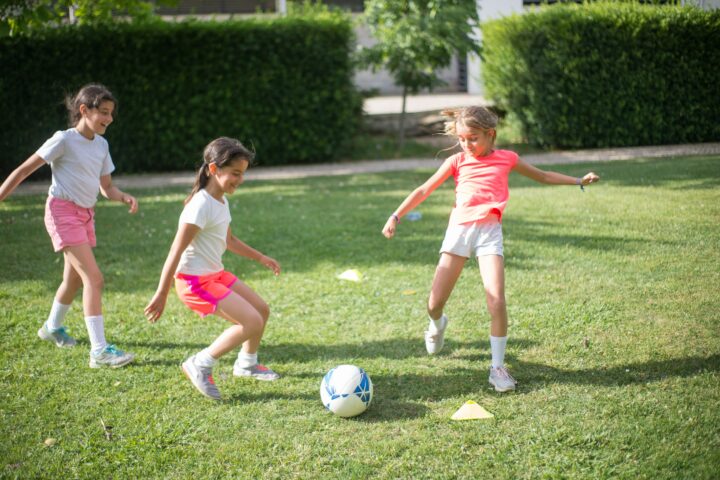 Equal Opportunities in Sport
The package will help to boost equal opportunities in school sport both inside and outside the classroom, delivering on promises made by Prime Minister Rishi Sunak and Education Secretary Gillian Keegan to the Women's Euro 22 winners the Lionesses.
This follows on from the success of the Football Association's (FA) #LetGirlsPlay campaign which is working to change perceptions and make sure girls get the chance to play football within the school curriculum, as well as at breaktime, after school and at local clubs.
The campaign was launched by the Lionesses squad and the FA after the England Women's team's success at the Euro 22 tournament last year.
Schools that successfully deliver equal opportunities for girls and boys will be rewarded through the School Games Mark, which will assess parity of provision in PE and extracurricular sport.
Schools are also being asked to offer a minimum of two hours curriculum PE time and the Government will provide support to schools on how to do this through the upcoming refresh of the School Sport Action Plan.
Alongside this work, Ofsted will be publishing a report into PE in the coming months, which will inform future inspections and set out what they believe is possible in terms of offering high quality PE and equal access to sports.
Build on this Legacy
This is backed by a package of cross-government funding to help boost sport and activities both inside and outside school hours including the confirmation of over £600 million in funding over the next two academic years for the PE and Sport Premium and £22 million for the School Games Organisers (SGO) network.
Prime Minister Rishi Sunak explained, "Last year the Lionesses' victory changed the game. Young girls know when they take to the pitch that football is for them and, thanks to the Lionesses, they too could be a part of the next generation to bring it home for their country.
"We want schools to build on this legacy and give every girl the opportunity to do the same sports as boys, as well as provide a minimum of two hours of PE. This means every child can benefit from regular exercise and we are proud to provide them with the support needed to do so."
England women's captain, Leah Williamson, added, "The success of the summer has inspired so many young girls to pursue their passion for football.
"We see it as our responsibility to open the doors for them to do so and this announcement makes that possible.
"This is the legacy that we want to live much longer than us as a team. On behalf of all the Lionesses players, we'd like to thank our teammate Lotte Wubben-Moy as a driving force behind this transformational change.
"We couldn't be prouder to stand alongside her and we all look forward to seeing the impact this legacy creates."
The full package includes:
• equal access to sports in school – setting out that offering girls and boys the same sports, where it is wanted is the new standard.
• delivering a minimum 2 hours of curriculum PE –with more support being offered through a refreshed School Sport Action Plan.
• expansion of the Schools Games Mark – to reward parity of provision for girls – this kitemark scheme, delivered by the Youth Sport Trust, recognises schools that create positive sporting experiences across all sports for young people, supporting them to be active for 60 minutes a day.
• over £600 million across the next two years for the PE and Sport Premium – a funding commitment to improve the quality of PE and sports in primary schools to help children benefit from regular activity.
• a new digital tool for PE and Sport Premium – to support schools in using the funding to the best advantage of their pupils.
• £22 million for two years of further funding for the School Games Organiser network (SGO) – Annually the 450 strong SGO workforce supports 2.2m participation opportunities for children including 28,000 competitive school sport events.
• up to £57 million funding for the opening school facilities programme – to open up more school sport facilities outside of school hours especially targeted at girls, disadvantaged pupils and pupils with special educational needs.
• Being active in childhood is vital to long-term wellbeing and physical and mental health. This major investment will help more children to keep fit, have a healthy start to life and will help save the NHS money in the years ahead.
• Up to £57 million in funding will be used to allow selected schools around England to keep their sport facilities open for longer for after-school activities, especially targeted at girls, disadvantaged children and those with special educational needs.
This work will be led by Active Partnerships who are leading a consortium, which includes Youth Sport Trust, ukactive and StreetGames, and will benefit up to 1,350 schools.
Find out more about the IQM Inclusive School Award
If your school is interested in obtaining the IQM Inclusive School Award or you wish to talk to a member of the IQM team please telephone:
028 7127 7857 (9.00 am to 5.00 pm)

or email: info@iqmaward.com for further details.
Want more information on the IQM Award? Click here to request your free IQM information pack.