Lea Valley Academy in Enfield has achieved Flagship School status for the second time.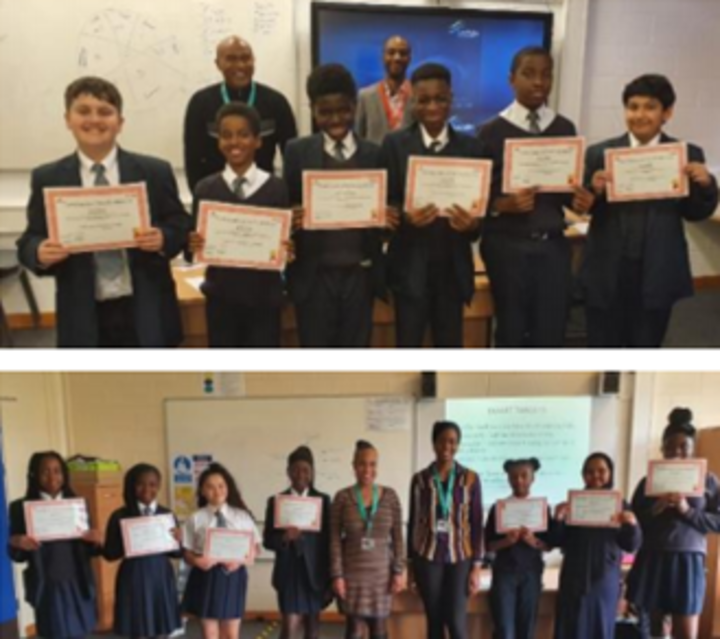 A Difficult Year
I started the day by speaking to the Headteacher, who has been in post since January 2020. It is fair to say it has been a very difficult year for the school. We agreed one of his biggest tasks is to build trust amongst students and staff at all levels, this will take time, but he is certainly up for the challenge. Another very important task is to raise standards and outcomes for all students.
Experiences During Lockdown
I met with the Head of Year 11 (with oversight of other year groups) and a group of Year 11 students who were very happy to discuss their experience during lockdown and about what has been happening since they returned to school in September. They were a very reflective group who spoke honestly about the way they felt and about their worries for the future. They said they had maintained contact with the school through Microsoft Teams and much of their work was set through this platform, they also had paper packs to work on. The students were very honest about their participation and engagement in completing the work set. They said they found it difficult to concentrate and to be disciplined at home. The Head of Year 11 said they had set up a Year 11 Instagram Group to keep in touch with everyone, which was well used by staff and students and helped to prevent anxiety and allowed students to be supported by each other and by staff.
Curriculum Development
My next meeting was with the Deputy Head and Assistant Head. We talked about the curriculum work that has been going on now for a couple of years, first of all to make sure they were ready for Ofsted and secondly in view of the current crisis. The Deputy Head said lots of work on curriculum development has been done since lockdown. Heads of Department supported by Senior Leaders have been working with their teams to review and revise their curriculum and pedagogy. The Assistant Head has been looking at standardised assessments and she says there was much work to be done before GCSE and A Level grades were submitted. Clear structures and protocols for moderation and standardisation were put in place and were used for this important task and will be used in the future.
Senior Leadership Structure
The new Senior Leadership Team consists of the Headteacher, two Deputy Headteachers and four Assistant Headteachers. In addition, there is a Vice Principal who works across the Trust and leads the Sixth Form in both schools. The Deputy Head is responsible for the curriculum and timetabling which is a huge task this year. He also has oversight of the Heads of Subjects (collectively) even though they are individually line managed by different members of SLT. The Assistant Head is currently leading Maths and also takes responsibility for assessment and curriculum.
Consistency and Challenge
The Deputy Headteacher explained that Ofsted are due at any time, but they were happy that the curriculum was now as it should be. They told me that when the Headteacher arrived he made it clear they needed to review curriculum offer at KS3 and have gone back to a two-year GCSE programme. Consistency and challenge are the overriding principles for the Lea Valley Academy curriculum.
Literacy as a Whole School Responsibility
The Assistant Principal was also recruited by the previous Headteacher, she has taken on responsibility for the Literacy Policy and is supported by the Lead Practitioner re Accelerated Reader Programme and the Literacy Coordinator who is also Head of the English Faculty and has a major role in the school. We had a long discussion about literacy and oracy across the Academy and a recognition of the work that has been done prior to her arrival. She acknowledged this work and vows to move things forward and ensure Literacy is a whole school responsibility and not just something that is addressed by the English Faculty. We discussed the work that is going on in primary schools re literacy and how we might learn from it. There is no magic wand and change will take time and patience. They need to see things through and give new strategies and new ideas time to bed in.
Safeguarding
I met with the Family Liaison Safeguarding Lead with the Vice Principal. The Family Liaison Officer is an ex-police officer who now takes a lot of responsibility for safeguarding. The Vice Principal is the DSL and other Senior Staff also support in this area. The school used Edukey to record concerns and actions around safeguarding, but they are looking to set up CPOMS to use in future.
Part of Induction
All staff receive safeguarding training at the start of every academic year and receive regular updates. She said the fifteen new staff have had one to one meetings with her to ensure they understand the policy and practice. Staff who join the school mid-term or at the beginning of terms are given training on safeguarding – it is an important part of their induction.
Supporting Families and Students
The Deputy Headteacher explained that throughout lockdown everybody's job role was supporting families and students by continuous contact by telephone and checking on their welfare.
Fully Committed to Including Everyone
My next meeting was with several Curriculum and Subject Leaders as well as several Pastoral Leaders many of whom I had met before. Most of the teachers and support staff I met here had been in the school for a number of years, but a few were fairly new to the school. They explained what had happened last year in the lead up to and during lockdown and what has been happening this term. They told me how they had pulled together to support each other and to support students. It is clear they cared very much for their students and were fully committed to including every child. They were also keen to discuss their own wellbeing and what had been done to support them. We talked about the new Teaching and Learning Communities that are being set up and I met the Lead Teachers involved. The aim is to help improve the quality of teaching across the school and to enable teachers to learn from each other. It will be very interesting to see how these develop this time next year.
Find out more about the IQM Inclusive School Award
If your school is interested in obtaining the IQM Inclusive School Award or you wish to talk to a member of the IQM team please telephone:
028 7127 7857 (9.00 am to 5.00 pm)
or email: info@iqmaward.com for further details.
Want more information on the IQM Award? Click here to request your free IQM information pack.