Kettlebrook Short Stay School (KSSS) is a Pupil Referral Unit. KSSS has referrals from all over the Tamworth District. It has held both the IQM Inclusive School and Centre of Excellence awards since 2014 with reaccreditation in May 2017. The school and its practices have been reviewed annually since 2014 and it once again gained reaccreditation recently as well as becoming an IQM Flagship School.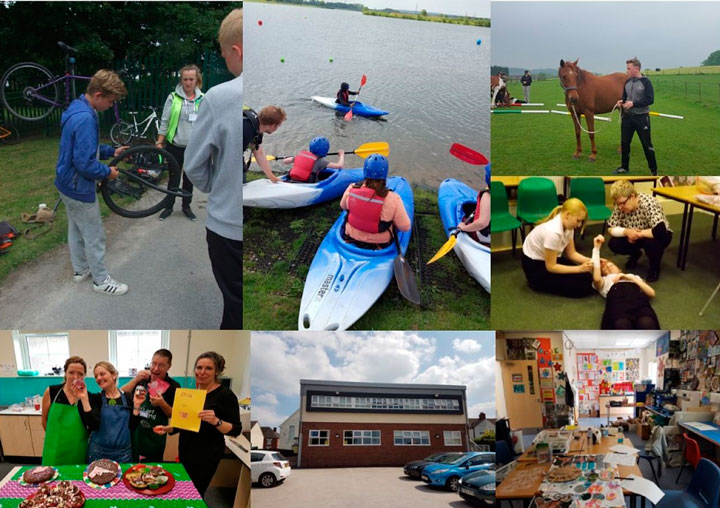 As part of the recent annual review the school has submitted a comprehensive review of progress over the past twelve months together with a Flagship Action Plan.
Improved School Facilities
All building work, which was in its early stages at last year's review, is now completed. The school has been extended, giving them extra classroom space, specialist teaching areas, meeting rooms and admin offices. Extensions to the ground floor include: a purpose-built reception area and a larger staff room. The quality and finish of all the building work is of a high standard and has been designed to withstand the pressures of everyday use (doors, hand rails on staircases etc).
Updated Resources
The school is currently waiting for the delivery of more furniture items, again carefully selected in terms of design and quality. There has been a significant updating of ICT resources and hardware including Clevertouch screens. The outside spaces have been much improved by the extensions, which have received positive comments from local residents. The hard surface area, grassed areas and Multi Use Games Area are all now operational and well used by the students.
There are plans to renovate/decorate some of the older parts of the building together with on-going discussions with architects/officers re the health and safety aspects of the newly installed first floor fire escape.
The school was fully functional throughout all the building work and despite the obvious space restrictions all staff reported the positive way students behaved and the excellent relationships developed with the builders on site.
Essential Daily Routines
I was able to see all parts of the building during my visit and attended the daily staff briefing prior to students arriving in the morning. Essential daily routines were shared, cover, where necessary, was agreed and vital updated information on individual students was shared. This daily routine focusses all staff on the day ahead and is a very strong part of the effective "meet and greet" routine operated daily. The new reception area also acts as a welcome/holding area for staff to engage positively with students and sort out any issues which students may bring into the teaching and learning areas.
Positive Impact with Partner Provisions
My visit to the school this year was both informative and reflective. It was a brilliant opportunity to see long term plans being put into practice both in terms of the newly built classrooms and facilities; also in the continued levels of expertise which all staff demonstrate. There is a very strong growth mindset attitude within the school and I feel that they are well placed to have a positive impact with partner provisions and local schools.
Find out more about the IQM Inclusive School Award
If your school is interested in obtaining the IQM Inclusive School Award or you wish to talk to a member of the IQM team please telephone:
028 7127 7857 (9.00am to 5.00pm) or email: info@inclusionmark.co.uk for further details.
Want more information on the IQM Award? Click here to request your free IQM information pack.