Kay Rowe Nursery School, Forest Gate, Newham in London, achieves Inclusion Quality Mark's Inclusive School Award with Flagship School status.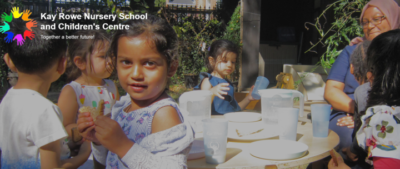 Context
Since the beginning of the pandemic, staff at Kay Rowe Nursery and Children's Centre have been truly caring of their children, parents and each other, going the extra mile to help out during this difficult time. This should be commended and recognised. The parent who spoke to me today couldn't praise staff enough for the support he and his child had received since joining the nursery mid-lockdown.
'They have been great through a very difficult time. Transition was brilliant and they took time and effort settling my child in. They were flexible and responsive, and understanding of what needed to happen especially in these times.'
Staff Are Always Available
Staff describe how they created a rota of attendance at home and school, ensured communication with parents in a variety of ways including access via Tapestry, delivering story Zooms, creating learning packs which were dropped off at home and always being there to be a 'listening ear'. Having reviewed the year today I do not hesitate to conclude that the support offered (both practically and emotionally) was truly amazing and they should feel very proud of this.

Vibrant Learning Environment
The Nursery and Children's Centre has continued to provide children with a rich and vibrant learning environment. In September 2021 the school will incorporate the Froebel approach (outdoor play is about potential – the potential of spaces to engage children's imagination, curiosity and creativity and foster their health and wellbeing) into the new curriculum following completion of training. A possible source of funding will be explored which links this approach across all nurseries participating from various localities. Funding will be to enhance and extend experiences for children from disadvantaged families and SEND in the outdoor environment through play.
The 'Welcome to Kay Rowe' Video
New parents to Kay Rowe were invited to hear all the school provides and were able to see aspects of this provision via the 'Welcome to Kay Rowe' video narrated by staff. The Headteacher describes how they held outdoor environment open evenings for parents in a Covid safe way when the children were not around. Through this video, parents could see the wide range of facilities offered to promote all areas of development. Resources included different levels of working to promote accessibility through floor space, tables and a low-level climbing area. The video reinforced their values of developing independent and confident children.

New Levels of Training for All
Staff underwent a steep learning curve during this year to embrace new aspects of technology to support children, staff, parents and governors' learning, mental health and wellbeing etc. Staff attended governors' meetings virtually throughout the pandemic. Parents learnt how to access online training sessions. Feedback and uptake regarding these online sessions were very positive. The Governor spoken to today described how useful these had been with all Governing Body meetings accessed virtually and subject meetings fed back to the Governing Body online. The SEND governor came away very impressed from his meeting to discuss SEND and inclusion. The information was also presented to new governors who have a good understanding of the support provided for additional needs children. As this is his last IQM assessment meeting before leaving the role in July, he has already held a hand over with the new Governor for SEND who has already booked dates in the autumn term for meetings.
Staff Feel Confident
Staff continue to receive quality and bespoke CPD. Training around EYFS, and Development Matters was delivered and linked to the new Kay Rowe curriculum and provision map. Staff feel fully confident of new statutory requirements around the new curriculum and provision map and are keen to implement them.
The Schools New Plans
The school has plans for the coming year to further support parents to achieve the best possible outcomes for their children. Families are to be offered EPATS (specifically for children with needs) and a Parent Gym (working in tandem with the Children's Centre). The Early Positive Approach To Support (EPATS) will consist of an 8-session programme. Parents will bring their experience to this. The approach has received positive feedback and shown great impact. Areas covered include accessing service and support, emotional wellbeing, sleep, communication and understanding behaviour that challenges. Parents will also be offered support through 'Circles of Support' (support for parents and family care givers of children with additional care and learning needs).
Sharing Experiences is Key
Staff aim to resume in person coffee mornings where parents can meet, talk and share experiences and strategies. These were invaluable support to the local community. A Saturday session is planned as a workshop for parents helping them to use visual timetables and to teach basic sign language.
Find out more about the IQM Inclusive School Award
If your school is interested in obtaining the IQM Inclusive School Award or you wish to talk to a member of the IQM team please telephone:
028 7127 7857 (9.00 am to 5.00 pm)

or email: info@iqmaward.com for further details.
Want more information on the IQM Award? Click here to request your free IQM information pack