Joy Lane Primary & Nursery School, Whitstable in Kent, has achieved the Inclusive School Award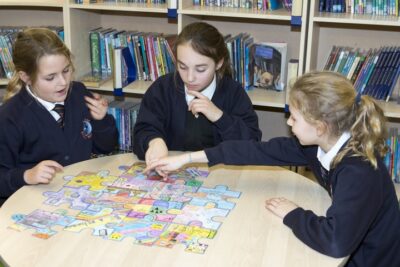 Context
Joy Lane Primary and Nursery School is part of a federation made up of four local schools and they also work with a wider group of schools that work collaboratively to achieve the best outcomes for all the schools. The school works with Canterbury Christchurch to run ITT programmes and works with Schools Direct and two Teaching Assistants are currently training to be teachers. This is not unusual, and the school are very good at spotting and developing talent amongst staff at all levels. This explains one of the reasons staff turnover is low.
Bright, Well-Resourced Provision
The school building and amazing grounds are hugely impressive. Visual displays were, colourful, relevant, and carefully planned to add to the learning environment. There is even a well-used swimming pool and a forest area and pond. Classrooms are large and bright and are well resourced and teachers and support staff go about their work with great enthusiasm and expertise. However, the school makes sure they use every inch of space well to add value to the whole curriculum and the children's experience.
Supporting Pupil Progress
The school has adopted a trauma informed approach across the school, and this has greatly influenced the behaviour policy. The training around trauma informed practice was really helpful and staff understand why children and adults often behave as they do. Two members of the school team have completed Attachment and Trauma Informed courses and are accredited to deliver staff training and to make recommendations. Since September the school have been doing the training and developing the behaviour plan. They are now working on social and emotional learning and have been trained in emotional coaching and teachers use it in their practice in the classroom. Teaching Assistants usually work in class and support groups of pupils. There are a couple of 1:1s and some classes where there may be two Teaching Assistants depending on the needs of children in the class. The school avoids the 'Velcro' approach so that pupils do not become dependent on support from one person.
Confident Communicators
There are two Speech and Language HLTAS to address this the biggest need across the school. They use the Nellie programme which came out in middle of the Covid pandemic and comes from the Endowment Foundation. They assess all children in Reception and that flags up those who need speech intervention and those who need language interventions. The speech intervention is much shorter, in terms of input and quicker than the language intervention and can be done in a group. The speech links assessment is used to identify gaps in learning across Years 2 to 6. Strategies to support whole classes and individual pupils are shared with class teachers. The SRP gives the school access to a Speech and Language Therapist, and she offers informal advice and training to the two Speech and Language Teaching Assistants. There is some ELSA support provided by the Family Liaison Worker. She is trained to carry out that work across the school. Teaching Assistants are well organised and well trained, and many are very experienced.
Support for Learning
The Inclusion Coordinator told me that the school had been very involved in developing the Kent Mainstream Core Standards and they use this document as a 'handbook' for teachers to help them support children with a wide variety of needs in their classrooms. The document has been adapted to make it more relevant and accessible to their school. They have added various glossaries and appendices. Every teacher and TA have a copy, and it is traffic lighted and referred to constantly. It is proving to be very useful.
Safe Space
Safeguarding is a priority for the school and there is a Safeguarding Team to work across the school. The Executive Head is the DSL and there are four other deputy DSLs including an experienced and trained TA's who supports this work. The safeguarding concerns during the last two years of Covid have been relatively small and have been picked up and addressed but there are now far more concerns around behaviour and regulation and interactions. This has been more obvious over the last term and more recently. The trauma training already delivered has been instrumental in staff understanding of what is happening, and why. Joy Lane Primary and Nursery School use My Concern to capture and record all safeguarding issues and EduKey is used to track other concerns. The Safeguarding Team meet every week and every SLT meeting starts with an agenda item about safeguarding. Regular staff training is provided and staff at all levels are confident in this respect.
The World is Your Oyster
The SRP (Oyster Unit) children are often integrated into mainstream classes for part of the day or week, otherwise they are taught in separate classes. They also have their own playground, but the amount of integration depends on the child's needs and wishes. The teachers told me they plan for them and put a lot of ownership on the child so they can choose the learning task they want to do. The Teaching Assistants help with more of the organisational aspects of the lesson. In normal, pre-Covid times they had some reward time and pupils knew if they got the work done, they had a reward.
The children in the Oyster resource base are split into three groups based loosely on their ages and cognitive ability. Each child is placed in the most appropriate class. And their level of anxiety is carefully considered. Curriculum plans are made for each individual pupil, but some children join the mainstream in some subjects. In the Oyster Unit pupils are assessed with an emphasis is on social development, but they also undertake the assessments used in mainstream. They used to use B-Squared, but it was not reflecting the progress seen in the classroom. They now use pre-mainstream standards and are trying to be more in line with the rest of the school.
Pupil Pride
Two Year 6 pupils took responsibility for a tour of Oyster (SRP). This they did with confidence and with humour. They were keen to talk about their school experience and were obviously very proud to be part of Oyster. The tour included all three classrooms and gave an opportunity to chat to pupils and teachers as we went. The building is purpose built and is a great facility with the three classrooms and a large central area that provides break out rooms and an area for younger pupils. They also have their own playground and lots of smaller rooms and offices. The boys shared their workbooks and talked about the progress they are making and their future plans when they go on to secondary school. They were confident and excited about the next stage of their education. It was obvious the staff had prepared them well for the transition.
Serenity and Calm
Wellbeing is a priority focus, particularly post Covid and whilst there is no written policy as such, there is a lot going on and SLT are currently examining practice to establish, and address, any gaps in provision. They have identified that social emotional coaching can really help their pupils. This is incorporated into every aspect of the curriculum. Teachers can choose what books to read but they are given guidance and book recommendations. There is a SERENITY session before school that is attended by some vulnerable or SEN children, and TAs come in early and run these sessions along with Sensory Circuits. This has proved very helpful for the targeted children who participate. They have worked with families, many of whom were, and still are, very anxious about sending their children into school during the Covid pandemic.
Collaborative Support
Staff wellbeing is also a recognised priority and the Executive Headteacher is overseeing this area. Staff have access to a counsellor and the Senior Team try to ensure that they are available and approachable. The Senior Team and staff in general know each other well and can spot when someone is having difficulty in terms of their wellbeing and mental health.
Find out more about the IQM Inclusive School Award
If your school is interested in obtaining the IQM Inclusive School Award or you wish to talk to a member of the IQM team please telephone:
028 7127 7857 (9.00 am to 5.00 pm)
or email: info@iqmaward.com for further details.
Want more information on the IQM Award? Click here to request your free IQM information pack